— -- What do Daft Punk, Michael Jackson, Whitney Houston, Eric Clapton and George Harrison all have in common?
His name is Nathan East.
East is the bassist whose phone rings when singers come to Los Angeles to record a record -- or need a bassist to perform with them on the road. Though East is a constant presence on a home stereo—having played on over 2,000 of music's most iconic records—he's not quite a household name, preferring to work as a supporting player for most of his career. But 2014 has seen East step to the front of the stage.
"I've been in the business now 35 years, and there's not too much that I haven't seen," East told ABC News. "Having the opportunity for a first—a first solo album and a documentary—that stuff is pretty exciting."
In those 35 years spent working, he's built a reputation of being the go-to guy for pop's brightest stars. Though that phrase became true back in the 1970s when Barry White hired East and his band for a tour and later invited him to recording sessions, his lines still permeate radio's biggest hits; he was one of the core musicians on Daft Punk's "Get Lucky."
"It would be great if he wrote down all the records he was on," said longtime collaborator Phil Collins, in a scene from the documentary on East. "You'd go: 'My God, that was him! My god, that was him! My God, that was him!'"
A read of his resume -- which includes the early work of Whitney Houston and Madonna, studio time with Quincy Jones and Michael Jackson and even a tour with the late Beatle George Harrison -- backs up Collins' reaction. Many such opportunities came as L.A. producers, Jones among them, hired him for sessions. Stars hired him thereafter based on his reputation and his tasteful approach to their music.
"It wasn't long before I found myself working every single day, starting from around 1980," East said. "If you leave some good notes on the table, they start following you around."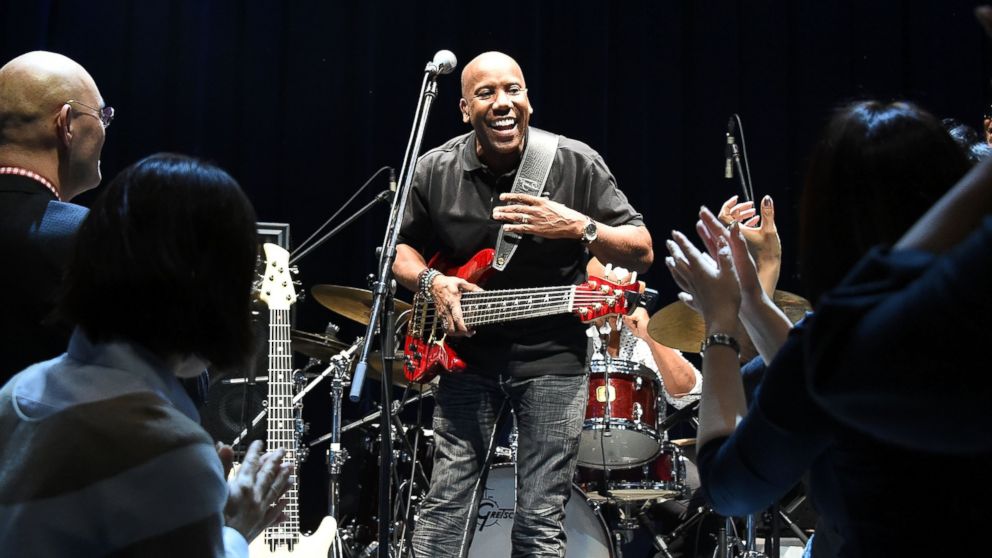 His solo album--now Grammy-nominated for Best Contemporary Instrumental Album--came out March 25, and at the Dec. 2 premiere of 'For The Record,' the documentary film about the album and his life, he spoke with ABC News about some of his favorite performers and moments in his career:
East thinks of Eric Clapton "like a brother" after touring extensively with him since the 80s (and still does, to this day) after Clapton was impressed with his playing at Live Aid, but one of the most meaningful moments in their relationship East remembers is recording "Tears in Heaven" shortly after the death of Clapton's son Connor.
"It was like the song was playing us—we were just in there and the notes were just coming out, very heartfelt. That whole album [Connor] was in the back of everybody's mind," East said. "It really turned into a way for him to thank the world and say to the world, 'thank you for being there with me through this tragedy.'"
After playing with George Harrison's last tour while with Eric Clapton's band, the two became friends and each time East visited him in England, Harrison would send a car to pick East up from the airport and drive him to Harrison's home.
Barry White used to sing East's parts to him. "It was an amazing process," East recalled, saying his professional debut with the singer was like going to "Barry White University."
"He'd just go sing everybody their part, and then you go to start playing, the drummer's playing what he sang, and the next thing you know you have a hit record on your hands. It was unbelievable."
East doesn't remember the Michael Jackson that made headlines: "There wasn't this guy with a gorilla," East recalled, laughing as he remembered the King of Pop to be hardworking and professional underneath his superstar status. "For him, the most exciting thing was if he could walk down to 7-11 and go buy something and come back—if he could do that alone, that was pretty exciting for him."
"This beautiful 19-year-old girl comes in and I'm thinking to myself, 'well, she can certainly sing," East said, remembering Whitney Houston's first-ever studio sessions. "She had the gift, but she'd go in there and sing her heart out." He also played for Madonna's first studio sessions, and said it was refreshing to see both rise to stardom "strictly because of the hard work."
He can't say much about working with Daft Punk—they stopped him mid-posting when he wanted to show his Facebook fans what the studio session was like. But he called recording with the duo (which took place separately; East's bass part was brought to guitarist Nile Rodgers, and later to Pharrell before East rerecorded the final line) "refreshing," referencing their use of period-appropriate equipment and players as important given the dominance of synthesizers and electronic instruments in most mainstream music.
"You've got a real drummer, and guitars, Nile Rodgers, and it feels great. And it's a hit! So it kind of defied the laws of gravity," East said. "When everybody starts to go for the same thing, when you just step outside of whatever that mold is, that model, it's rewarding."
"For The Record" will be released mid-December on Hulu. East plans to release a second solo album, composed from songs recorded during the sessions that appear in the film, by summer 2015. Fourplay, a jazz quartet he co-founded, will celebrate their 25th anniversary with an album release next year as well.