— -- After five days of city hopping through Poland and Germany with his family, Prince George stole the spotlight today from Prince William, Princess Kate and Princess Charlotte.
George, who will celebrate his fourth birthday on Saturday, had been a bit sleepy and shy as his parents shuttled him from city to city on the five-day royal tour but he could not conceal his excitement today as he stepped into the cockpits of two helicopters.
George saw the helicopters as the royals toured the Airbus facility in Hamburg on their final day in Germany.
George, who never misses a chance to watch his father and his uncle, Prince Harry, both helicopter pilots, depart Kensington Palace on the royal helicopter, was in his element.
Charlotte, 2, who has charmed the crowds with her natural diplomacy -- including ducking into a curtsy earlier this week -- took a tumble and needed some reassurance from her parents today.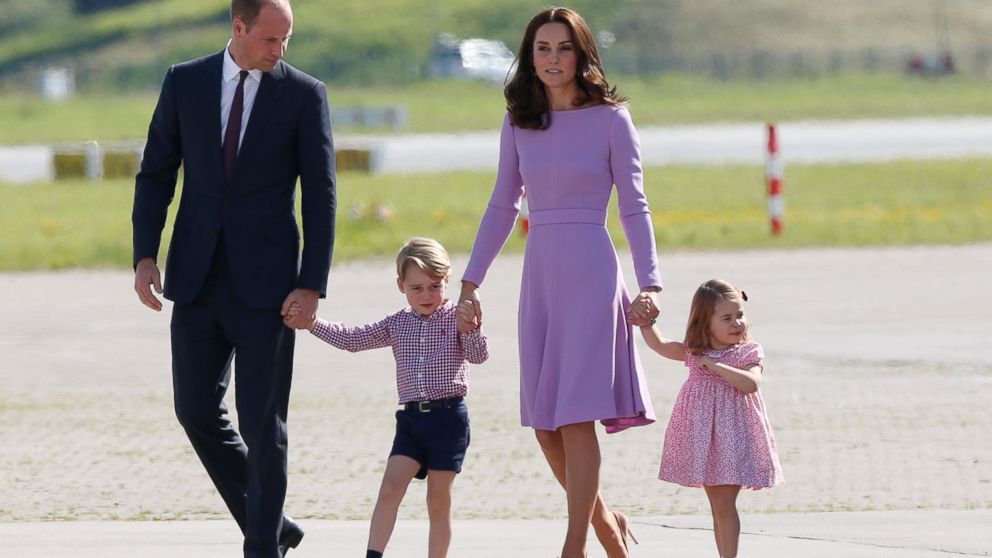 She rubbed her eyes and quickly recovered, and both children were dancing about as they received gifts from their German hosts. The Cambridges were given a royal send-off by officials, including Airbus Helicopter CEO Wolfgang Shoder.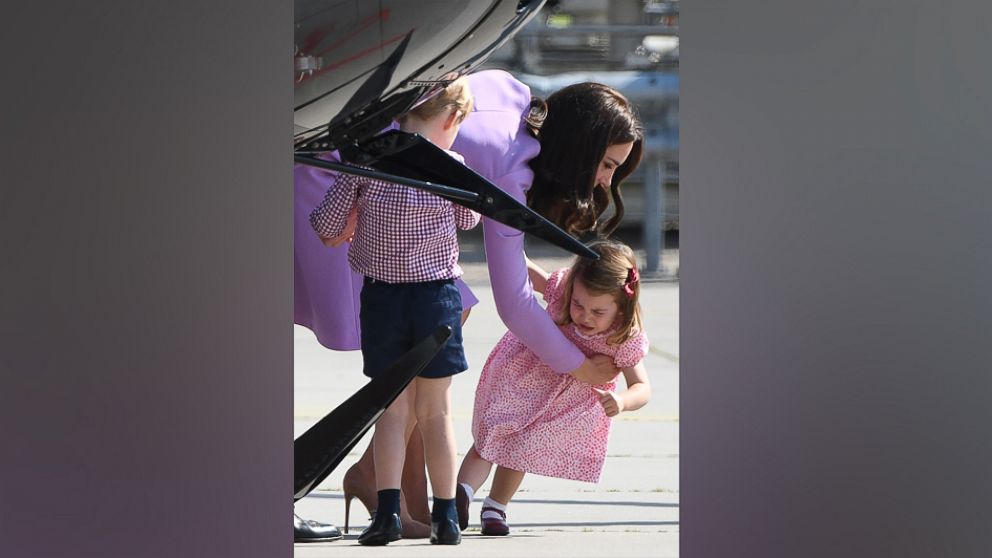 Earlier in the day, William and Kate, both 35, paid a visit to Hamburg's new Elbharmonie Symphony Hall, where they met with 250 children enrolled in a music immersion education program in Germany's second largest city.
When asked about her exposure to music, Kate, wearing a lavender bespoke Emilia Wickstead dress, revealed she played flute, "throughout my school years until the age of 18."
Kate, obviously able to read music, had a hand with the conductor's baton, directing the Hamburg Symphony Orchestra in a rendition of Beethoven's famous Fifth Symphony.
It wouldn't be a royal tour without a walkabout and William and Kate did not disappoint as they held an unscheduled meet-and-greet with around 3,000 of Hamburg's residents who came out to try and catch a glimpse of the royal couple. A group of well-wishers even asked about George's upcoming birthday.
William joked in reply, "George has got a big tummy. He'll probably end up eating all his cake himself."
In an impromptu addition to their planned visit to Hamburg's Maritime Museum, William and Kate tried a recently installed cargo ship simulator. William took the helm joking that perhaps he might hit one of the other yachts in the harbor.
The museum exhibition administrator in charge of the simulator reminded William, as Kate sounded the fog horn, that William will be the future King of England but his wife is still sometimes the boss.
"He is just the helmsman," the administrator, Hans Trey, told Kate as William steered the ship simulator. "You are the captain."