Princess Charlotte steals the show with a curtsy
William, Kate and their children traveled to Germany from Poland.
— -- Prince William, Princess Kate and their children, Prince George and Princess Charlotte, arrived in Berlin today on the second leg of their five-day tour of Poland and Germany.
Princess Charlotte, 2, wearing a blue floral smock dress and blue shoes, proved determined to step down the plane's stairs on her own and accepted her own bouquet of flowers as the family was greeted by well-wishers at the airport. Charlotte appears to already be mastering the art of diplomacy as she curtseyed while at her mom's side and shook the hand of an attaché on the red carpet.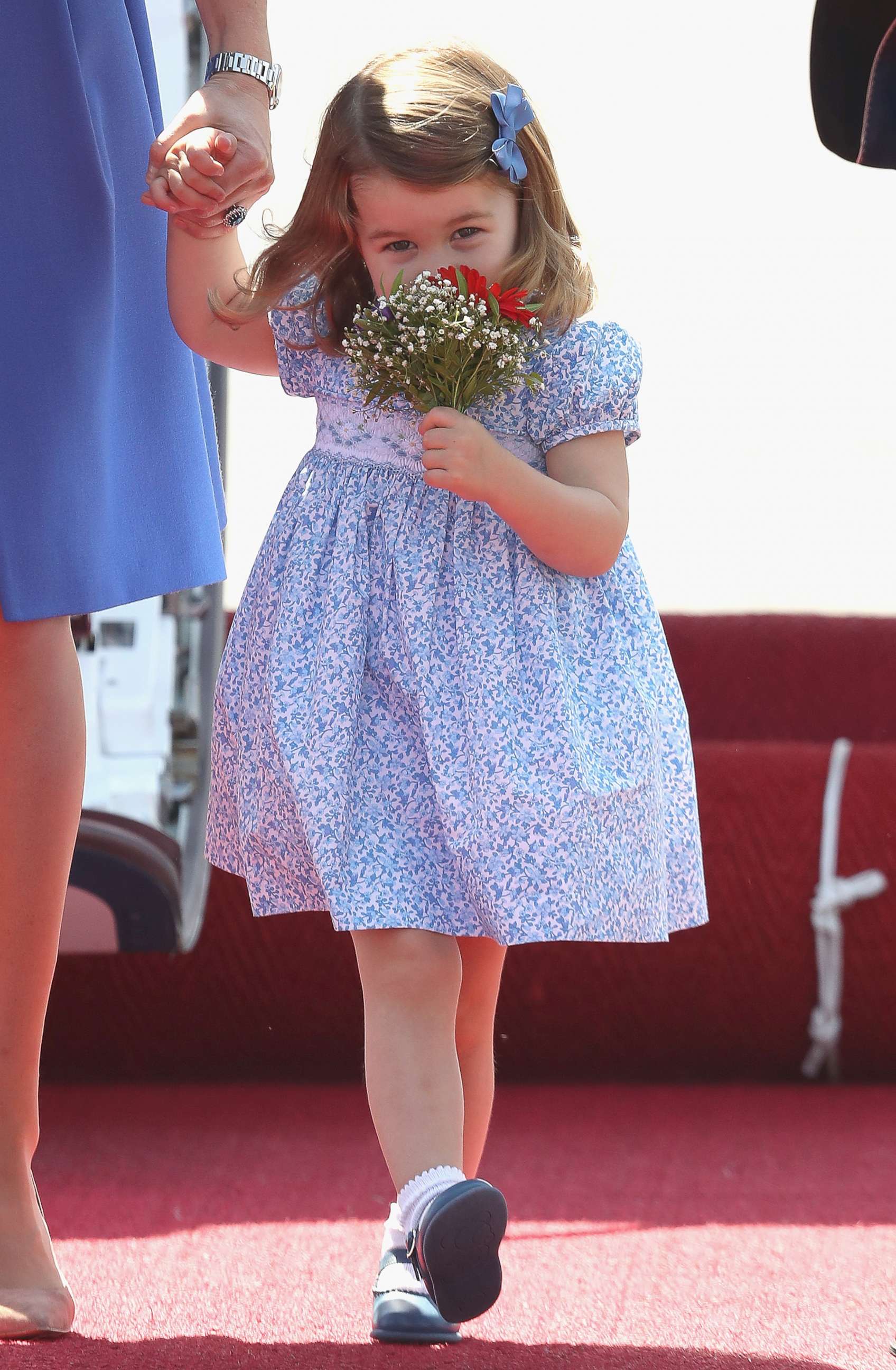 Prince George, who turns 4 in just a few days, was dressed in navy blue shorts and a white collared shirt.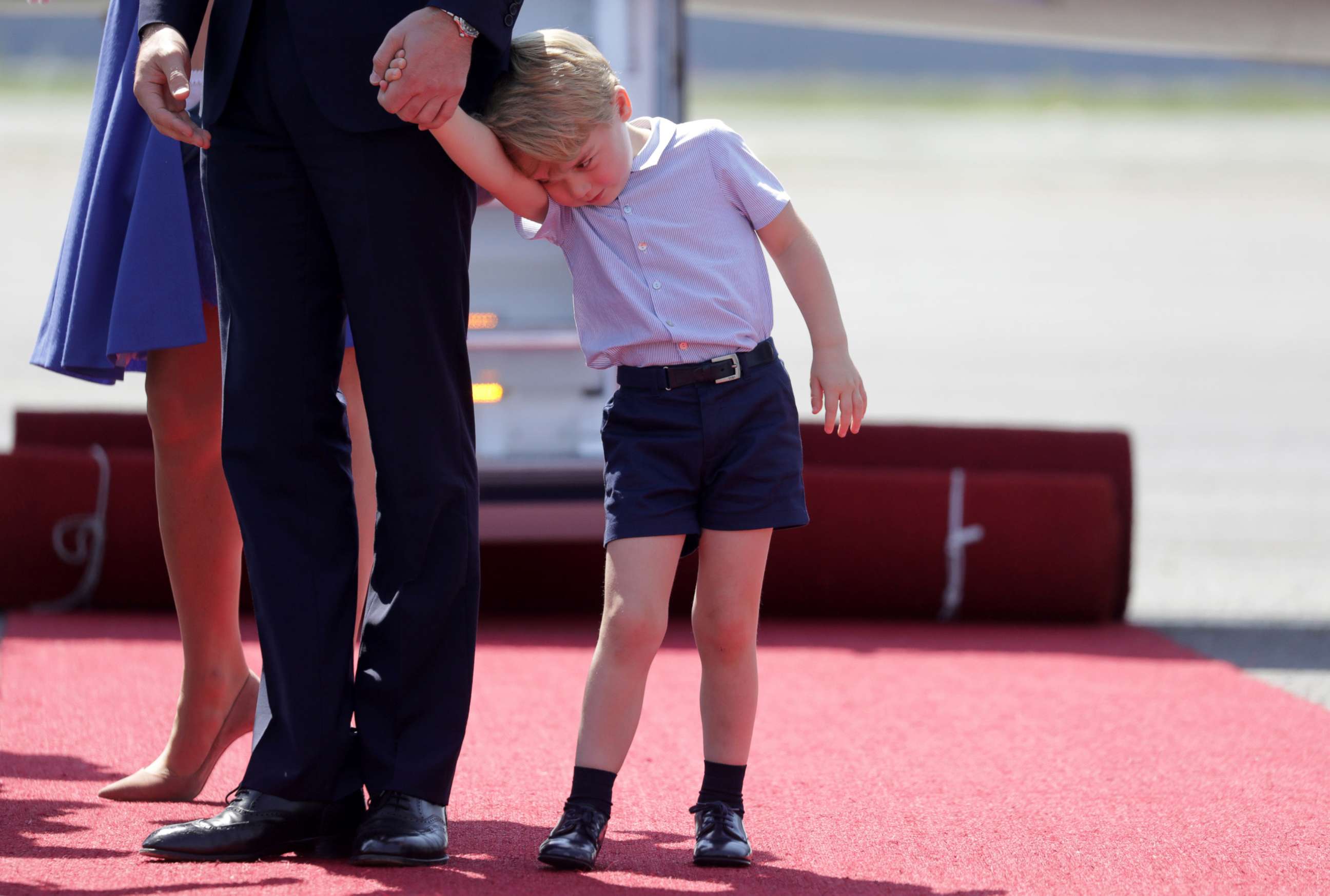 When the family departed Poland earlier today, George was seen anxiously tugging on William's hand to get back on the plane. The future King of England is obsessed with anything that flies. His parents took him last summer to the Royal International Air Tattoo, which bills itself online as "the world's greatest air show."
On this trip, the two Cambridge children have often been seen peering out the plane's windows and have been fascinated by the plane rides.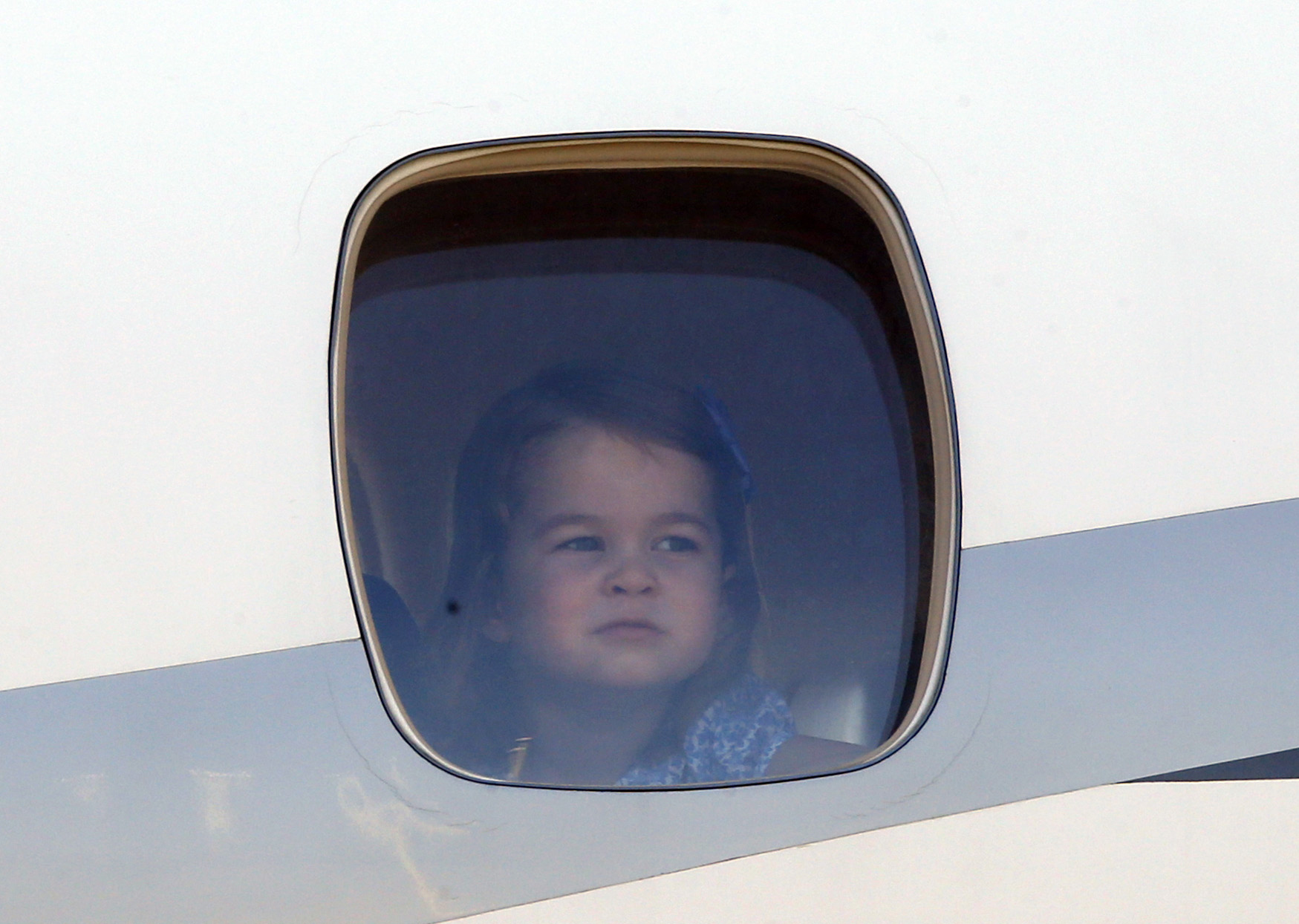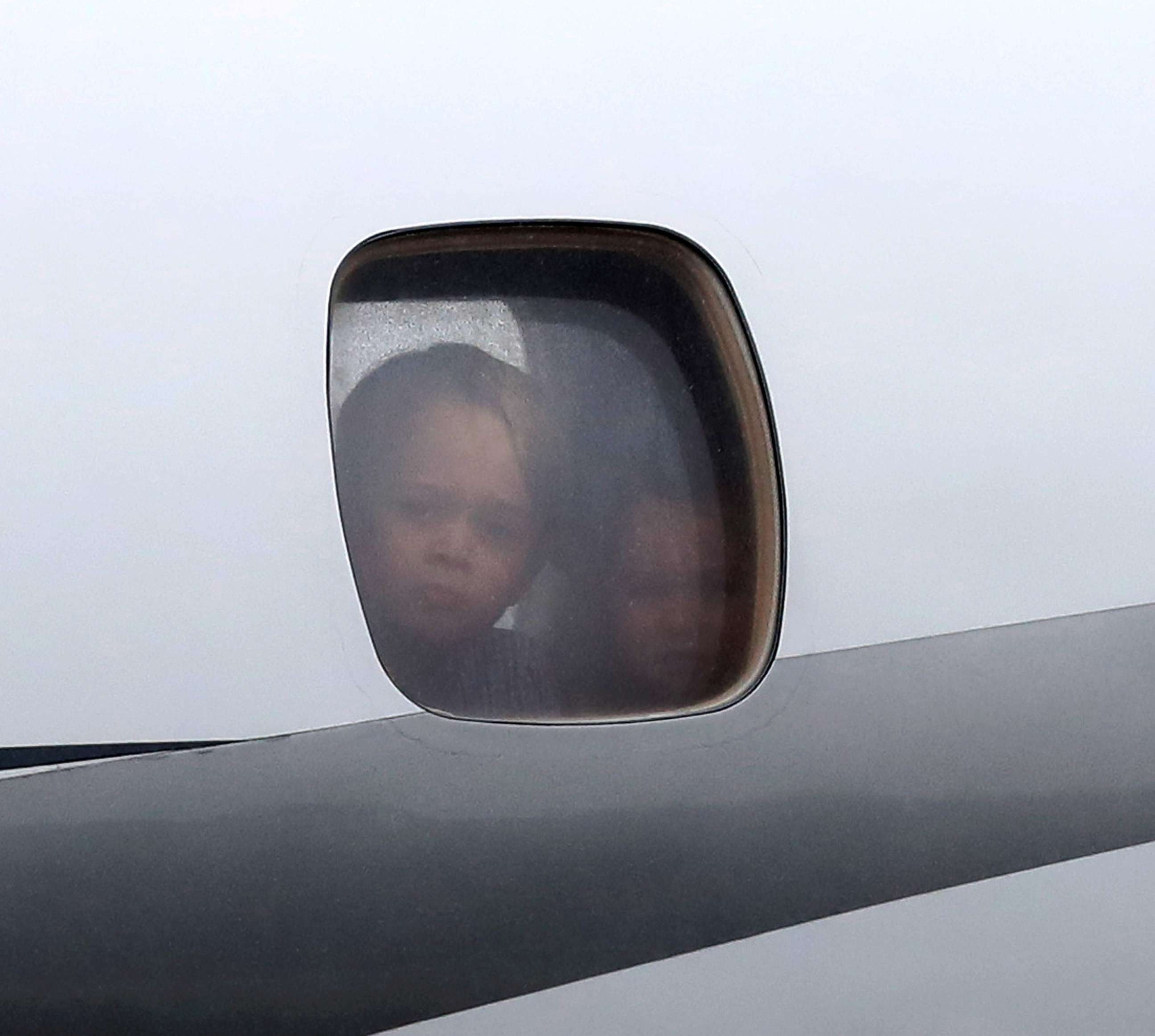 George had to be coaxed by his father to deplane when he arrived in Warsaw, however, he seemed to get the hang of it upon arrival in Berlin, shaking the hands of the dignitaries greeting the family. Charlotte was a natural, dancing while holding her mother's arm as the family left en route to Berlin.
Kate color-coordinated with her children's attire, wearing a cornflower blue coat dress by Catherine Walker, a favorite designer of William's mother, the late Princess Diana.
William and Kate, both 35, were without George and Charlotte when they met with German Chancellor Angela Merkel. The couple then headed to the Brandenburg Gate, which now serves as a symbol of unity for Germany, a once-divided nation.
The couple paid tribute to those who were killed during the Holocaust by making a pilgrimage to Berlin's Holocaust Memorial. William and Kate toured the museum and met with a Holocaust survivor.
William described his and Kate's visit yesterday to the Stutthof concentration camp, one of the first concentration camps installed outside of Germany, as "shattering."
The Duke and Duchess of Cambridge also spent time today at Strassenkinder, a charity that assists young people from disadvantaged backgrounds, including homeless children.
They later met with the President of Germany, Frank-Walter Steinmeier, at Bellevue Palace in Berlin.
Perhaps the most anxiously awaited part of the tour will be on Thursday when William and Kate take their competitive streak to the water again as they captain crew boats in Heidelberg.
The couple previously faced off in dragon boats in Canada -- a race won by William -- and in America's Cup yachts in Auckland Harbour, where Kate won. In a sprinting race at Queen Elizabeth Park earlier this year, the couple lost to Prince Harry.