'Rogue One: A Star Wars Story' First Teaser Trailer Debuts on 'GMA'
Check out the full clip.
— -- The first teaser trailer of "Rogue One: A Star Wars Story" just debuted this morning on "GMA" and the film looks to be a character-driven story, featuring the usual "Star Wars" action you know and love.
"Rogue One" is a brand new "Star Wars" movie set just before 1977's iconic "A New Hope." The plot focuses on a group of rebel heroes coming together on a mission to steal the plans for the Death Star featured in the very first "Star Wars" classic.
This highly-anticipated standalone film will be directed by Gareth Edwards and stars Oscar-nominee Felicity Jones, Diego Luna, Riz Ahmed and Oscar-winner Forrest Whitaker.
Right at the onset of the clip, iconography from "A New Hope" and the original trilogy can be seen -- like the white hats for the Rebel fighters and the Rebel base.
There's also that slow shot to reveal the Death Star!
There are some newbies to look forward to as well. Ben Mendelsohn is shown looking menacing and Donnie Yen is some sort of samurai warrior who is seen fighting stormtroopers. Names have not been released, except for Jones' Jyn Erso.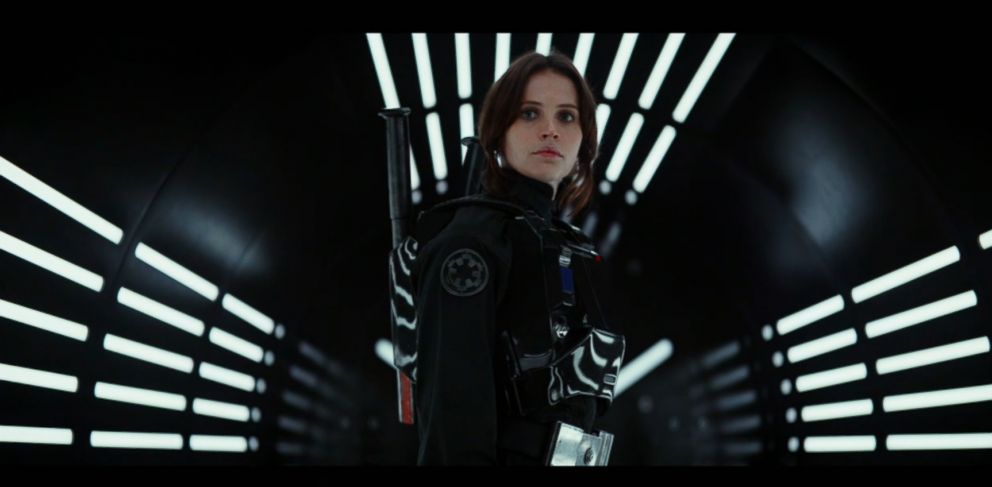 Erso is explained as a sort of nomad who breaks the rules, which will help her when the Rebel forces recruit her for their mission. Her journey should be one that truly evolves throughout the film.
Last but not least, a figure in a black cape is seen kneeling down in the middle of the teaser. Could it be? Could we be seeing Darth Vader in this film? Only time will tell, but this was one heck of a tease!
"Rogue One" is set to hit theaters on Dec. 16.