'Rogue One: A Star Wars Story': New Poster, Character Details and Clip Revealed
Check out the new art and watch the clip!
— -- The "Rogue One: A Star Wars" panel took place Friday in London and what was billed as the "main event" of "Star Wars" Celebration certainly did not disappoint, giving fans a look at new characters, a new poster and a sizzle clip.
During the hour-long panel, "Rogue One" stars Felicity Jones and Diego Luna were joined by their director Gareth Edwards and Lucasfilm President Kathleen Kennedy.
The poster -- which drew a loud applause from fans, who all got a copy -- features a new planet Scariff, with the Death Star looming in the background.
Here's a look:
The sneak peek clip shows more action than we've seen in previous teasers featuring Jones, Luna and others.
"The pressure is so high," Edwards said about a stand-alone connected to one of his favorite films of all-time.
The clip also shows a slew of droids and interesting characters, all part of the conflict.
"May the Force be with us," the clip ends with Jones telling her comrades.
Watch below:
Details were also released about some of the new characters.
K-2SO - A New Droid
Alan Tudyk said he's a 7'1 droid that has been reprogrammed and is Diego Luna's Cassian's best friend. He is crucial to the Rebellion. His data has been wiped and that may play a key role.
"He speaks his mind and says things that can be unsettling, just very honest," Tudyk said.
Chirrut - Played by Donnie Yen
He's a blind warrior, who believes in the Force. We;ve already seen him kick some major stormtrooper butt.
Director Orson Krennic - Ben Mendelsohn
He is a different kind of Imperial villain, he said.
"He's smarter than most of his predecessors," he added.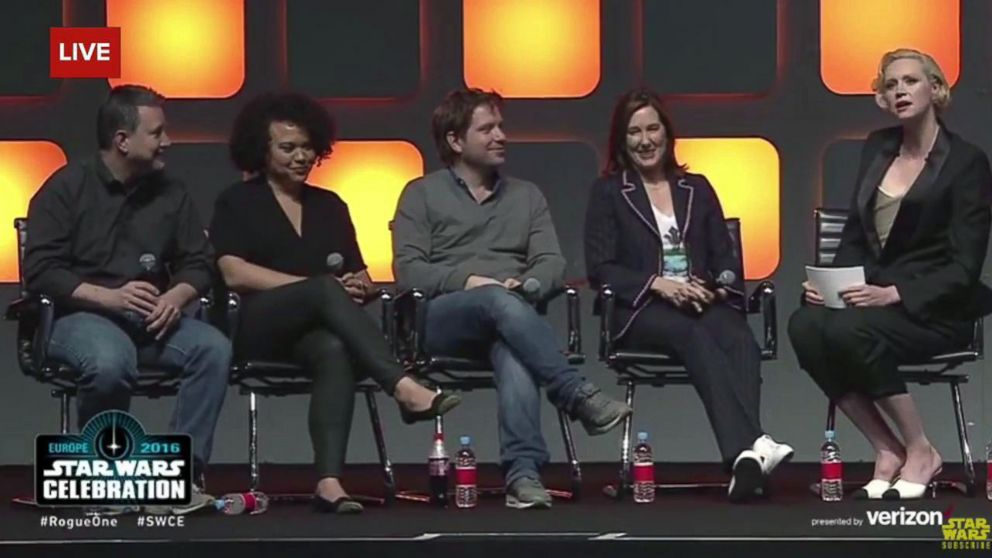 Galen Erso - Mads Mikkelsen
As previously reported, he is Jyn's father.
"Can I say that he is a scientist, and he at one pint invented something so beautiful .. it might change the universe," he said about the role.
Saw Gerrera - Forest Whitaker
He's been fighting for years against the Empire, he said. The Oscar winner said, he's controlling a group of rebels that fight to "the extreme."
"By any means necessary, he'll do what he needs to do to save the world," he said, adding he's been trained by the Jedi.
Darth Vader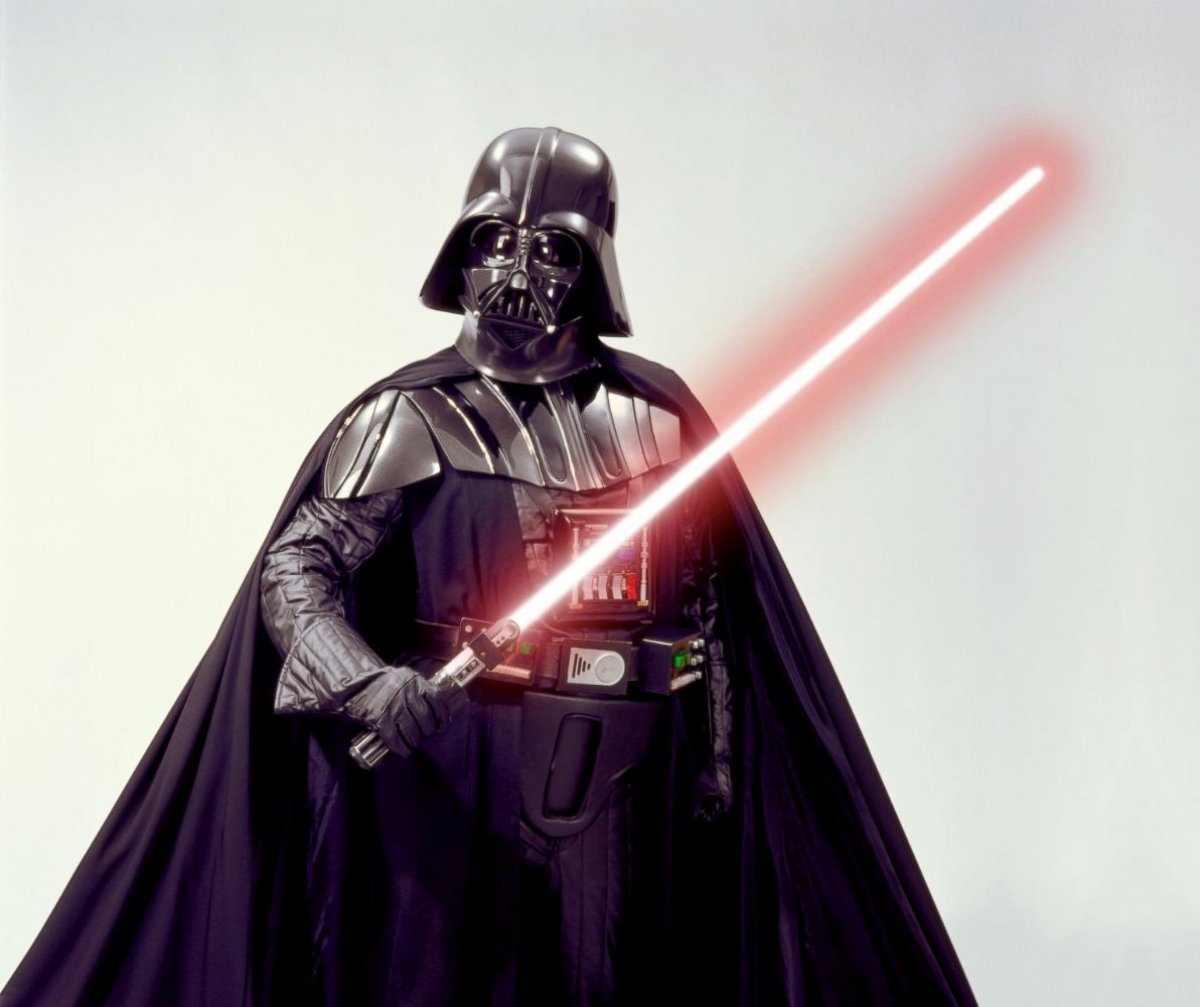 He's not new, but Edwards told a story about doing a voice-over session with James Earl Jones and how he literally freaked out when he said one line, "Power" in his iconic tone.
"I can't tell you what role he plays in the film," the director joked.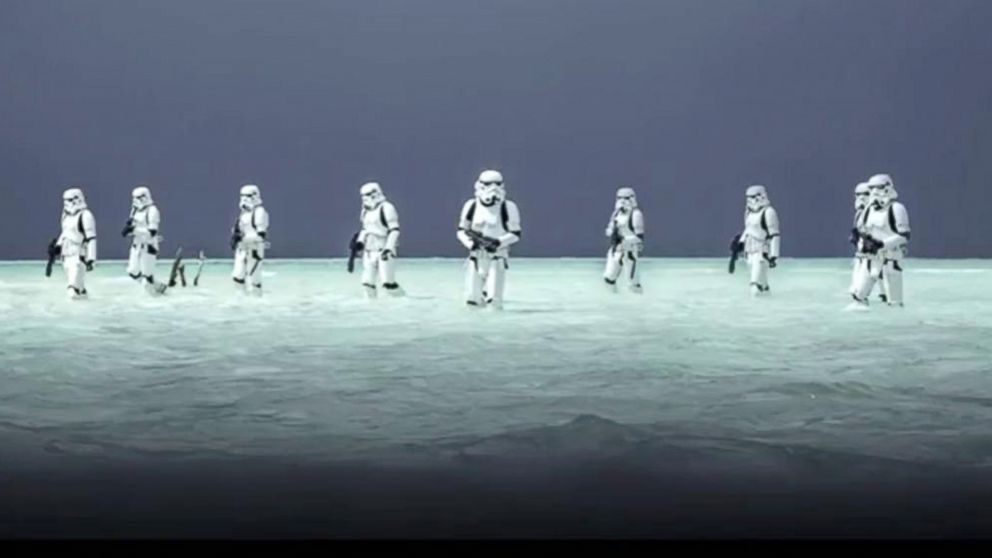 Before the festivities began today, host Gwendoline Christie took a moment of silence for the victims of Nice, France.
"It's impossible for us to sit here at celebration...without thinking of the terrible events that happened not far form here," the "Game of Thrones" and "Force Awakens" star said. "Our hearts go out to the people in Nice, France."
The French National Anthem then broke out to a loud applause.
The plot of "Rogue One" focuses on a group of rebel heroes coming together on a mission to steal the plans for the Death Star and hit theaters on Dec. 16.
Both Lucasfilm and ABC News are part of parent company Disney.