LONDON — -- The little prince who could one day be king is taking on a bigger role right now, learning to be a big brother, and judging from a new photo released today, Prince George clearly likes it.
In the photo, he lovingly holds his 1 month old baby sister Princess Charlotte in his arms and kissing her at the couple's Norfolk country home, Anmer Hall.
The four new photos were taken in mid May by The Duchess of Cambridge. They are the first images of Princess Charlotte since her birth May 2 when the couple left St Mary's hospital several hours after her birth. And the first time we have seen Prince George and Princess Charlotte together.
Prince William and Princess Kate The Duke and Duchess of Cambridge gave the first glimpse of the new photos via their @KensingtonRoyal Twitter account.
The family of four left their Kensington Palace home four days after Charlotte's birth and have been staying principally at their Norfolk home over the last month.
The photos were released to coincide with the announcement that Princess Charlotte will be christened July 5 at St Mary Magdalene Church on The Queen's Sandringham estate, a stones throw from the families country home in Norfolk.
In another poignant tribute to Prince William's mother, Princess Charlotte Elizabeth Diana will be christened at the same church where her late grandmother Princess Diana was baptized on August 30, 1961. Princess Diana was born and spent most of her childhood at Park House nearby on the Sandringham estate.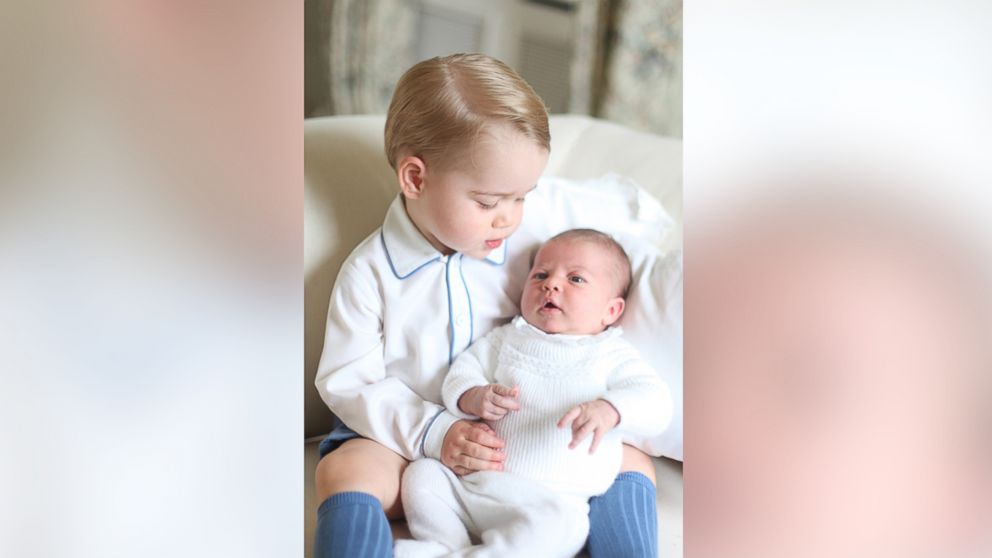 It follows a similar decision by the couple to hold Prince George's christening in the Chapel Royal St James Palace where Princess Diana lay at rest for a week after her death in 1997. The private christening was attended by just 22 people that included the senior-most members of the royal family, the Middletons and Prince George's godparents
The royal couple released the photo in the same way they did with Prince George nearly two years ago when he was also a month old. At that time, Kate's father took the first private snaps of a then infant George, his parents and the family dogs in the back yard of the Middletons' Bucklebury home.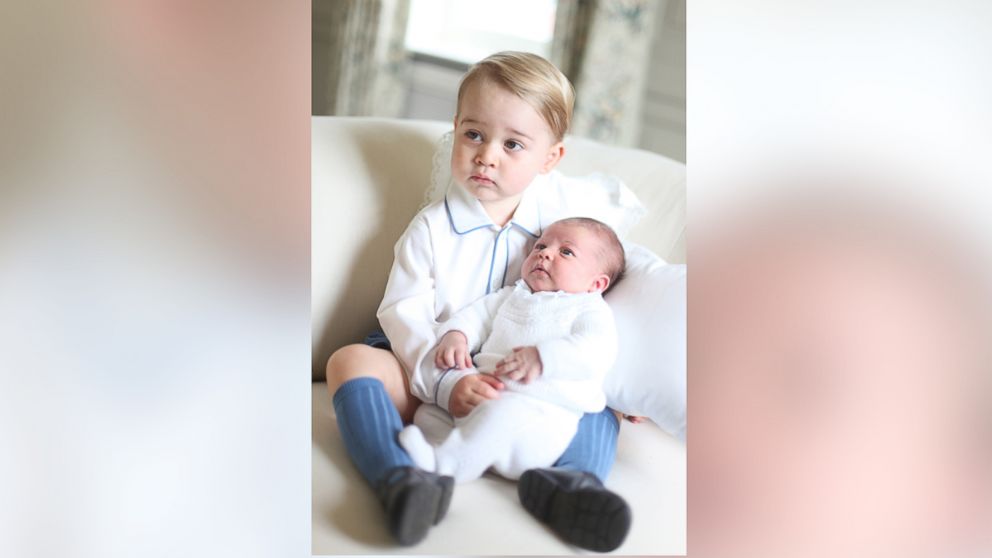 Kate, who is an avid amateur photographer, is known to take various photos on royal tours and reportedly studied portrait photography following her job as an accessories buyer for London retail store Jigsaw before she married Prince William. The photographs were taken on her personal camera, a Canon EOS 5D Mark II.
The photo is the first photo of four to be released by Kensington Palace and shows the intimate life inside the families home in Norfolk.
The 10-bedroom Georgian property was given to Prince William by his grandmother, the Queen and is within the confines of the Sandringham estate. It includes a pool, tennis court, a conservatory and has recently undergone extensive renovations so the family can have the security and privacy they crave. Kate and William enjoyed the idyllic country life they had in the seaside farmhouse they shared in Wales and want their children to enjoy all the country has to offer.
The property also provides them with a level of privacy away from the media glare and the prying paparazzi. William and Kate understand the public's fascination with their children, but have made it clear they will institute legal action against photogrpahers who try to interrupt their daily life. In regognition of that, the family will from time to time release photos to satisfy the public's interest in their young children.
The photos depict George and Charlotte in a setting similar to what one sees in most families around the world -- getting to know his baby sister on the families sofa and holding her in his arms. William and Kate are hoping that they can raise their children in as normal an upbringing as possible, like other young kids, despite their position.
Prince William has recently returned to work at the East Anglia Air Ambulance where he is completing his training to become a fully qualified pilot after six weeks of paternity leave. Prince William's new air ambulance job is located about midway between the couple's Kensington Palace home and their country home Anmer Hall in Norfolk, about three hours from London.
Kate, who took five weeks of maternity leave after Prince George's birth, is expected to take a longer maternity leave with her two children and spend most of the summer at home. She is getting help from the family's loyal nanny, Maria Borallo, and Kate's mother Carole has been pitching in. Both the Duke and Duchess are exceedingly close to Kate's family and wanted to provide their children with the rural life Kate enjoyed as a child
"Kate grew up in the country and feels most comfortable there and she wants her children to be able to run around in the fresh air," a royal source told ABC News Royal Contributor Victoria Murphy.
Prince George is wearing a Rachel Riley shorts and shirt set, while Princess Charlotte is in a stunning hand-knit sweater outfit by Spanish Brand Irulea
The couple also requested through Kensington Palace that instead of sending gifts, fans wishing to make contributions in their daughter's name, make donations to Imperial College Healthcare Charity, an organization that raises funds to improve patient healthcare at a group of hospitals including St. Mary's, where Charlotte was born.