Here's a role for which Sandra Bullock probably never prepared: wrestling with her husband's porn star ex-wife, Janine Lindemulder, over custody of their 5-year-old daughter.
Bullock, the perpetual girl-next-door actress famous for films including "The Proposal" and "Miss Congeniality" has been helping her husband, Jesse James, raise his daughter since January of this year while Lindemulder was in prison for tax evasion. Now out of jail, Lindenmulder faces a fierce custody battle against James, the tattooed biker and star of cable TV's "Monster Garage" and his megawatt Hollywood actress wife who has said she is now relishing her role as a stepmother.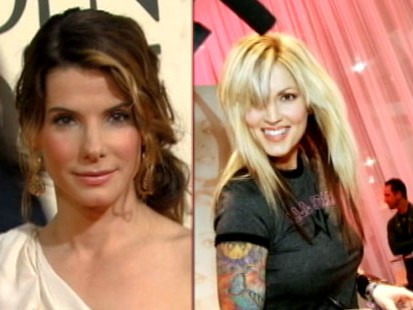 In a letter to the judge at Lindemulder's sentencing, Bullock denies the assertion that her desire to gain custody of the girl is rooted in her inability to have children. "We realized that due to the instability in [the girl's] life, bringing another child into the world at this time would not be in [the girl's] best interest," she wrote.
Bullock further alleges concerns about the girl's safety, stating that the child was left alone during the day while Lindemulder was "asleep from drug use."
CLICK HERE to read the full text of Bullock's letter.
"I am aware that Janine has claimed many times that my desire to have [the girl], was because I could not have children of my own," Bullock says, adding, "that couldn't be farther from the truth."