As fans mourn the untimely passing of Irish boy band star Stephen Gately, speculation continues to grow over what may have caused the 33-year-old's death.
Gately, the first Irish boy band star to "come out" during his stint in the band Boyzone, was on vacation in Majorca, Spain, when he was found dead on the sofa at 1:45 a.m. Saturday.
Police were called to his house near Port d'Andratx Saturday afternoon and said there were no signs of suspicious circumstances but that "at the moment it is not known how he died."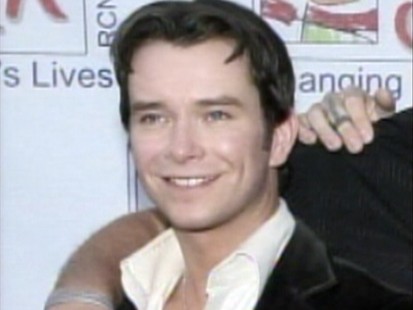 Gerald Kean, an Irish lawyer and a friend of
Gately
's, spoke on behalf of the singer's family, telling reporters: "There's no foul play involved, and it's not suicide.
"There is nothing untoward. It's not drugs, we don't believe. It's not suicide, it's not murder, it's not a fight. That's what we've been told."
A source told the Independent newspaper, "All we know so far is that they had gone out the night before 'till late and had quite a few drinks and raised the alert when they found Stephen dead."
The British tabloid, The Daily Mirror, quoted a family friend saying, "The family have been told the most likely scenario is Stephen had a bit too much to drink, vomited in his sleep and choked. It was a terrible accident."
Gately Battled Addiction to Prescription Drugs
One of Boyzone's two lead singers, Gately was known as a quiet, introspective man, fond of exploring alternative therapies such as crystals and meditation. He spoke of his battles with depression, suffering a two-year addiction to prescription drugs when the band split up in 2000.
Pop star Sir Elton John helped the singer end his addiction, introducing him to his long-term partner, businessman Andy Cowles, who was in Majorca with him.
John said Sunday he was "stunned by this tragedy," describing Gately as "the kindest, gentlest soul. ...We send our love and condolences to his partner Andy and to all his friends everywhere."
Gately's former band colleagues also expressed their grief on Gately's official Web site, saying he was "our friend and brother."
"We have shared such wonderful times together over the years and were all looking forward to sharing many more," a statement said.
"Stephen was a beautiful person in both body and spirit. He lit up our lives and those of the many friends he had all over the world. Our love and sympathy go out to Andrew and Stephen's family. We love you and will miss you forever."
Boyzone scored six No. 1 hits during the 1990s, and Gately in particular won praise from many for "coming out" as gay at the age of 23.
Gately was compelled to acknowledge his homosexuality publicly when a former member of the band's security detail threatened to sell his story to the tabloids.
On June 16, 1999, Gately gave an interview to Britain's The Sun newspaper, saying, "I'm gay and I'm in love."
He described the decision to "come out" as "the hardest thing I have ever had to do but I owe it to our fans -- as well as myself -- to be completely honest."
"I know this may come as a bombshell to our followers. Many of them may be upset. I only hope they understand how important it is for me to reveal that I am gay."
By doing so, Gately broke a taboo, and Boyzone's manager, Louis Walsh, said that if he had known about Gately's sexuality when he formed the band, he wouldn't have selected him, since "it wasn't cool then to have a gay guy in a band."
But the anticipated backlash from the band's mostly female fans did not materialize and after the band broke up, Gately enjoyed some success as a solo artist.
His only solo album "New Beginning" made it to the U.K. Top 10 and produced three hit singles. He also starred in several musicals, including Andrew Lloyd Webber's "Joseph and the Amazing Technicolor Dreamcoat" in 2003-04.
Gately's Fans Pay Tribute to "Heavenly Voice" on Facebook
He and Boyzone's other members reunited in February 2008, selling out two concert tours. The band also released two new singles, with the video for one of the songs, "Better," showing two men embracing in a montage of romantic couples.
The video aroused some controversy, with a Northern Ireland Presbyterian minister, the Rev. David McCullough, saying it was "yet another subtle effort of the homosexual propaganda machine."
"This video, that will be watched by millions, is sending out a deadly message to young people. It is stating that homosexuality is simply another norm," McCullough said.
Some public criticism notwithstanding, Gately appeared to have found peace in his private life. His Roman Catholic parents had accepted his homosexuality four years before his public admission, he told The Sun.
He underwent a "commitment ceremony" in Las Vegas with Cowles in 2003, and his most recent project was said to be a children's fantasy novel, "The Tree of Seasons."
His last message on Twitter, posted Oct. 6, alluded to the book, saying, "Still busy -- lots going on. Focusing on finishing my book next so may be quiet here."
Hundreds of fans posted messages on Gately's Facebook page, expressing their shock and sadness at his death.
Emily Louise Smith wrote, "As part of Boyzone, u were a big part of my life growing up [...] It hurts to know u are gone and the memories u and the lads shared will always be cherished."
Suzannah Summers posted a message saying, "RIP Stephen, it's such a shame to hear that you have left us at such an early age, i was so shocked wen i heard [sic]. you'll always be missed but forever in the hearts and minds of your fans."