For up-and-coming funnyman Danny McBride, establishing a name in Hollywood wasn't as easy as he intended it to be. Literally.
After his first movie came out, 2003's "All the Real Girls," McBride got a phone call from the studio saying Danny McBride, of 1970s-'80s rock band Sha Na Na, wanted to speak with him.
McBride recalled, "We had, like, a conversation about how there wasn't enough room in this town for the both of us. And he's, like, 'You should change your name.'"
So to differentiate himself from the singer, Danny McBride, the actor, became Google-searchable as Danny R. McBride. That is, until this summer.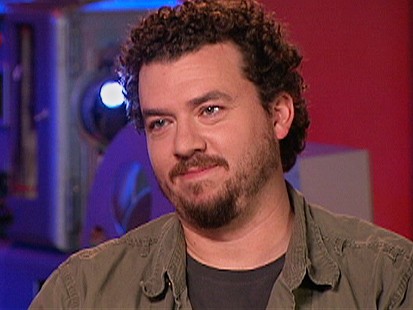 "I got a letter from the Screen Actors Guild saying that I could drop the middle initial, that I have more credits than him," he said.
That's credits well-earned. While the name Danny McBride still may not ring any bells -- unless you're a fan of Sha Na Na -- the actor is lending his comedic presence to not one, not two but three comedies this summer.
In a recent interview with "Popcorn With Peter Travers" on ABC News Now, McBride shared how he reclaimed his name in Hollywood and his road to making people laugh.
He has a scene-stealing turn as Red, the middle man of a drug deal gone wrong in "Pineapple Express," co-starring Seth Rogen and James Franco. Travers refers to Danny (minus the R.) McBride as "the secret weapon of the summer of 2008."
McBride is also playing the "special effects guy" in "Tropic Thunder," directed and starring Ben Stiller, with Jack Black and Robert Downey Jr.
Leading Man Material
McBride also took the starring role in "The Foot Fist Way," out in limited release early this summer (out on DVD in September), playing Fred Simmons, an unbecoming tae kwon do instructor who thinks maybe a little too highly of himself.
"He's just this guy who kind of is the king of his small kingdom and loses his grip on his control, and it kind of sends him into a downward horrible dark spiral," McBride said.
Growing up as a kid in Virginia, McBride admits he had some karate experience that informs his character but didn't stay with it for long.
"I quit because they actually put me in the advanced class, so I was getting my a** beat by 16-year-olds and I was like 11 years old," he said. "So I quit instead of becoming a man and rising to the occasion."
"The Foot Fist Way" was a labor of love for McBride and director Jody Hill. It made it into the 2006 Sundance Festival, but left Park City without a distribution deal. McBride said, "We literally just kind of went back to our lives and were trying to get back, make money again and work. Then unbeknown to us, the film was being passed around town and. ... I got a call one day that Will Ferrell and [writer-director] Adam McKay had seen the film and they wanted to meet with us [and] talk about putting the movie out there, which blew our minds. We're like huge fans of those guys."
Ferrell picked up distribution rights under his production company, Gary Sanchez Productions.
Landing roles in popular summer movies was not what McBride envisioned he would be doing when he was studying at the North Carolina School for the Arts for directing. In fact, he said the only acting training he received was when he had no choice but to act in his classmates' films.
"The dean of the drama school was really into the drama students working with the film students," McBride said. "So that kind of forced us to just, out of a necessity, act [in] each other's student films and that was kind of like any sort of real training that I had for acting -- [it] just came from having to show up in each other's films because we didn't know any real actors."
Film Roles of a Beginner's Lifetime
McBride nabbed a plum role in the comedy "Tropic Thunder" in which he plays Cody, a behind-the-scenes special effects guy who has "a fondness for explosions and fire" -- and a tendency to sometimes inflict some not-so-special damaging effects on himself.
"Some of his previous work has not gone so well," McBride joked about his character. "He almost blinded Jamie Lee Curtis on 'Freaky Friday.' He lost his finger on 'Driving Miss Daisy,' which was his first studio gig. Yeah, 'cause that was a special effects extravaganza."
And what better way to master the part of "special effects guy" than from the experts themselves?
McBride did just that, shadowing the special effects professionals from the crew of '"Tropic Thunder." McBride said, "[I learned] how to use a flamethrower and kind of, you know, how to napalm a beautiful forest -- so these were all things that I could carry with me into my life outside of filmmaking."
Whether McBride ventures back behind the camera or remains in front, it's clear that comedy is where he belongs.
As McBride soaks in his newly acclaimed fame, expect to see him in next year's "Land of the Lost," with fellow curly-haired Will Ferrell. But don't let the movie title fool you, McBride said. He hasn't ventured from the R-rated comedies into the "family movie" category just yet.
"I thought I had it pegged, you know I was like, 'This will be family-oriented,' but then we would start filming it and ... [we said] this is the weirdest movie ever made. I mean there was literally scenes where me and Will are like watching Sleestacks ["Land of the Lost's" large green humanoid/reptilian creatures] have sex with each other. ... It's just, like, this is a very odd take on the show, but I think it's gonna be pretty awesome."