They wanted a blowout performance. She gave them a semi-funny skit and a first-class teleprompter read. Still, she picked up three awards.
Britney Spears' opening of MTV's Video Music Awards, one of the most anticipated television events of the season, fell flatter than her 2002 movie, "Crossroads."
The show began with a skit starring Spears and "Superbad" star Jonah Hill. The premise: Hill is hanging out in Spears' dressing room, tasked with taming the nerves of the troubled pop star, who fumbled her performance of "Gimme More" at the VMAs last year.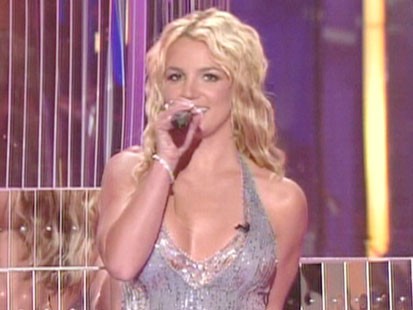 But instead of teaching her tantric breathing techniques, Hill asked Spears to close her eyes and moved in to make out with her, multiple times. Her response: An unconvincing "What is your deal?!" and "We definitely never have nor never will make out."
From there, the cameras cut to Spears, clad in a silver, sequined mini-dress, exiting her dressing room and strutting to the VMA's stage on Los Angeles' Paramount lot, where the crowd rose out of their seats to greet her. The 1998 hit that made her famous, "Baby One More Time," blasted in the background.
And as fast as it began, it was over. She stepped up to the stage, clutched the microphone, kept her eyes glued to the teleprompter, thanked the audience, announced she'd be helping the VMAs celebrate its 25th birthday, and skipped off stage:
"Thank you so much. Thank you for all the love. I'm here tonight to celebrate a very important birthday, the 25th anniversary of the VMAs. This is the 2008 MTV Video Music Awards and it starts right now."
Granted, Spears looked better than she has in recent months. And while it wasn't the disaster critics agreed her 2007 performance was, Spears didn't rise to the occasion this year either.
After the VMAs' innaugural performance by Rihanna (as predicted, Spears did not sing), Spears scored the first award of the evening -- and her first ever VMA, after 16 nominations -- best female video for "Piece of Me." Her acceptance speech, in which she dedicated the award to her fans, was as short and saccharine as her opening of the show.
Later in the evening, Spears scored two more awards: Best pop video and video of the year, both for "Piece of Me."