— -- Dane Bowman-Weston loves comic books, is a huge Seattle Seahawks fan and also a 13-year-old cancer patient at Seattle Children's Hospital.
For this brave young man, nothing meant more than when two A-list actors -- Chris Pratt and Chris Evans -- decided to lay down a little Super Bowl XLIX bet to benefit children just like Dane.
"I'm just really excited," Bowman-Weston told ABC News about the big game.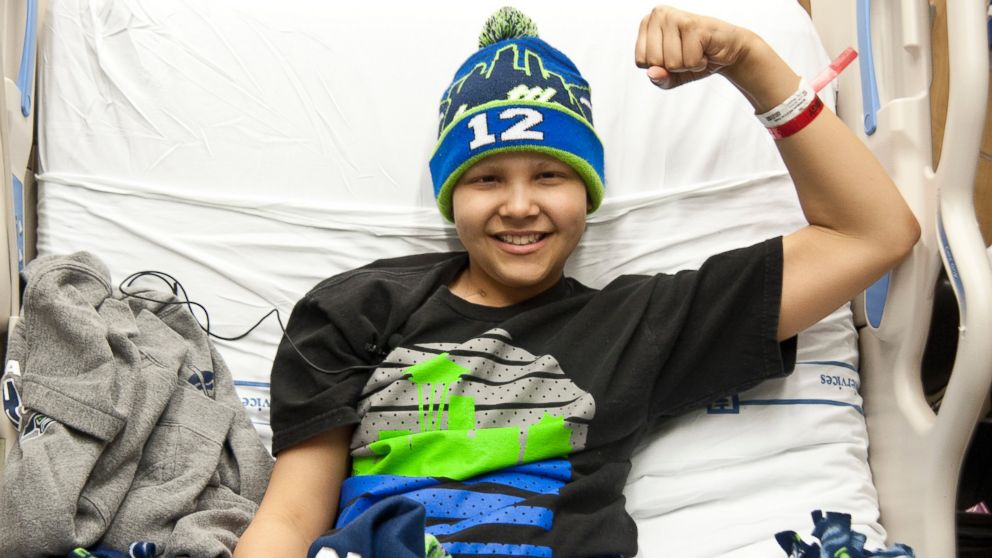 It all started less than two weeks ago when the "Captain America" star, who is a New England Patriots fan, reached out to the "Guardians of the Galaxy" star, a loyal Seahawks supporter, and made a joke.
"Well, well, well @prattprattpratt, looks like our teams are going into battle. For the next 2 weeks, you are not my friend, you are my enemy," Evans, 33, wrote.
Pratt, 35, eventually came back with a great idea.
Evans countered with his own favorite place for children battling cancer, Christopher's Haven.
"That would be cool if I could hold Captain America's shield" -- Dane Bowman-Weston
For Bowman-Weston, he couldn't be more excited for a possible Seahawks victory, which would mean he gets to meet Captain America, aka Evans.
"It would be really special," he added. "I like all of the Avengers, but my favorites are Iron Man and Captain America. ... That would be cool if I could hold Captain America's shield."
For someone like Dane -- who found out this past June, on his father's birthday no less, that he had osteosarcoma -- this bet is a breath of fresh air during a tough time. Bowman-Weston's knee had been hurting, so he went in for an MRI, where they found the tumor.
Dane's story is all too familiar for Seattle Children's Hospital President Lisa Brandenburg, who said "when celebrities, football players and super heroes come visit, there's nothing better that they could do for these kids."
"Already, the excitement here is at a fever pitch, there's Seahawks-mania here," she said. "Russell Wilson [the Seahawks' star quarterback] often comes on Tuesdays and the other players come, as well. This just adds to it. Now they are thinking, 'Great maybe I'm also going to see Captain America, maybe Star-Lord [aka Pratt] will show up!'"
Seattle Children's has almost 60 pediatric subspecialties and has been serving the Seattle community for more than 100 years. Its research center is also widely recognized for its work in cancer, genetics, pathology and infectious disease.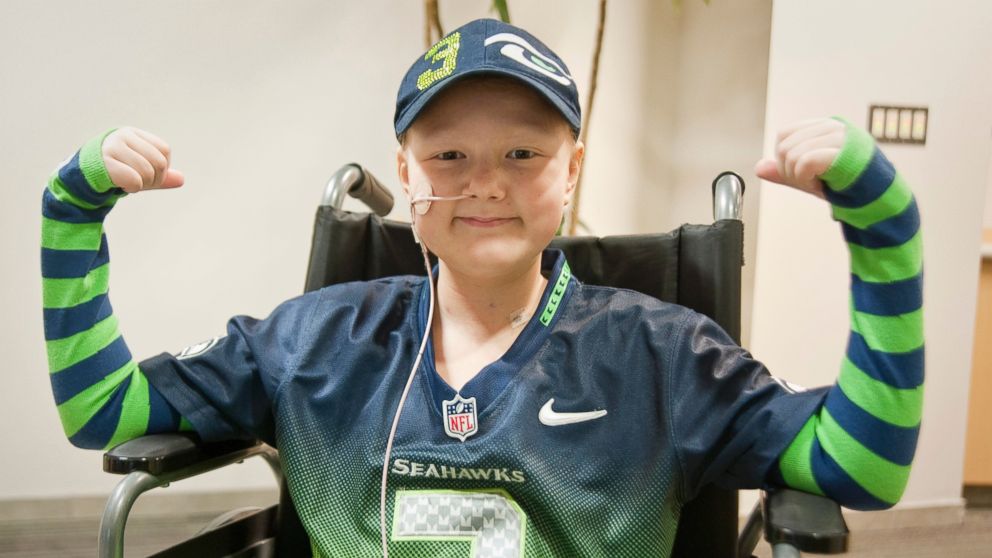 "This is a challenging time for these kids. So, to have something to look forward to, have something that makes them feel special," she said. "Hoping they get a visit, it's huge for them. It gives them hope."
Brandenburg said celebrities generous with their time really do have an effect.
"It takes their mind off their problems for a little bit of time and that's what they need," she said.
Another patient, Kennedy O'Day, 8, got together with other children in the same unit. Here's the challenge they put out if the Seahawks win:
They want Evans "dressed in a full Seahawk's uniform and have him do the Seahawks chant with them." They also want to see him sing "Stronger" by Kelly Clarkson.
Christopher's Haven's mission is unique and special. The organization is a place for families traveling far from home to get help for their children. The Haven website says its facility is a "respite from hospital bed" and space so parents can be with their kids.
Joyce Duvall, executive director for the organization in Boston, found out about the bet when her organization's website crashed because of all the traffic that Evans and Pratt had brought.
"I got a text from Chris Evans, saying, 'Just wanted to let you know about this little thing I did.'" -- Joyce Duvall, executive director for Christopher's Haven
Duvall said after Evans and Pratt tweeted out their challenge, employees couldn't get to the phones fast enough. The social media team couldn't keep up with the tweets and the site eventually went down. A great problem to have for an organization that helps so many families.
"They told me about the best and I said, 'Holy cow!'" she said. "Right after that, I got a text from Chris Evans, saying, 'Just wanted to let you know about this little thing I did.' I said, 'No kidding Chris, our website crashed!'"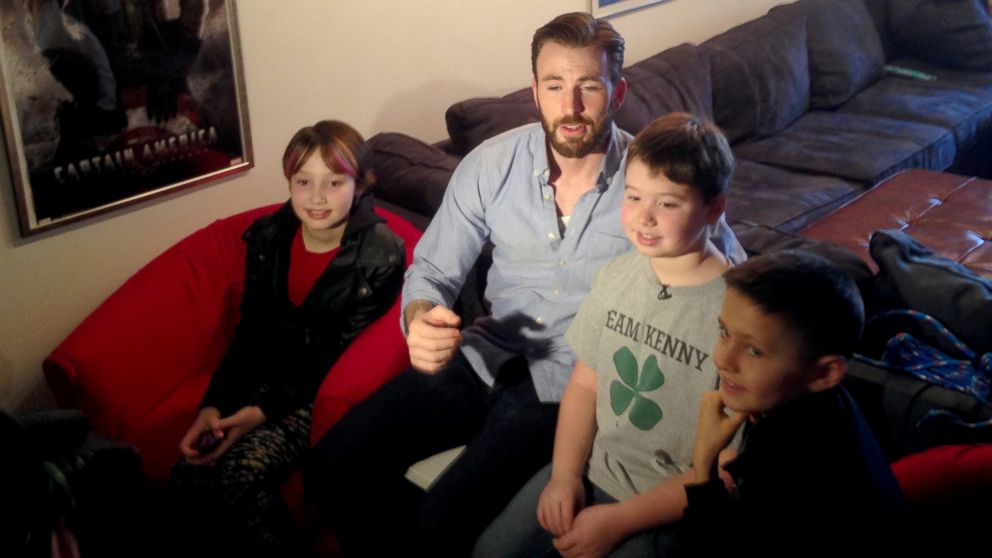 Duvall said back in January that they got 11,000 tweets when Evans, who actually went to school with her children and has known Duvall for years, did an event with them. This Super Bowl bet got them 200,000.
"It's so refreshing! The kids' reaction has been almost disbelief. They can't wrap their heads around it. They go, 'Is he talking about us?'" she said. "I said, 'Yes!'"
The kids at Christopher's change every 6 to 8 weeks, so Duvall said alumni have been calling and obviously, they are excited!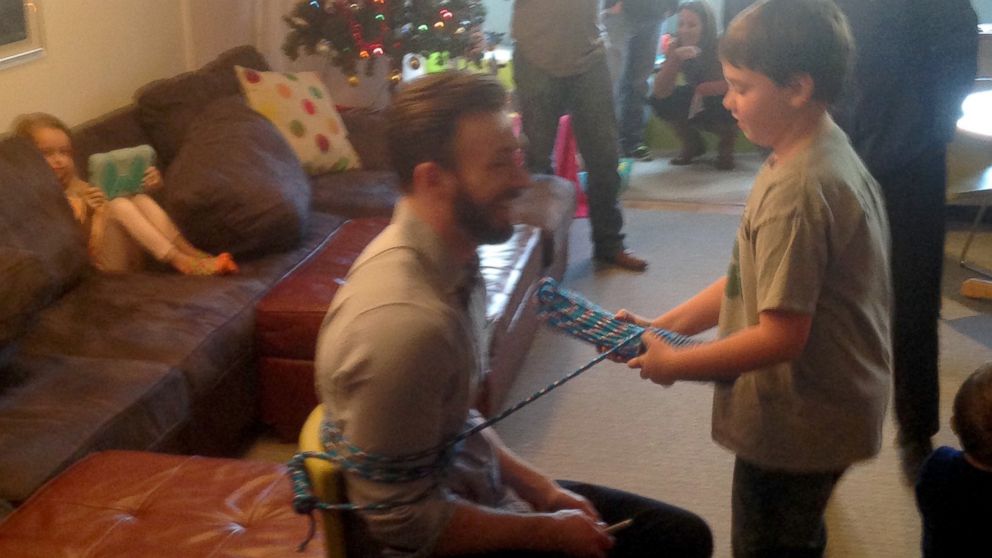 Evans is no stranger to connecting with and helping the children of Christopher's. One story, in particular, really struck Duvall.
A 4-year-old boy Coleman wanted a superhero costume for his cancer treatment, thinking "Superheros can go through anything." He ended up wearing his outfit the entire time he was getting treatment.
"Then Chris showed up and said, 'This guy is the real superhero,'" she added, tearing up a bit.
So, what are the official rules of this little Super Bowl bet?
If the Patriots win Super Bowl XLIX, Chris Pratt will visit Christopher's Haven as Star-Lord and wear a Tom Brady jersey. If the Seahawks win, Chris Evans has to visit Seattle Children's Hospital to wave Seattle's 12th Man Flag in his Captain American outfit.
As of now, the stakes got a little higher with "Twitterbowl 2015."
"Fans will compete to raise the most money for either Seattle Children's Hospital or Christopher's Haven," a joint release to ABC News read.
Fans can donate to Seattle Children's HERE and to Christopher's Haven HERE.
The idea is to have a tally running from today until one of the heroes visits the winner's charity of choice.