The Belgian beauty hired by cosmetics giant L'Oreal Professionnel after photos of her cheering in the stands at a World Cup match went viral has deleted her Facebook page that featured a photo of herself posing with a gun and a slain Oryx gazelle.
L'Oreal Professionnel has also confirmed that the beauty, 17-year-old Axelle Despiegelaere, will not be continuing on with the company beyond a nearly 90-second hair tutorial video she has already filmed.
"She collaborated on a one-time basis for social media use in Belgium," a L'Oreal Professionnel representative told ABC News today. "It was a one-time contract which has been completed.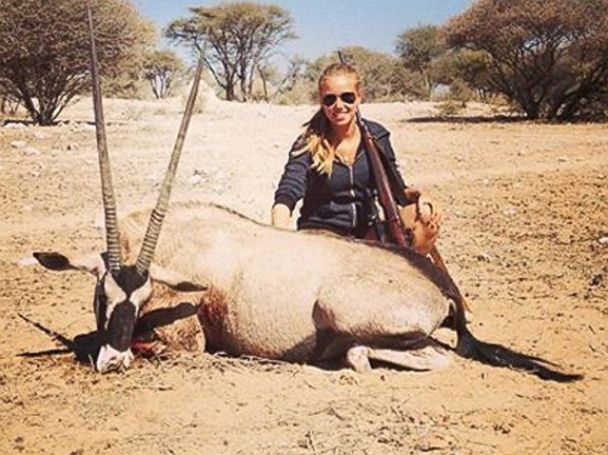 "She was not a spokesperson."
5 Models Discovered Through Chance Encounters
Who Is the Hottest Player in the World Cup?
Photos of Despiegelaere's cheering on her country during a World Cup match against Russia in Rio June 22 went viral after they were plastered around the world in newspapers and social media.
The blonde was decked out in red, black and yellow face paint -– the colors of Belgium's flag -- wearing a matching hat with horns and waving pom-poms in the candid photos.
Two weeks later, on July 8, Despiegelaere announced on Facebook that she had signed a contract with L'Oreal.
"Feeling excited," she wrote at the time.
As the spotlight on Despiegelaere grew, so too did the spotlight grow on the photo she posted July 1 of herself with the dead gazelle. The photo was posted one day before her home team, Belgium, defeated Team USA 2-1 in the World Cup.
"Hunting is not a matter of life or death," Despiegelaere wrote in the photo's caption. "It's much more important than that…this was about 1 year ago…ready to hunt Americans today haha."
Despiegelaere has since deleted her Facebook page.
The representative for L'Oreal declined to comment on the photo today, saying only, "The photo was released privately and is not one of L'Oreal Professional's."
Despiegelaere's hair tutorial video has already racked up over 2 million views on YouTube.
ABC News' Rheana Murray contributed to this report.
Sign up for occasional World Cup dispatches from Brazil delivered right to your phone -- including the best photos and limited highlights -- by "starring" this story in ABC News' phone app. Download ABC News for iPhone here or ABC News for Android here.