As Clair Huxtable on "The Cosby Show," Phylicia Rashad was an '80s icon -- the working mom who had it all. Since the beloved series went off the air in 1992, Rashad has become a top Broadway actress, winning a Tony Award for her role in "A Raisin in the Sun."
She's also, by her own admission, put on a few pounds. Her latest role is as a spokeswoman for Jenny Craig. And now she has a dieting buddy, or maybe competitor: her little sister, choreographer and director Debbie Allen.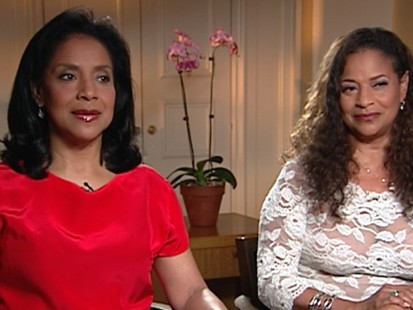 Rashad says her weight gain snuck up on her "very gradually."
"Little things, a muffin, a bag of chips ... working in the theatre, coming home hungry," she said. "Eating a full meal and putting dessert with that too."
Reality hit Rashad after seeing those old images of herself on "The Cosby Show" as the perfectly thin Clair Huxtable.
Still, Rashad said she "wasn't miserable" at a heavier weight, and it even freed her as an actress.
"Weight gain has served me well," she said, laughing. "I mean, look at my career ... because people began to look at me differently, in ways they would not have considered me before."
But she was worried about her health.
"One day, I walked up three flights of stairs and couldn't breathe," she said. "I knew that that wasn't good."
Allen said it was her idea for the two to lose weight together.
"She's pretty when she's thin and when she's overweight," Allen said. "But you know, I hugged her one time. I said, 'Come on, let's go. Come on. I'll go with you. Let's go. We got to go down 25 pounds.'
"I've always said, 'If you can stand in the mirror naked and you can look at it, then maybe someone else can too,'" Allen continued, laughing. "But if you can't stand to look at it, honey, child, run. Run, run to Jenny Craig, honey! Get on your tennis shoes and get your butt over there. Don't take any time!"
Rashad took the advice, and once she signed on as a pitch woman for the diet company, she dropped five pounds in the first week -- Thanksgiving week no less.
"That's why I did it," Rashad explained. "I said, 'No, if I'm going to do this, I'm going to do it right now, in this week. I ate everything I wanted to eat. I ate less of it."
Phylicia Rashad Learns Weight Loss Tricks
The biggest trick, Rashad says, is to eat four to five small meals a day, to keep her metabolism going.
"I discovered that we eat so much more food than we really need," she said. "We don't need to eat all that food."
Rashad also committed to hitting the gym on a regular basis.
"I like the recumbent bike," she said. "And I do a little weight training, not a lot."
Now, eight months later, she's down 38 pounds and counting.
"I feel lighter. I feel lighter on my feet," she said. "And I feel much more agile than before. And healthwise, I'm just healthier."
Rashad's success inspired her sister to join in.
"Well, what I thought was -- oh, no, she would not be the only thin heifer in the family," Allen said, laughing. "Give me the number. Give me the phone. I'm going to join. I mean, I was just really a little jealous. I was really happy though, I was really happy."
And so, the close knit sisters joined forces, harkening back to an ironic episode of "The Cosby Show" in which Allen guest starred as Rashad's trainer to help Clair Huxtable lose weight to fit into a dress.
"Life imitates art," Allen said. "Art imitates life."
Allen, once a svelte dancer on the hit show "Fame," which she also choreographed, today finds herself buried in a hectic schedule and fighting her own battle of the bulge.
"I actually have lost 20 pounds," Allen said. "Twenty pounds, but she has lost, what, 38? Oh, no, no, no! I'm sorry. I have to keep it up. I'm going to have to catch her now."
Allen says after dropping the 20 pounds she feels "so cute."
Rashad and Allen Team Up in the Theatre
The sisters, who say they are best friends, are teaming up on a new version of Tennessee Williams' classic play "Cat on a Hot Tin Roof," with Allen directing her sister, who doesn't look the part of Big Mama quite as much as she did during the last run.
"A person can be big, because of spirit," Rashad said. "A person can be big because of their position in the family, the hierarchy in the family. That role has been played by women who are quite thin."
Many stars celebrate their new svelte shapes with bikini cover shots, but Rashad says fans shouldn't hold their breath.
"I'm not that kind of girl," she said, laughing.
And Allen? She said she's past the age to wear a bikini, but a one-piece isn't out of the question.
"I have got to catch her. I am determined to catch her. And I will take the swimsuit photo. I will. Yes, I will," Allen said.
This year marks the 25th anniversary of the debut of "The Cosby Show." For many viewers, Clair Huxtable represented the first glimpse of a poised, professional black woman who was a parent first, much like the current first lady. But Rashad says she doesn't think her character laid the groundwork for first lady Michelle Obama.
"Clair was scripted," Rashad said. "Mrs. Obama is not."