Most of the styles we all wear got their start on the runways of fashion week. For brides, that inspiration comes from the "bridal market," where all the hottest wedding gown designers show their latest creations.
The editor-in-chief of Brides magazine, Millie Martini Bratten, gave "Good Morning America" a sneak peek of the latest trends you'll be seeing at your local bridal shop or on someone you know who is walking down the aisle soon.
The runway dresses are stylistically very bold, Bratten said, but they indicate where the trends are going and provide lots of inspiration for designers and brides alike.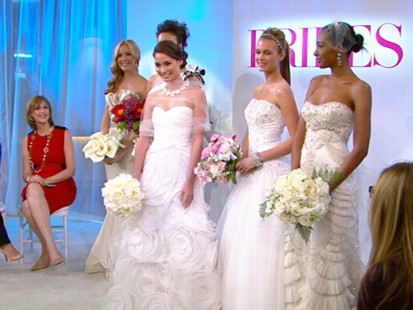 Bratten also announced that Brides magazine once again is inviting fashionistas and amateur designers to create America's most beautiful wedding gown as part of the Operation Dream Dress Contest. You could win $10,000 and the chance to see your dress on the cover of Brides magazine and manufactured nationwide by David's Bridal.
To enter the Operation Dream Dress Contest, go to OperationDreamDress.com.
CLICK HERE to see last year's dream dress winner!
CLICK HERE for more from Brides magazine.
CLICK HERE to follow the 30-Day Wedding Countdown: one bride-to-be's journey to the altar with advice from a celebrity wedding planner.
Bridal Fashion Trends
Designer: Vera Wang
Trend: Sculptural Fit, Draping
The takeaway trends seen in Vera Wang's design are the sculptural fit and draping, Bratten said. Vera Wang's bone-colored, strapless two-piece gown with an asymmetrically draped peplum bodice and back bow is made of a fabric called faille. It is romantic and period-inspired in a modern way. A bride could wear this look in a romantic wedding in a castle or a sleek ceremony in an art gallery, Bratten said.
She called it a great choice for women with hourglass figures, but said you don't have to have a perfect figure to look great in it. The dress will add the appearance of shapeliness to women without curves.
"It gives you a shape if you don't have one and it's great if you're curvy," Bratten said. "It's very, very wearable."
Trend: Black & White
Designer: Justin Alexander Bridal
Black and white was a popular trend at the bridal market.
"We saw a lot of black accents," Bratten said. "You don't always see it in dresses."
Justin Alexander Bridal has a one-shouldered silk-and-satin fishtail gown with a tulip-shaped skirt, bow details at shoulder and hip, and black accents inside the bows and on the beaded waistband and lining.
The overall effect of this dress is white with surprise black accents, Bratten said. It's an edgy classic look that looks like you could walk down the aisle and right onto the red carpet, and is perfect for an elegant evening affair or a ceremony at a chic hotel.
According to Bratten, this dress would work best for women with hourglass figures or who are larger on top and smaller on bottom.
Trend: Two-in-One Dress
Designer: David Tutera for Faviana
These days, many brides get two dresses -- one for the ceremony and one for the reception. David Tutera has designed a dress for Faviana that gives you two for the price of one.
"It's a great idea," Bratten said. "It's a wonderful idea if you want two dresses in one."
At bridal market, Bratten saw two-in-one dresses that work for all body types. This dress is great for a bride with great legs. It has an ivory strapless tulle ball gown has a sweetheart neckline, embroidered bodice and detachable skirt that reveals a mini bubble skirt. With this dress, the long version is for the ceremony, and then you remove the skirt for your reception. It's perfect for a wedding in a hotel ballroom or if you're having a church wedding and a more club-like vibe at the reception.
The skirt is attached with snaps and hooks. Panels of lace cover the attachment, so you can't even see it. Removing the skirt before the reception is a great job for your maid of honor, because you'll probably need the help. Bratten advised that when you are shopping for this kind of dress, make sure the attachment is secure.
Trend: Vintage-Inspired
Designer: Lazaro
Vintage-inspired dresses are a big trend, Bratten said. Lazaro's ivory strapless dress with a curved neckline is a modern take on a vintage look. It has an embroidered net art deco design, a crystal motif at the empire bodice, and a chiffon ruffle tiered, flared skirt and sweep train. There is beautiful detailing to create visual interest. This dress works for a bride who's curvy or who is petite, Bratten said, because the cut elongates the body.
Bratten called it a "beautiful slim dress" with "an amazing shape."
"It's a very, very finely made dress," she said.
You could wear this in a wedding in a library, a winery or a historic home.
CLICK HERE to follow the 30-Day Wedding Countdown: one bride-to-be's journey to the altar with advice from a celebrity wedding planner.
Trend: 3-D Florals
Designer: Monique Lhuillier
3-D florals are in this season, especially in skirts, Bratten said. It's a texture that works well for white wedding dresses. This Monique Lhuillier ivory silk organza strapless sweetheart gown with a draped drop-waist bodice has a cascading, full a-line ruffle flower skirt and tulle wrap. The draping at the waist creates a flattering shape, making it a good choice for a pear-shaped bride.
Bratten said the dress has "wonderful, big overblown flowers … it's really very, very special."
She said it would be "beautiful for a garden wedding in the afternoon."
CLICK HERE to follow the 30-Day Wedding Countdown: one bride-to-be's journey to the altar with advice from a celebrity wedding planner.
Hair accessories by Jennifer Behr, jewelry by Kenneth Jay Lane, bouquets by Zeze Flowers.