You don't have to pay a lot to look like you spent a lot -- at least according to Daisy Lewellyn, author of "Never Pay Retail Again." Lewellyn explains how to get the runway look without paying a fortune.
Read the excerpt below, and then head to the "Good Morning America" Library to find more good reads.
Introduction
Fashion is in my genes. A fourth-generation seamstress, I was born into a family of fashion lovers. If my Granny, Mildred McGill, had ten bucks, she would sew an amazing dress for herself and one for her sister—and each would look as if they were worth hundreds of dollars. My late Nana, Louisia Samm, lived to be nearly eighty and was still sporting stacked heels and fabulously exquisite hats until her final days. Both women passed on a secret to me that has a special place in my heart: you don't have to spend a lot to achieve your best personal style.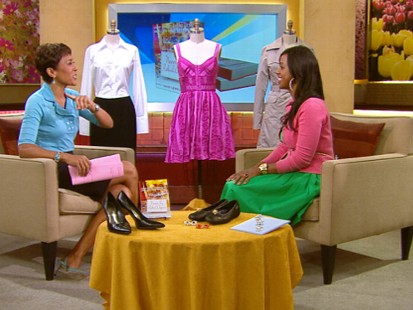 We've always been a fashion-forward family. My sister wore a lime green leather pencil skirt and matching bustier to her prom's after-party in 1990 and passed down her Guess jeans obsession to me (we would take trips to Tijuana for deals at the Guess outlet). At just two years old, my niece T'sai stumbled around the house in my silver sequined, high-heeled mules. And my niece Assata loves to dress "fancy." Like I said, I'm surrounded by full-fledged fashion girls.
I always knew I was destined for a career in fashion. My junior year at Howard University, I did an exchange program at New York City's Fashion Institute of Technology to study accessories design. I also interned at Honey Magazine, which was beyond cool at the time. I instantly fell in love with the world of fashion and craved every bit of it. After graduation, my very first job was back in Manhattan at InStyle magazine working under fashion legend Sydne Bolden, who taught me the ins and outs of making it in the business. I was living out my most glamorous dream. Only one minor issue . . . my reality was a $23,000 salary before taxes. I quickly learned that a clothing allowance could not equal your entire paycheck. It was time to be resourceful. My sample sale education and designer-duds-for-less passion took off. I soon gained notoriety as an expert on turning runway looks into affordable fashion. The matriarchs of my family were right: It is fun and smart to stand apart from the crowd as a true fashion girl while secretly smiling about all the money you've saved.
Between living in Los Angeles and New York, and going to Howard University in Washington, DC, and traveling everywhere from Texas for family reunions to the Midwest for work, I am always faced with compassion and frustration. Why? Because I hear the same falsehood from women: if you don't live in a big city, there is nowhere for you to shop. Huh?! That is so not true, but it seems far too many women still feel this way, despite the abundance of online shopping sites. Then there is the biggie, the humdinger that seems to always circulate on playdate park benches and checkout line chitchat: Clothes are just too expensive these days. I don't have the money or time to get all dressed up and I really cannot afford the fancy stores. Oh, my stars, I have to stop myself from shaking the clipped coupons out of these ladies I hear spew such nonsense. And then there are the women who are pretty well versed in the lower-priced shopping resources but really don't know how to spend twenty dollars to get an item worth two hundred dollars and spend way too much money on the absolute wrong things.
I can't wait to share my editing abilities so that you too can shop smart and save bundles of cash! This book is designed for women who want to look like a million bucks but also want to save a pretty penny. Cue the lights and enter from stage left: the Bargain Babe. Consider me your Bargain Babe Style Coach. Never Pay Retail Again is your guide, resource, and how-to for all things bargain and discount—and sometimes even free. Get ready to indulge in the stylish delights of fashion and beauty without massive credit card debt, a trust fund, or a Gucci bag as your pillow after you find yourself homeless. You can shop and eat, shop and put the kids through college, shop and do a really smart thing—save. It's très chic to be stylish and financially smart. And it's really possible without feeling like you are confined in a fun-free zone. I love Target for their diffusion lines, I'm obsessed with Bergdorf's for their amazing shoe sales, and I never met a T.J. Maxx that I didn't adore. My goal is for every girl to tap into her inner Bargain Babe.
This means looking your best with all of your purchases, from the "running errands" look to the after-five cocktail number. But instead of bulk and quantity, you will be inspired to focus on wearability for your lifestyle, flattering silhouettes, and chic styles. A large wardrobe does not necessarily equal your best-looking wardrobe. When you purchase pieces that make you look your best, you will feel your best. I'm offering the freedom to wear the styles and brands that you love—even those that you have always dreamed of wearing but thought you could never afford.
Shopaholics reformed into Bargain Babes need to milk this moment for all it's worth. This is the time to boast and brag about all things bargain, markdown, and clearance. Even our beautiful First Lady, Michelle Obama, is a self-proclaimed Bargain Babe and does not mind sharing her love for a deal (the White House has never seen so much J.Crew candy-colored goodness!). Websites like InStyle.com, People.com, and StyleBakery.com serve up yummy bargains and styles seen on celebs on a pretty platter. You can now find out what Beyoncé wore to the airport, to the Grammys, or even to Starbucks. Not to mention that they provide the exact label and a cheaper replica. So many depressed lovelies are now just a click away from fashion restoration and redemption.
Never Pay Retail Again is the long-awaited wake-up call of creative inspiration, timeless tips, and fashion fantasies.
Long live the Bargain Babe!
Click here to return to the "Good Morning America" Web site.