Top retailers like Amazon, Overstock, and Sears.com say Dec. 17 is the last day they will guarantee delivery by Christmas using their free-shipping offers.
According to a survey by Web site freeshippping.info, 52 percent of the top 500 online retailers say they will end their free-shipping offers on or before Dec.18. After that many consumers will have to pay extra for expedited shipping to guarantee their gifts are delivered before Christmas.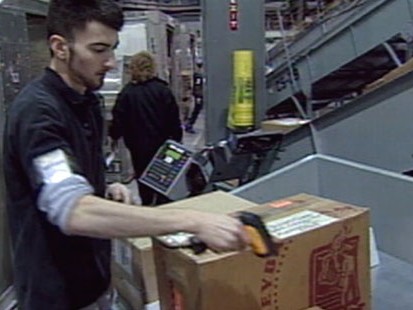 The survey also found the minimum purchase necessary to qualify for free shipping was $52, although free-shipping codes can be found online at sites like
freeshipping.org
and coupon code sites like
savings.com
,
retailmenot.com
, and
deals.yahoo.com
.
If you are mailing packages yourself, here are the most important looming deadlines:
The UPS ground deadline was officially Dec. 16, but using the delivery estimation application on the UPS site, most domestic deliveries shipped by the Dec. 17 will still make it in time for Christmas Day, Dec. 25.
The Fed Ex Ground delivery date is Dec.17.
After the De. 17, costs for expedited services from UPS and FedEx escalate quickly.
A 20-pound package shipped from California to New York with UPS Ground costs approximately $29. Moving up to three-day shipping for the same box and destination costs $63.
If you are shipping to a military APO address, you have missed all the USPS deadlines except the Dec. 18 cutoff for Express Mail Military Service.
The Parcel Post deadlines for the USPS have already passed, so the next delivery date to be aware of is Dec. 21 for Priority and First Class mail service.
After the Dec. 12, you are limited to Express Mail delivery, which in the case of our 20 pound-box traveling from San Francisco to New York would bring the Priority mail price of $13.50 up to the Express price of $25.15.
If You Missed the Deadline ...
One option to consider if you miss the shipping deadlines is a new feature many Web sites are offering called ship to store or in-store pickup.
You order and pay online, and then take your online receipt to a local store and pick the item up. The benefits are that you often pay no shipping, the item can be made available almost instantly, and it's a much speedier pick-up process as opposed to locating the item on the racks (if it's in stock) and then waiting in line to pay.
This can also help travelers avoid transporting gifts to their holiday destination and avoid baggage fees.
Online Deals
Finally, there are a few deals online Dec. 17 worth calling out.
Amazon has a Fuji Z30 camera for $79. This camera cost $180 last summer, and Amazon currently has the lowest price on it at $89 and is dropping the price to $79 Dec. 17.
This is not a perfect camera for everyone, but it's a stylish little 10 megapixel camera with 3x optical zoom and limited control options that would be perfect for a teenager or sporty 20-year-old.
Walmart has its $78 Magnavox Blu-ray player that is the cheapest Blu-ray player available online from any major retailer.
Ebags has a great kids roll-aboard set of two bags in penguin, ladybug or lion motif that cost just $23 (free shipping only when you hit the $100 purchase mark at ebags.com).
Toys 'R' Us has $4.99 board games like Candyland and Chutes and Ladders that qualify for $2 rebates bringing the price down to $2.99 (Toysrus.com has a $49 minimum for free shipping).
JR.com has the Flip Ultra HD camera for $129 & free shipping.
ZhuZhu Pet Alert
Walmart has announced that they will make a limited number of ZhuZhu pets available in stores starting at 7 a.m. each morning on Dec. 21, Dec. 22 and Dec. 23.
Customers will be limited to one per customer and each Walmart store will have a minimum of 20 ZhuZhu pets to distribute each day. To avoid altercations customers will be organized in lines and assigned numbers.
CLICK HERE to return to the "Good Morning America" Web site.