Here's a novel idea: Instead of giving people nutritional advice at the doctor's office, in a book or on TV, give it to them right when they need it -- at the grocery store.
Some of the national's biggest grocery chains are trying to give people healthy guidance right as they shop.
At one Safeway store in Washington, D.C., you can sign up to have the store compare your purchase history with national nutritional recommendations. Hy-Vee and Wegmans stores are hiring dietitians to take people on nutritional tours of their local stores.
Hannaford supermarkets now rate the healthfulness of foods from 1 to 3 stars. And ShopRite and Giant Eagle have experimented with giving people register coupons for healthier versions of the products they just purchased.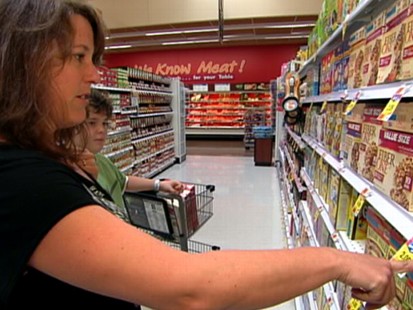 And then there is the NuVal System, available in several different chains, that boils nutrition down to a 3-digit number.
It's easy for nutrition information to go right over shoppers' heads. After all, there are 50,000 mind-numbing choices in a typical supermarket, so now some stores are trying to bring nutrition down to earth.
Click HERE to learn more about how NuVal works.
"They weren't looking for us to tell them what to eat," Ellie Wilson of Price Chopper told "Good Morning America." "They were looking for information to help them make their decisions and that's what we felt our role was here."
One Price Chopper store in Warwick, N.Y., puts nutrition scores right on its shelf tags. The scores range from 1 to 100, and higher is better.
"It makes it so much easier than having to read through the ingredients' labels and the nutritional labels and I think that's great," shopper Dawn Thomas told "GMA."
"You are what you eat and in today's world, everything is hustle and bustle and the rush and junk food, so that's why this is very important," said Maria Gioffre, another shopper.
NuVal Intended to 'Empower People,' Doctor Says
They're called NuVal scores. NuVal is a for-profit enterprise. Yale University researchers and other tops experts developed a secret math formula that gives points for good nutrients like protein and calcium and take points away for bad ones line trans fat and cholesterol.
"What NuVal is intended to do is to empower people," said Dr. David Katz of Yale University. "Knowledge is power. Now you know. Some people will certainly use that trade-off for better nutrition. Some people will say, 'I'd rather not know. I'm going to choose what I like. I don't care whether or not it's good for me.'"
Not surprisingly, fruits and veggies straight from nature like blueberries and spinach score 100 on the NuVal scale. Processed foods don't do as well, but there are intriguing differences among them.
For example, V8 Splash Diet Berry Blend gets a 57 score, whereas Ocean Spray Light Cranberry Juice Cocktail gets just a 2. The NuVal team says that's because the V8 Splash contains less sugar and calories and more potassium and vitamins.
Post Original Flavor Shredded Wheat earns a 91 NuVal score, whereas General Mills' Cheerios gets a 37. NuVal explains that although Cheerios are low in sugar, Shredded Wheat has more protein and fiber and no sodium.
Ball Park's regular franks get a 7, but Ball Park's Smoked White Turkey fat-free franks score a 24 because they have more protein, less cholesterol and no saturated fat.
Sara Lee, maker of Ball Park Franks, told "GMA" it strives "to provide our loyal consumers with multiple product options."
Ocean Spray said, "NuVal ... does not take into account product qualities beyond those listed on the label."
General Mills said, "Criteria for NuVal are not available to the public, making any actual comparisons impossible."
Click HERE to see full statements from the manufacturers.
All the manufacturers were skeptical that the nuances of food can be boiled down to a couple of digits. But Dr. Katz of Yale argued that's exactly what doctors have done for years at their patients' annual physicals.
"If expert training and medicine enables me and my colleagues to sum up the health of a person, we can certainly sum up the healthfulness of a loaf of bread," he said.
Food Flex Program Suggests Alternatives
Safeway offers a Food Flex program in which the supermarket will use your club card records to analyze the foods you've purchased for the past three months and tell you how they compare to national nutritional recommendations.
I tried it and learned my family could stand to eat more protein and fiber and less sodium. Oops!
The program also suggests healthful alternatives for shoppers.
For example, I could switch from Safeway's regular turkey breast cold cuts, which have 860 milligrams of sodium, to Safeway's Eating Right turkey breast, which has 526 milligrams.
Instead of Lucerne fat-free vanilla light yogurt with just 5 milligrams of protein, I could buy Lucerne fat-free plain yogurt, which has twice as much protein.
And if I trade in my butter lettuce for romaine, I would get 4 grams of fiber per serving instead of just one.
Painless tweaks for better nutrition.