— -- Chadwick Boseman and Ryan Coogler have been praised for the rich, unique world the duo has been able to create in the hottest movie ticket in town -- "Black Panther."
But the star of the film, Boseman, said the women shine just as bright in the Marvel film, which has been touted as the first film in the genre to be fronted by a black superhero.
"The most interesting part about playing this role is that he's a world leader, and he's a superhero," Boseman said during a recent visit to "Popcorn with Peter Travers."
"He's the leader of the nation of Wakanda, which is the most technologically advanced nation on the planet," he continued.
And while the king can hold his own, sporting a powerful suit and heightened abilities, he is protected by warrior Okoye, guided by his mother Ramonda and picked on by his brilliant sister Shuri.
Here's a look at the fierce women of "Black Panther."
Okoye
"The Walking Dead" star Danai Gurira, 40, stars as Okoye and is, according to Boseman, the second most imposing person in Wakanda behind himself. She leads the royal guardswomen and truly believes in "Wakanda forever."
"Part of what's interesting about her is she's the best fighter in the nation that's not the Black Panther," Boseman said.
Okoye is also fiercely loyal to the throne and her king.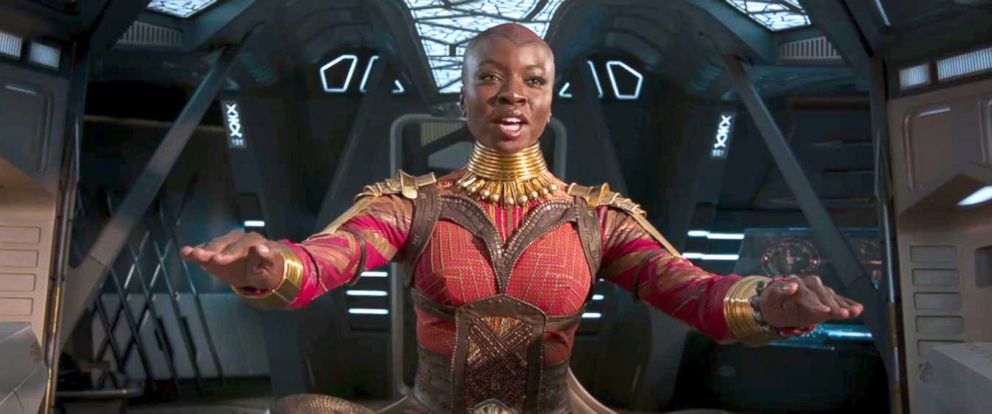 "Wakanda has never been conquered by any other nation," Boseman said. "I felt like [T'Challa] needed to have like sort of a classic protagonist feel that he needed to be able to speak softly and carry a big stick."
Okoye also carries a lethal stick, a spear, that she uses in the film in various, impressive ways.
"She's the protection that allows me not to have to walk around and wear this Black Panther outfit all the time," Boseman said. "In a sense, she's my right hand."
Shuri
Letitia Wright, 24, steps in as tech guru and younger sister to the king, Shuri. This role is especially important as Wakanda is the most technically advanced nation on the planet due to its abundance of the rare ore vibranium.
In the film, Shuri helps the Panther with his superhero suit and is not afraid to quip back at her older, regal brother.
"I love how she would say, 'Did you freeze again?'" Travers said of the young actress. "It's like... you're talking to the king, your brother, who's also a Black Panther and she's saying 'What's wrong with your reflex?'"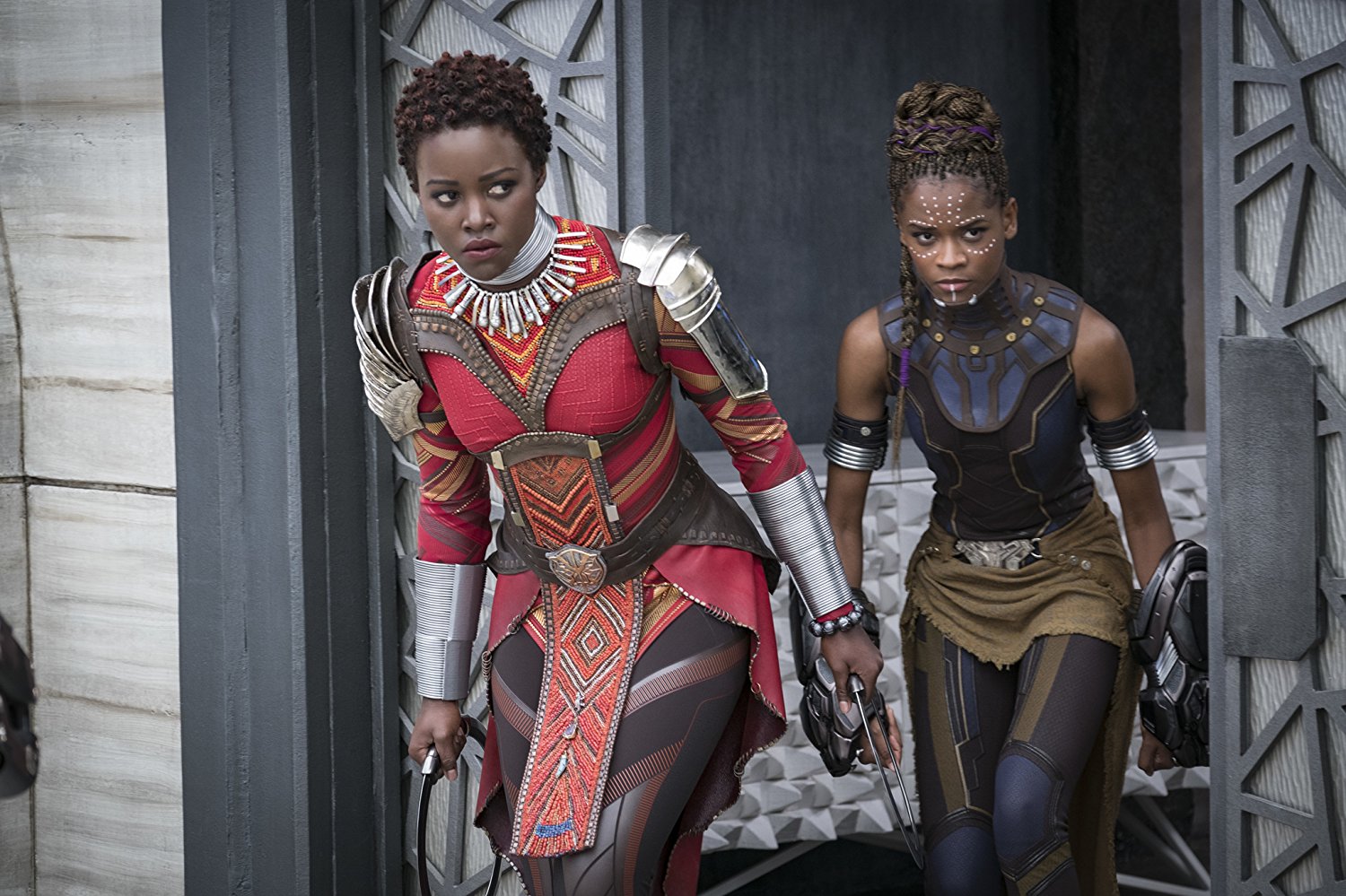 Boseman said he knew Wright was perfect for the scene-stealing role of Shuri from the first time the two actors met.
"I read with the young ladies that came in and as soon as I saw her, I knew she was the person because she came right up to Ryan [Coogler] and I, and just started... you know, there was respect there, but at the same time, she gave it to you just like a little sister and she has something that you just couldn't teach," he said.
But this doesn't mean Wright didn't bring "life and joy" to the set each and every day, Boseman added.
Download the all new "Popcorn With Peter Travers" podcasts on Apple Podcasts, Spotify, Tunein, Google Play Music and Stitcher.
Nakia
Oscar winner Lupita Nyong'o plays the love of Black Panther's life, Nakia, but, of course, that's not what defines her at all.
"She's the only one who could make [The Panther] freeze up," Boseman said.
Nakia is devout in crusading the world and helping others. And while she has no spear or superpower, she's willing to risk it all to be a hero in her own right.
As for the actress, herself, Boseman said Nyong'o is "amazing."
"She's just an amazing person," he added. "Really pays attention to detail, loves the smaller things of life, not just on screen."
Being the love interest of an accomplished actress like the "12 Years a Slave" star was simply a "joy," Boseman said. But she's also the "prankster" on set, as well.
Luckily, fans will get to see this joy and chemistry play out in the film.
Ramonda
In contrast to the joking nature of Nyong'o, Boseman said the incomparable Angela Bassett was "very serious."
The Oscar winner plays T'Challa's mother and widow to the late king of Wakanda, who died in "Captain America: Civil War."
"She has fun, but [she's] just really, really strong," Boseman said of Bassett. "I would actually pinch myself sometimes because I'd look over and see her there. Be like, 'I can't believe I'm working with her!'"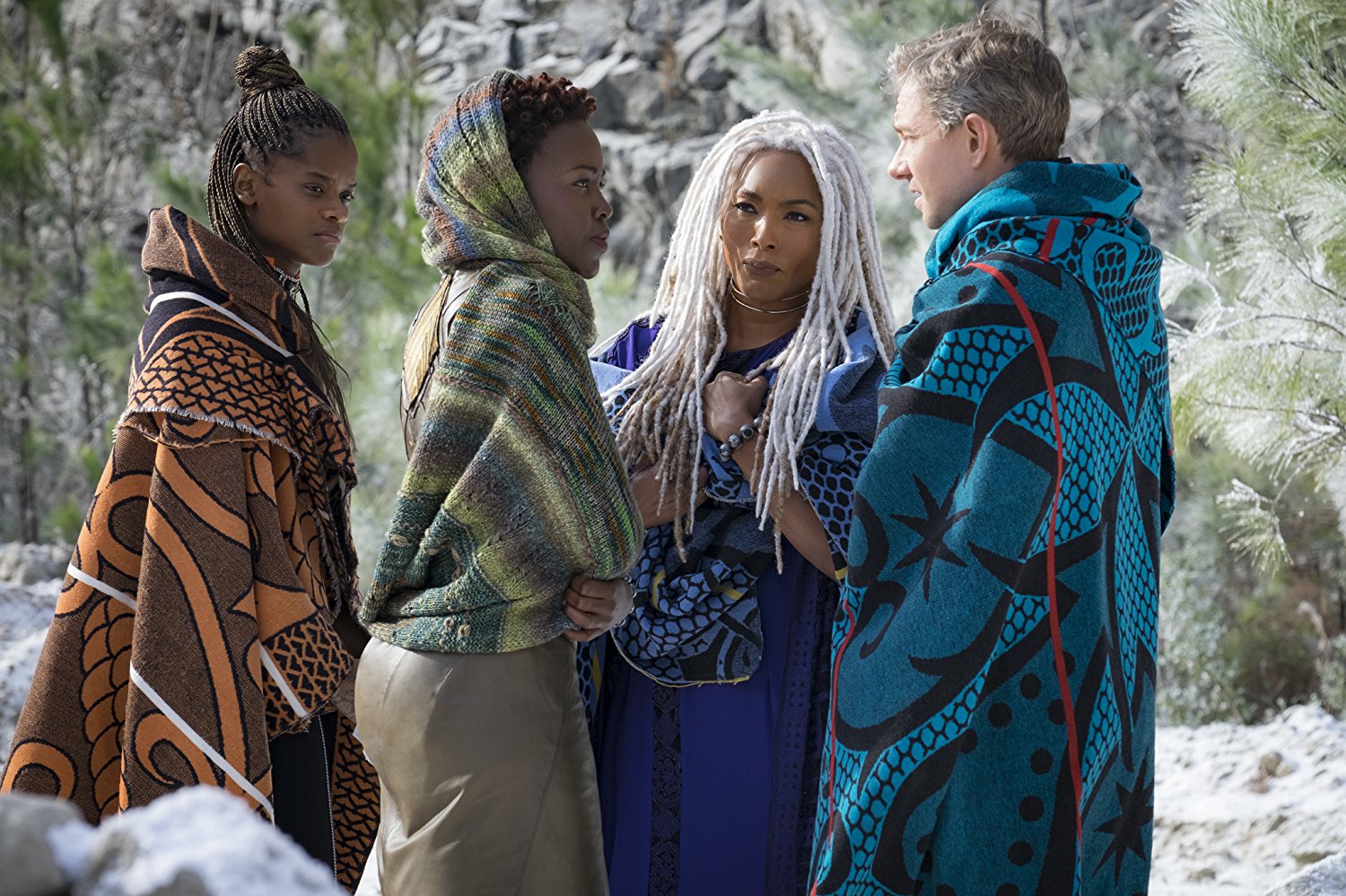 Ultimately, it's the strength of the women in the film that helps the Black Panther get through some trials and tribulations in this hero's journey.
"Black Panther" is out now in theaters nationwide.
ABC News and Marvel are both owned by parent company Disney.