— -- George and Amal Clooney, Oprah, Steven Spielberg and Jeffrey Katzenberg are all speaking out on gun violence by donating to the March for Our Lives movement.
Clooney and his family first announced they would be on hand next month in Washington, D.C., standing "side by side with this incredible generation of young people from all over the country" in hopes of prioritizing safety in schools and combating gun violence.
The March 24 "March for Our Lives" was announced days after 17 people were killed in the Valentine's Day rampage at Marjory Stoneman Douglas High School in Parkland, Florida.
Funerals have been taking place this week for the teens and teachers who were shot and killed on Feb. 14 by suspected shooter and former classmate Nikolas Cruz.
In a statement to ABC News, Clooney wrote, "Amal and I are so inspired by the courage and eloquence of these young men and women from Stoneman Douglas High School. Our family will be there on March 24 to stand side by side with this incredible generation of young people from all over the country."
The actor and producer added, "In the name of our children Ella and Alexander, we're donating 500,000 dollars to help pay for this groundbreaking event. Our children's lives depend on it."
A few hours later, Oprah Winfrey said that the Clooneys' donation inspired her to make one of her own.
"George and Amal, I couldn't agree with you more. I am joining forces with you and will match your $500,000 donation to 'March For Our Lives,'" she wrote. "These inspiring young people remind me of the Freedom Riders of the 60s who also said we've had ENOUGH and our voices will be heard."
Then famed director Steven Spielberg also got into the mix, matching Clooney as well. So did studio executive Jeffrey Katzenberg.
Spielberg released a statement to Variety, saying, "The young students in Florida and now across the country are already demonstrating their leadership with a confidence and maturity that belies their ages. Kate and I applaud their efforts to take a stand for the benefit of this and future generations.They are an inspiration to us all, and we are joining in this movement with a donation of $500,000."
"We will join Amal and George Clooney on March 24 to stand alongside these remarkable young people. We are also donating $500,000 to March for Our Lives to support this historic event," Katzenberg said in a statement to ABC News.
Actor Josh Gad was one of the first celebs to take to social media to praise the planned march.
"We cannot ignore these tragedies any longer. I am so inspired to see the students of Parkland & kids all over this country standing up to the status quo," Gad wrote earlier this week, promoting the march.
As for the march, which was announced Sunday, the official mission statement calls for "kids and families [to] take to the streets of Washington DC to demand that their lives and safety become a priority and that we end gun violence and mass shootings in our schools today."
The event has raised more than $700,000 of its proposed $1 million goal on the crowdfunding site GoFundMe.
Cameron Kasky is a student at Stoneman Douglas and one of the leaders of the organized march. "We are going to be marching together as students begging for our lives," Kasky told ABC's "This Week."
But this march isn't the only one planned.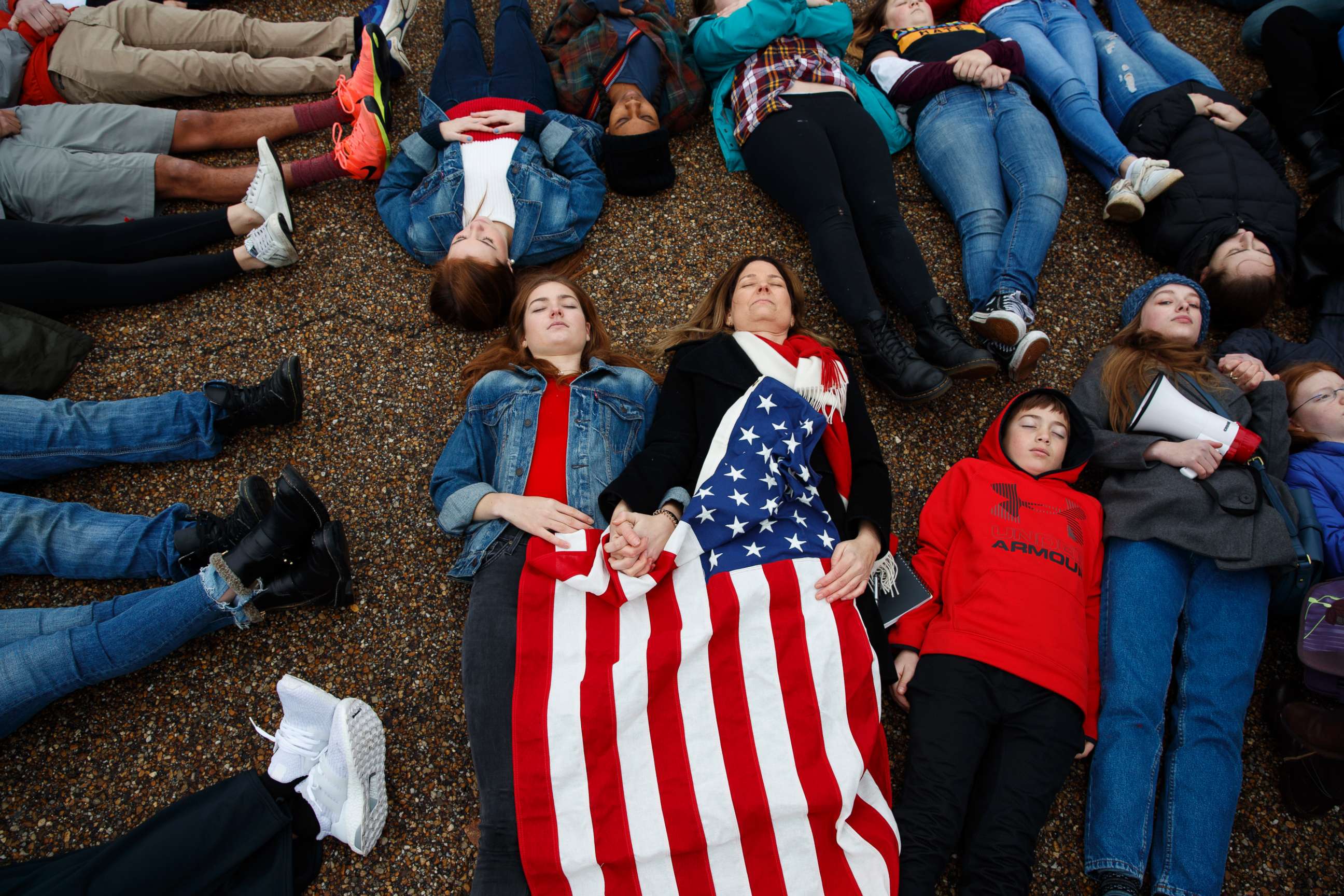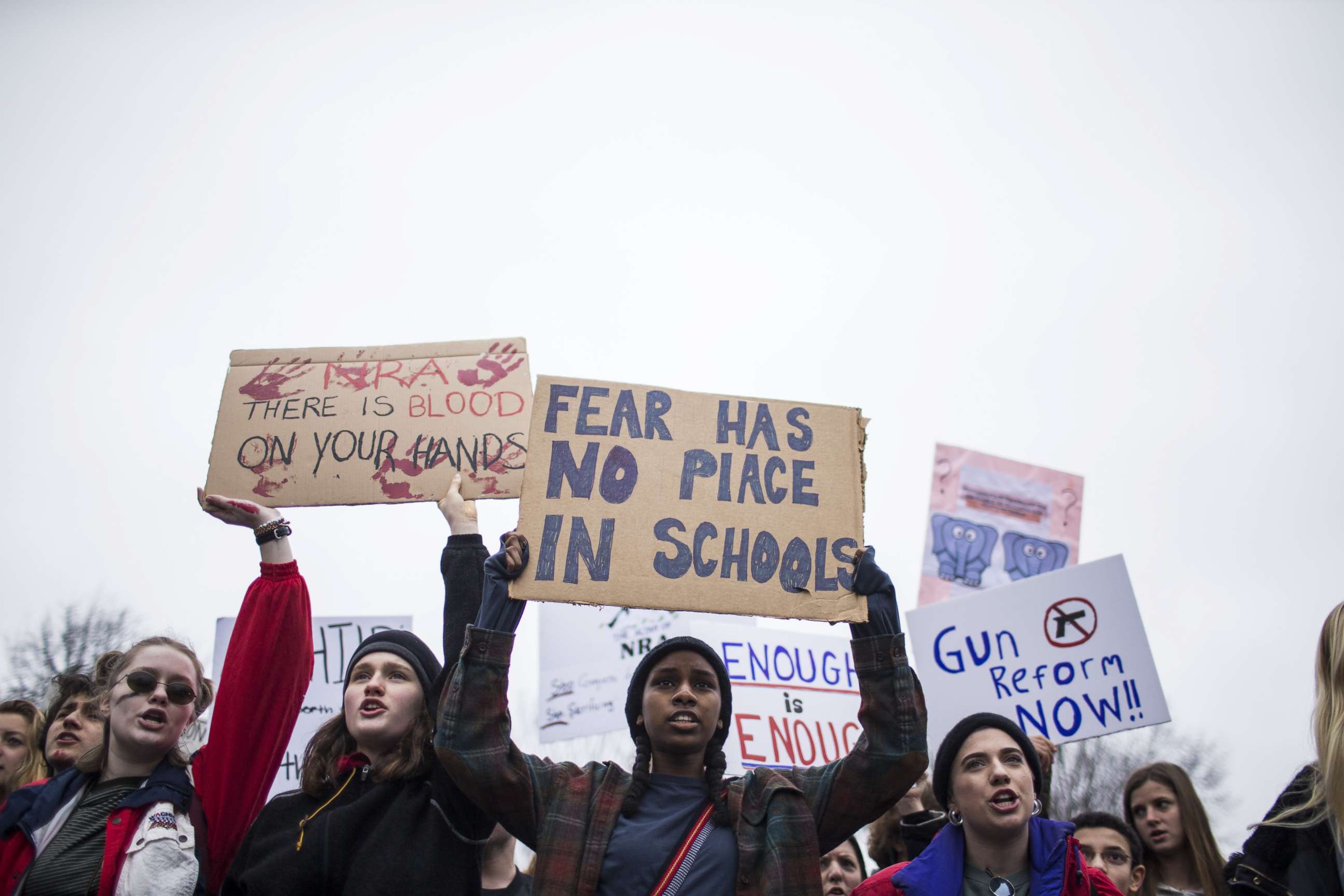 Organizers behind the Women's March, along with other groups, have called for a 17-minute National School Walkout on March 14, according to The Associated Press.
This proposed walkout will shine a light on what the organizers believe is inaction on behalf of lawmakers to stop "gun violence plaguing our schools and neighborhoods."
There's also a protest planned for April 20, which will be the 19th anniversary of the mass shooting at Columbine High School.