Prince George turns 10: See the new photo of the future king
The oldest child of Prince William and Kate is celebrating a milestone birthday.
Prince George, the eldest child of Prince William and Princess Kate, is celebrating a milestone birthday, turning double digits.
George, second in line to the throne, behind his father, celebrates his 10th birthday on July 22.
To mark his birthday, William and Kate on Friday released a new photo of George.
The photo was taken earlier this month by Millie Pilkington, a U.K.-based photographer, according to Kensington Palace.
Pilkington also took photos of George's younger brother, Prince Louis, in April to mark his fifth birthday.
George, Louis and their sister Princess Charlotte, 8, , are currently on summer break from Lambrook School, the prep school they attend in Berkshire, around 30 miles outside of London.
The family is expected to celebrate George's birthday privately on Saturday.
A 10th birthday is a big one for any child, but for George, it is a birthday that puts him one step closer to taking on the public role he was born into, according to Victoria Murphy, ABC News royal contributor.
"George does have a very unique future role," Murphy said. "It's a different future role to the role that his siblings will have, and there will be times when we see that evidenced in the nature of the public appearances that he makes, perhaps in the future."
With each passing year, the public has seen more of George, which Murphy said is William and Kate's way of "gradually introducing him, as he's ready, to the public role that he will one day have."
Over the past year in particular, George has made more public appearances, a fact that Murphy attributes to not only his growing age, but also the "extraordinary events" of the past year, from Queen Elizabeth II's Platinum Jubilee celebration last June to her funeral last September to the coronation of George's grandfather, King Charles III, in May.
At Charles' coronation, George was the only one of his siblings to play a role in the ceremony at Westminster Abbey, serving as one of four Pages of Honor for Charles.
Public appearances like George's at the coronation, and more recently at Wimbledon this month, are decisions not made by William and Kate alone, according to Murphy.
"Every time George has taken on a prominent role publicly, I think that's very much William and Kate making that decision in consultation with him," Murphy said. "I think they discuss these things with their children."
At his age, George is most commonly seen in public alongside one or both of his siblings. When he stepped out for the Wimbledon men's final last Sunday with William and Kate, Charlotte was by his side.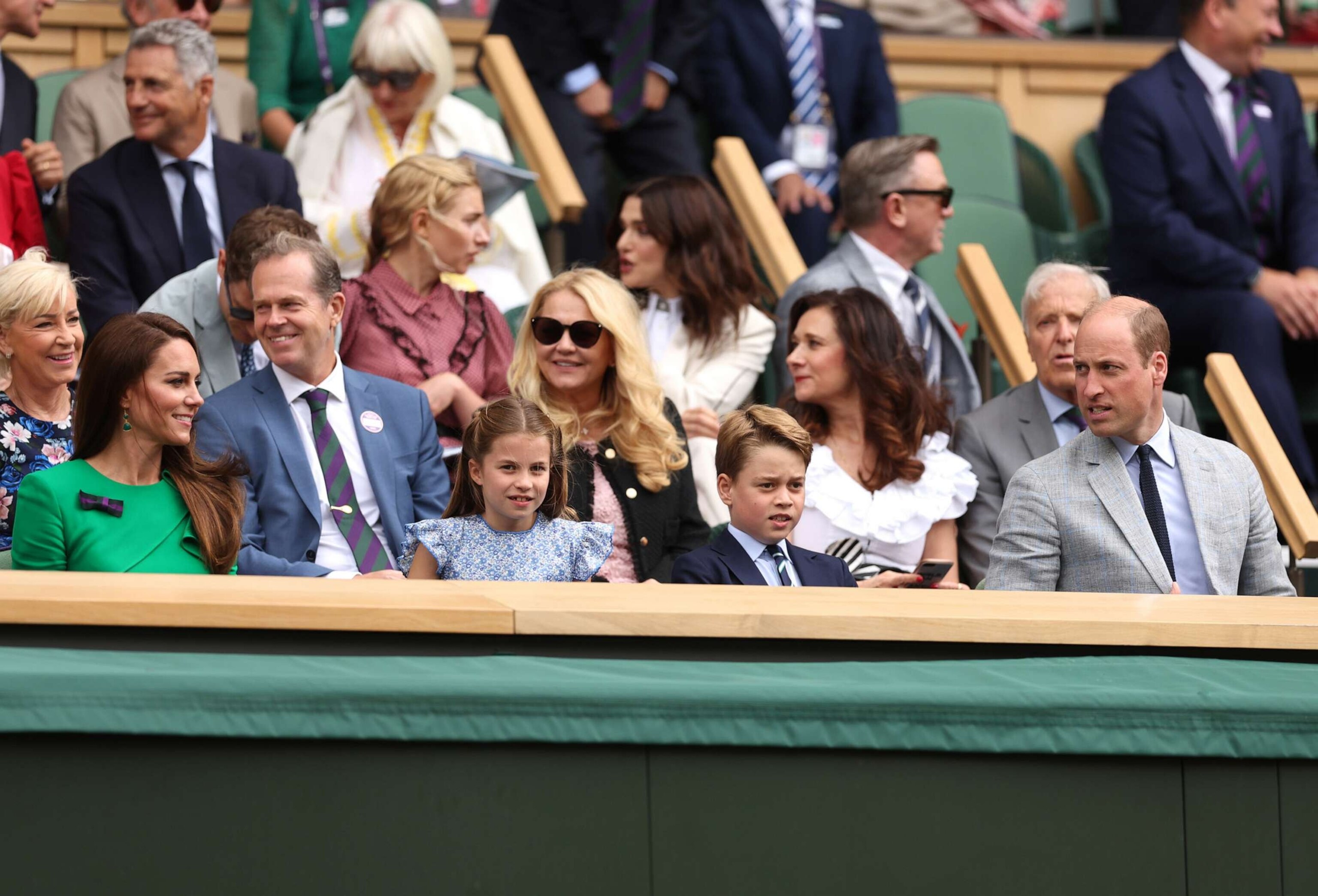 And just a few days prior to Wimbledon, William and Kate brought all three of their children to a military air show engagement.
"I very much think while they are young, while they are children, William and Kate are very keen to have them -- particularly as he and Charlotte are so close in age -- alongside each other when they appear publicly," Murphy said.
Outside of their formal, public appearances, the Wales children lead surprisingly quiet and normal lives, according to Murphy, who described William and Kate as "fiercely determined" to protect their children's privacy in their day-to-day lives.
Last August, the siblings switched from a London-based school to the Lambrook School, a private school close to the family's Adelaide Cottage home in Windsor, where they moved from Kensington Palace.
Outside of school, George is said to enjoy hobbies also beloved by his family members -- sports and art.
"He's attended rugby, football and tennis matches publicly and, according to Kate, the family enjoys playing sports together in their back garden," Murphy said. "He's also following in his grandfather King Charles's footsteps as a very keen painter, and the family released a beautiful painting that he did of a reindeer before Christmas last year."
George is expected to remain at Lambrook School until the age of 13, the eldest age at which the prep school enrolls students.
He could then potentially follow in William's footsteps by attending Eton College, which he recently toured with William and Kate, according to Murphy. The all-boys boarding school, which also educated George's uncle, Prince Harry, is located near the Wales' home in Windsor.
After high school, George may follow in his father and uncle's footsteps again by taking time to travel and explore the world before stepping fully into his royal duties.
"I think William and Kate are very keen for George and for all their children to have the opportunity to pursue their interests, to find out what they are interested in, and certainly for George to have the chance to do that before he takes on heavier royal responsibilities," Murphy said. "But we can expect him to continue to make some public appearances in the way that he has been, and as he gets into his late teens and 20s, perhaps take on some patronages and start to carry out some duties of his own."
Look back at Prince George through the years
Each year on his birthday, William and Kate release a new photo of George, often taken by Kate herself.
Take a look at George's past birthday photos.
10th birthday, July 22, 2023
9th birthday, July 22, 2022
8th birthday, July 22, 2021
7th birthday, July 22, 2020
6th birthday, July 22, 2019
5th birthday, photo taken on July 9, 2018
4th birthday, July 22, 2017
3rd birthday, July 22, 2016
2nd birthday, photo taken on July 5, 2015
1st birthday, photo taken on July 2, 2014,
William and Kate depart St. Mary's Hospital with newborn George, July 22, 2013