Prince Harry, Meghan Markle visit Edinburgh on eve of Valentine's Day
Harry and Markle plan to wed in May.
— -- Prince Harry and Meghan Markle spent the day before their first Valentine's Day as an engaged couple in Edinburgh, Scotland.
The couple today visited Edinburgh Castle in their first stop of the day, where they were welcomed to the city by the Band of the Royal Marines.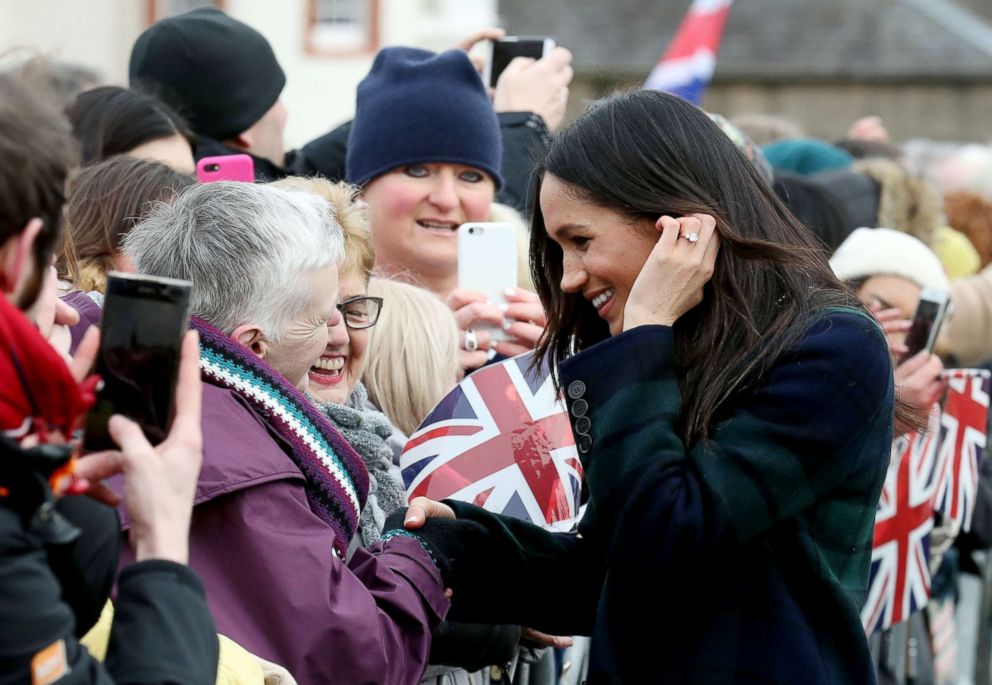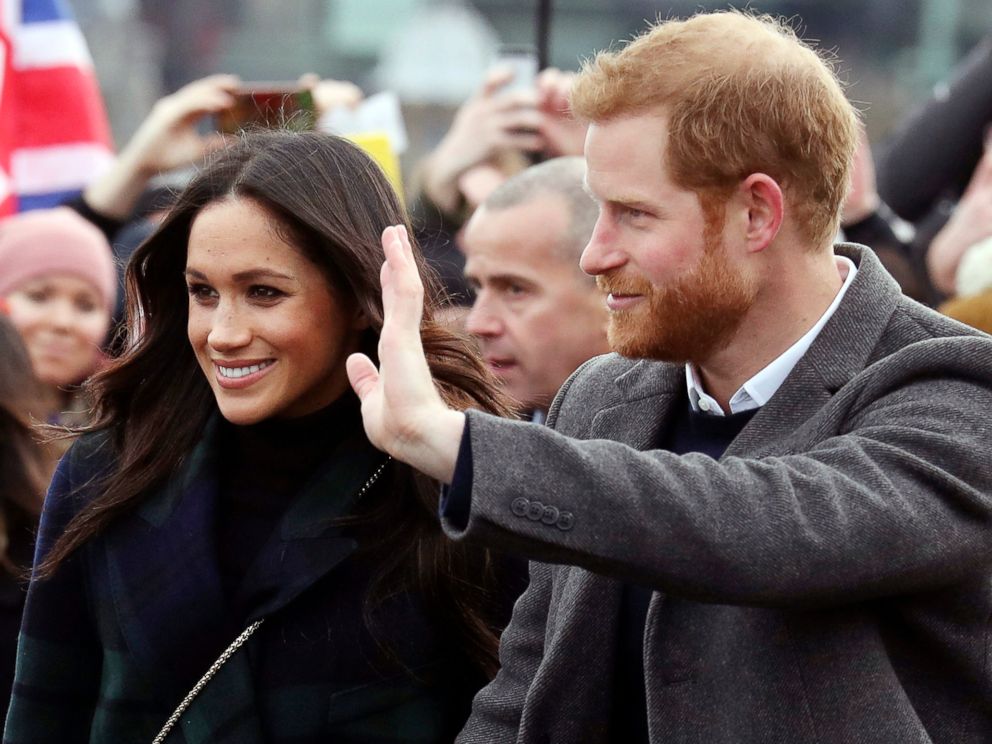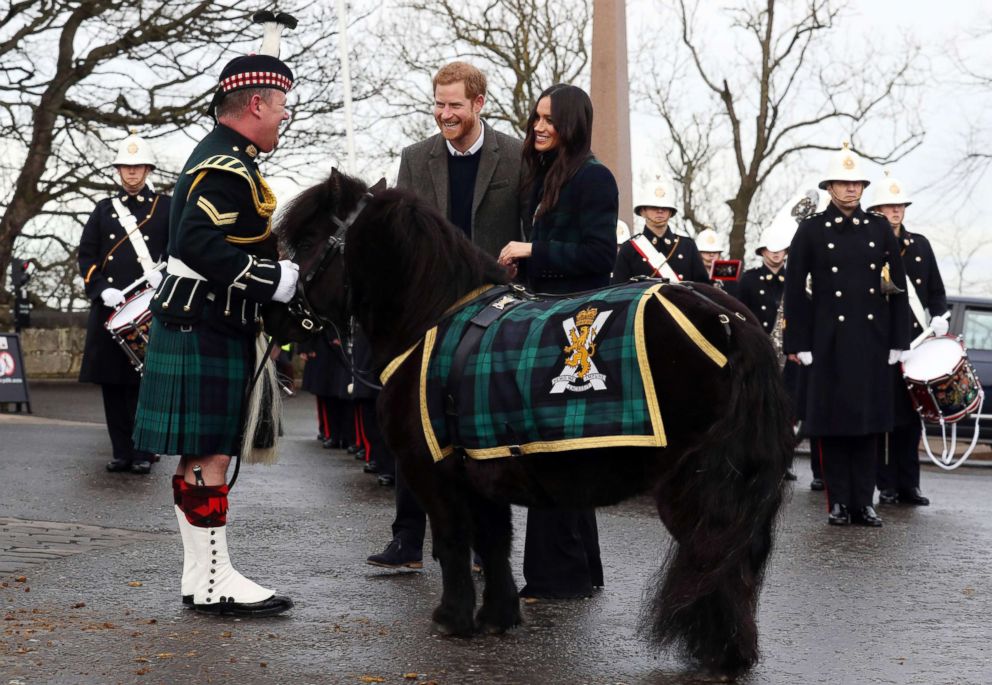 Harry and Markle, dressed in a long coat and wearing a cross-body purse, stopped to pet a Shetland pony that is the mascot of the Royal Regiment of Scotland.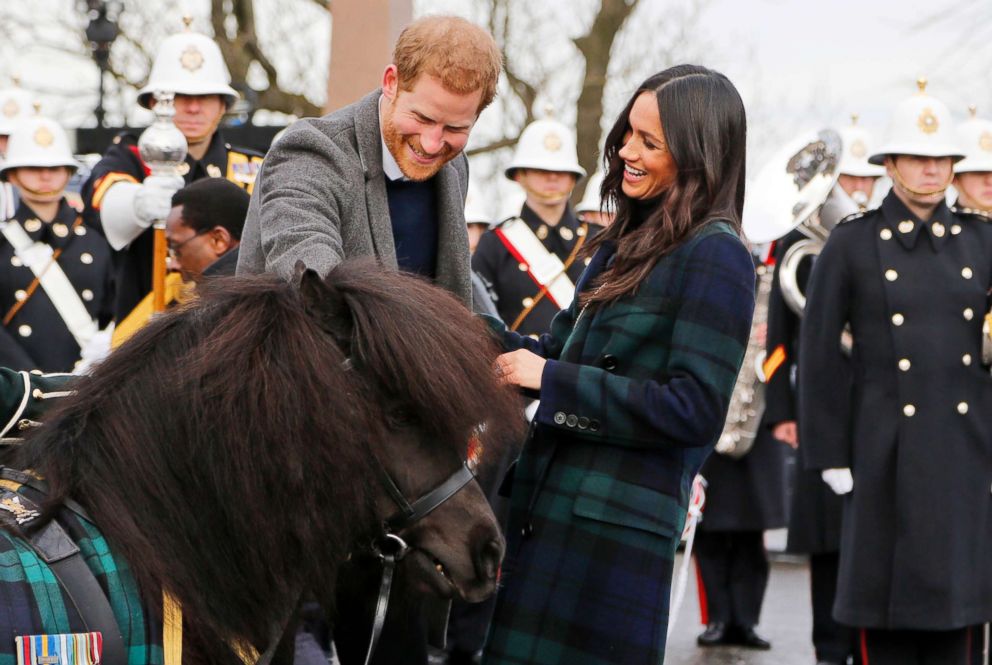 After touring Edinburgh Castle, Harry, 33, and Markle, 36, visited Social Bite, a café that distributes food and hot drinks to the homeless and employs people who were once homeless.
They ended their visit to Scotland by attending a reception celebrating the achievements of young people.
New details on wedding, Markle's humanitarian work.
The trip, Harry and Markle's first official joint visit to Scotland and Markle's first-ever visit there, comes as new details were shared about the private work Markle has been doing in the U.K.
Markle, a California native, has spent her time making secret visits to comfort victims of one of Britain's biggest tragedies, the Grenfell Tower fire that killed 71 people last year. Markle visited survivors at Al Manaar, a mosque near the tower that Harry, Queen Elizabeth and Prince William publicly visited after the tragedy.
Markle's solo visits, confirmed to ABC News by sources close to Markle, are reminiscent of the secret visits Harry's mother, the late Princess Diana, paid to various charities during her lifetime.
Markle, who was a humanitarian advocate before her engagement to Harry, will give up her previous charitable work and join the Royal Foundation of the Duke and Duchess of Cambridge and Prince Harry when she marries.
"Meghan has been regularly making private visits to organisations as she gets to know the U.K. charity sector," a royal source told ABC News.
Markle's engagement ring from Harry contains two diamonds from Diana's personal jewelry collection.
Harry and Markle plan to wed at noon on May 19th at St. George's Chapel at Windsor Castle, about 22 miles outside of London, Kensington Palace officials said in a statement Sunday.
The wedding will begin at noon May 19 at St. George's Chapel at Windsor Castle, about 22 miles outside of London, Kensington Palace officials said in a statement Sunday.
After the hour-long wedding ceremony, Harry and Markle plan to undertake a carriage procession that will start at St. George's Chapel, leave Windsor Castle via Castle Hill, continue along High Street through Windsor Town before returning to Windsor Castle on a route called the Long Walk.
"They hope this short journey will provide an opportunity for more people to come together around Windsor and enjoy the atmosphere of this special day," the Kensington Palace statement reads.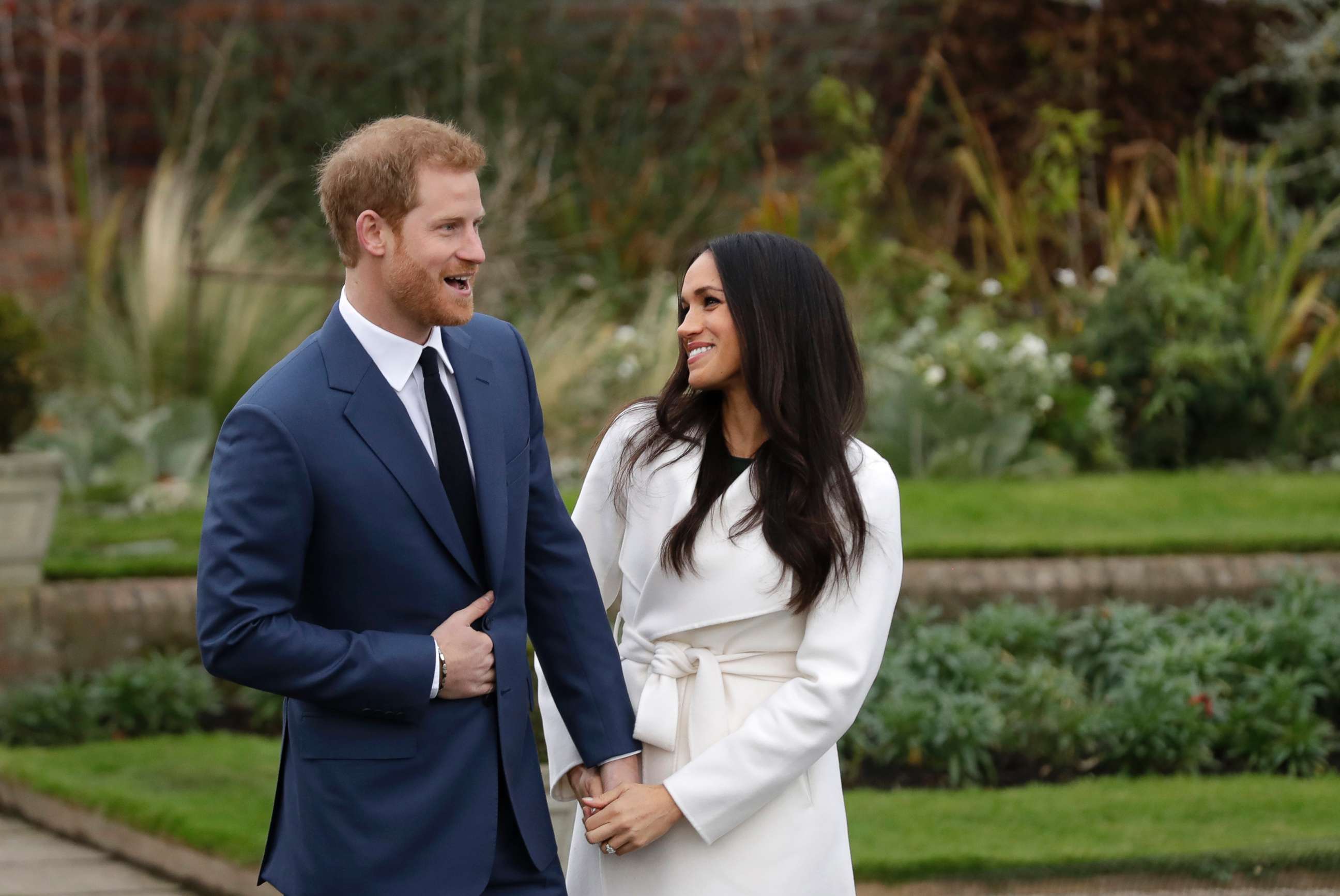 After the carriage procession, the newlyweds will attend a reception at St. George's Hall.
While the official wedding guest list remains a closely guarded secret, the couple is expected to fill St. George's Chapel, which has a capacity of 800.
Harry, the fifth in line to the British throne, and Markle, an actress who was born and raised in Los Angeles, announced their engagement in November.
ABC News' Bill Hutchinson contributed to this report.