If you loved the original "Space Jam" in 1996 -- and box-office numbers and digital cult status for the animated-live-action hoops hybrid suggests you did -- chances are you'll be flying high with "Space Jam: A New Legacy," the sequel out this week in theaters and on HBO Max.
Critics will get picky, of course. It's what we do when an alleged creative enterprise turns into a corporate ad campaign.
But that's no big deal to the follow-up's target audience of eager kids. All they want is to eyeball a basketball icon -- LeBron James taking over the star spot from Michael Jordan -- jamming in cyberspace with Bugs Bunny, Daffy Duck and other Looney Tunes royalty.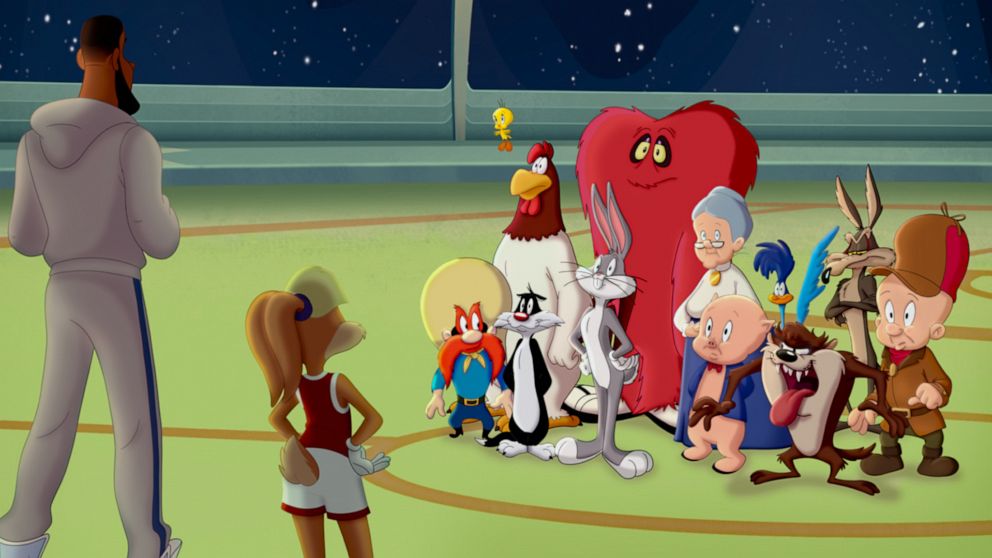 And that's what they get when King James, the Los Angeles Lakers legend, and his fictional son Dom (Cedric Joe) are hijacked by Al-G Rhythm (Don Cheadle), a rogue computer who pits James and his Looney Tuners against his own Goon Squad -- hoop greats Anthony Davis, Chris Paul, Damian Lillard, Diana Taurasi and Nneka Ogwumike like you've never seen them before.
They also get six writers teaming up on a chaotic plot that pivots on Al-G colluding with Warner Bros. executives to digitalize LeBron and zap him into an algorithm where he can interact with classic studio characters from King Kong, Superman and Beetlejuice to Harry Potter, Pennywise the clown and the cast of "Game of Thrones." Ka-ching!
To his credit, LeBron thinks it's a dumb idea.
"Athletes acting, that never goes well," he remarks sagely.
So AI-G snatches Dom, the boy who'd rather design video games than follow in dad's footsteps, leaving family man LeBron no choice but to come to the rescue and play ball.
Download the all new "Popcorn With Peter Travers" podcasts on Apple Podcasts, Spotify, Tunein, Google Play Music and Stitcher.
It also leaves "Space Jam: A New Legacy" no choice but to become the dumb movie LeBron feared. How are kids supposed to relate to scenes set in 1943s uber-romantic "Casablanca" or 1971's ultra-violent "A Clockwork Orange"? Parents, you'll have some explaining to do.
Director Malcolm D. Lee ("Girls Trip") does his best to dodge the conceptual pitfalls, finding a few giggles when Wile E. Coyote joins a chase scene from "Mad Max: Fury Road." And it's fun to see Lola Bunny, zippily voiced by Zendaya and less sexualized than the '90s version, mix it up with Wonder Woman (yes, they're both part of the Warner Bros. family).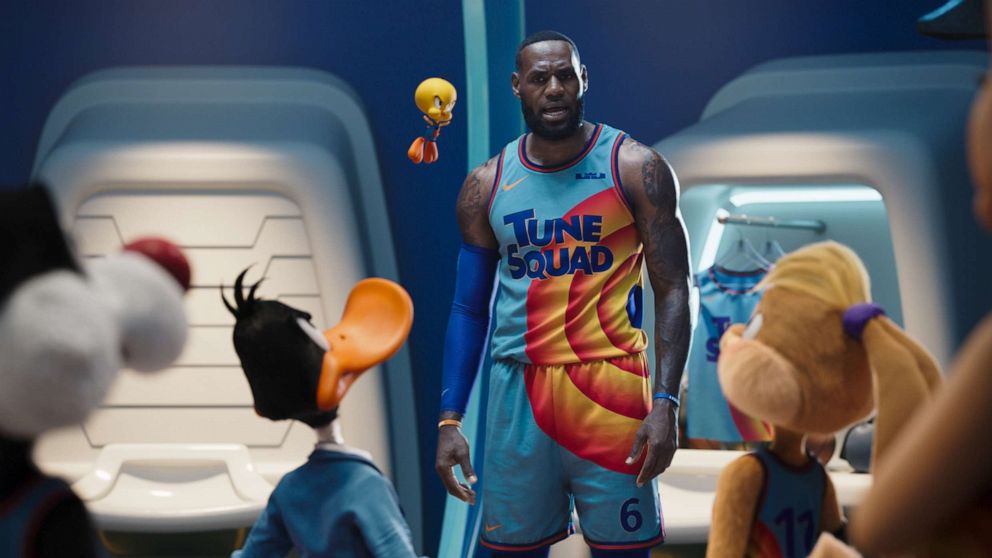 Things hit a wall in the jumbled second half of the movie (a full 30 minutes longer than the original), which is devoted almost entirely to the basketball showdown between the Tuners and the Goon Squad. LeBron needs a win to escape from digital hell and return to human form.
Lee throws everything he has at the screen trying to produce a cartoon version of the corporate synergy achieved by "Avengers: Endgame." It's no go. This mashup of corporate product placement is less a slam dunk than an overcaffeinated exercise in excess.
There are still enough scenes of giddy court action and father-son connection to hold the under-13 crowd -- viewers unlikely to notice, at least not yet, that the movie mostly exists as a big-studio branding extravaganza to promote its intellectual properties.
The rest of us, too exhausted to join the IP cheering section that insanely includes Bette Davis' Baby Jane and the flying monkeys from "The Wizard of Oz," will be waiting for Porky Pig to speak those immortal words, "That's all folks."