Chris Hemsworth returns to the big screen as the God of Thunder in "Thor: Love and Thunder," now in theaters.
The Taika Waititi-directed film -- a follow-up to the Oscar winner's previous Marvel Cinematic Universe offering, 2017's "Thor: Ragnarok" -- finds our titular hero on a journey of self-discovery after the events of 2019's "Avengers: Endgame." That lofty quest is soon derailed by Gorr the God Butcher (Christian Bale), who will stop at nothing until all gods are dead.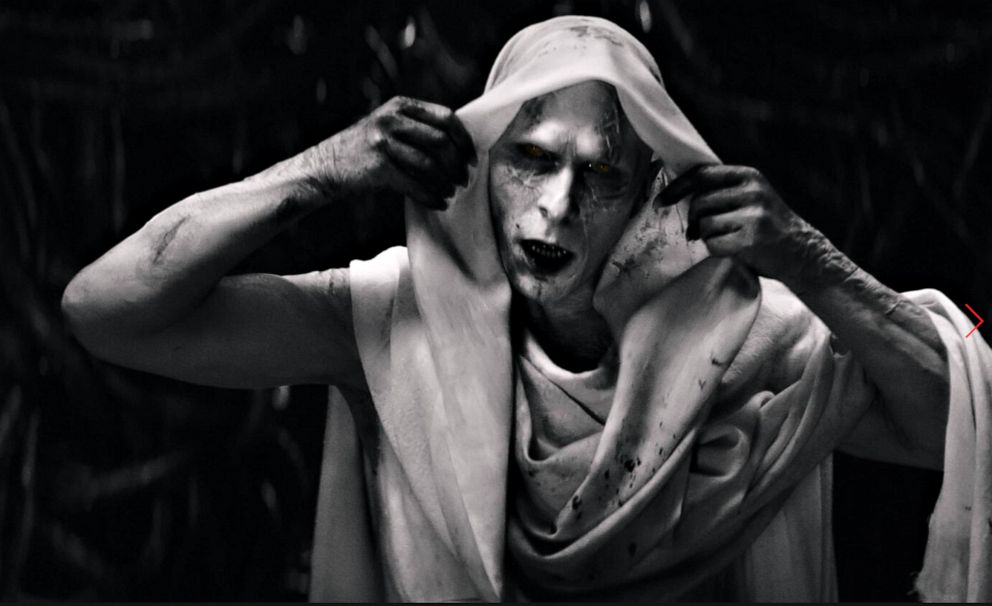 In an attempt to thwart Gorr's plans, Thor teams up with Valkyrie (Tessa Thompson), the new king of New Asgard; Korg (Waititi); and his ex-girlfriend, Jane Foster (Natalie Portman), who now wields the hammer Mjölnir as the Mighty Thor, to help him quell this new threat.
Trailers for the latest MCU adventure also show that Thor will be spending some time with the Guardians of the Galaxy -- including Peter Quill/Star-Lord (Chris Pratt), Mantis (Pom Klementieff), Drax (Dave Bautista), Nebula (Karen Gillan), Kraglin (Sean Gunn), Groot (Vin Diesel) and Rocket (Bradley Cooper) -- and will meet Zeus, played by Russell Crowe.
Read on for more info about "Thor: Love and Thunder":
Thor's evolution and the future of the character
Hemsworth told "Good Morning America" he and Waititi "recreated the character and the world" of Thor in "Ragnarok" and it has been "exciting" for him to see the character continue to evolve throughout "Infinity War" and "Endgame."
"[He's] dramatically dramatically different from the first film to now, and each one played a very integral part for that journey and that growth of the character," he said of the films, reaching back all the way to 2011's "Thor."
"You don't get the opportunity to do that, normally," he said of the opportunity to "try different things each time."
With "Love and Thunder," Hemsworth said Thor is finally getting to take part in a rom-com.
"GMA" sat down with star of "Thor: Love and Thunder," Chris Hemsworth, to talk about the highly anticipated film.
"Taika, when he pitched it to me, said he wanted to make a romantic comedy set in space," he said. "It's a wacky, wild galactic adventure."
As for what the future holds for Thor, Hemsworth said he's down to return for a fifth movie focused on the Avenger.
"I love the experience. My whole sort of life and career has paralleled around this," he said. "Until someone says 'no thanks,' I'll keep giving it a crack. I love it."
The powerful women in Thor's life
Thompson told "Good Morning America" she was inspired when playing a king by thinking of "all of the incredible women in my life who are incredibly strong."
"When I think of strong characters, particularly women, I think of characters that are finally drawn, that resemble the women that we are, the women that we know," she said.
The actress talked about her role as Valkyrie, who is now king of Asgard after the events of "Avengers: Endgame."
The actress said that "those representations are becoming, frankly, more commonplace" and "less noteworthy" in Hollywood, adding, "I think we need to constantly be pushing into that territory."
While Valkyrie has gone from a warrior of Asgard to the leader of its new incarnation (in "Endgame"), this film sees Jane go from astrophysicist to full-fledged superhero.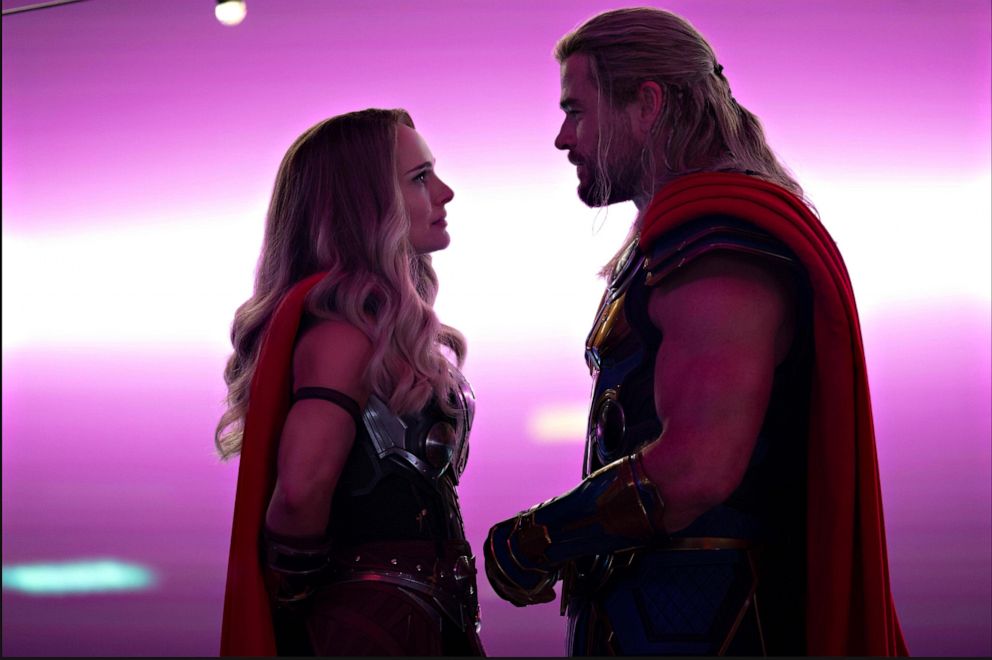 Seeing these characters go into "new dimensions," Thompson said, is a real treat for fans because the "characters feel like they've really grown and changed in ways that are surprising and exciting."
The movie was a family affair
Hemsworth told "GMA" his three children -- 10-year-old daughter India Rose and 8-year-old twin sons Tristan and Sasha -- all had "a small part" in the film. Not only that, but Waititi, Portman and Bale's kids were "all in it somewhere."
Of his daughter's debut, he said "it started off as this tiny little role" that "evolved more and more."
He gushed that she did a "great job" and said he was "incredibly proud" of her. He also joked that India Rose "cringes" when she sees herself on the big screen.
Regarding the fantastical quality the Thor films have, Hemsworth said they tap into a "childlike wonder and fascination" that his kids enjoyed.
The star of the latest Marvel Cinematic Universe film talks about his children having roles in the new movie and shares a touching story about what he did with his first big paycheck.
When they aren't appearing in blockbuster movies, the actor, wife Elsa Pataky and their kids live a "farm lifestyle" in his native Australia along with animals and motorbikes. He said they also spend most of their time outdoors, similar to how he grew up.
Hemsworth also offered some advice to his younger self when reflecting on how far he's come in Hollywood since he started acting in the hope of helping his parents financially -- which he did.
"I think I put a lot of pressure on myself to sort of do the things I wanted to do and to help my family and so on," he pondered. "I'd tell him to relax. I'd tell him it's all going to be OK -- enjoy it, have fun, you know, let go."
Get ready for cameos
Waititi teasted to "GMA" that fans should expect to see a few surprise appearances in the film.
"There are definitely cameos that you're going to really love," he said. While he didn't divulge any specifics, he did note that there are "some from the last film ["Ragnarok"] that are coming back as cameos."
Though known for directing box office blockbusters, Waititi also recently voiced the character Mo Morrison in Disney/Pixar's "Lightyear."
Rumor -- and a quick peruse of IMDb -- has it that this nugget suggests the return of Matt Damon, Luke Hemsworth and Sam Neill reprising their roles as Asgardian actors portraying Loki, Thor and Odin, respectively.
As for how the film's cameos came together, Waititi joked that it was simply a matter of "who's around, who's in town, who wants to come and play for a day or two for not much money."
Melissa McCarthy and husband Ben Falcone famously submitted a hilarious audition for the film in December 2020, so we'll have to wait and see if they saw their Marvel dreams come true.
"Thor: Love and Thunder" is now in theaters.
Marvel Studios is owned by Disney, the parent company of ABC News and "Good Morning America."