Three chefs joined "Good Morning America" to highlight a staple ingredient and dish that's made different in each of their families -- noodles.
Esther Choi, Charles Chen and Jessica Tom shared their three versions of noodles below.
Grandma's Taiwanese Beef Stew Noodles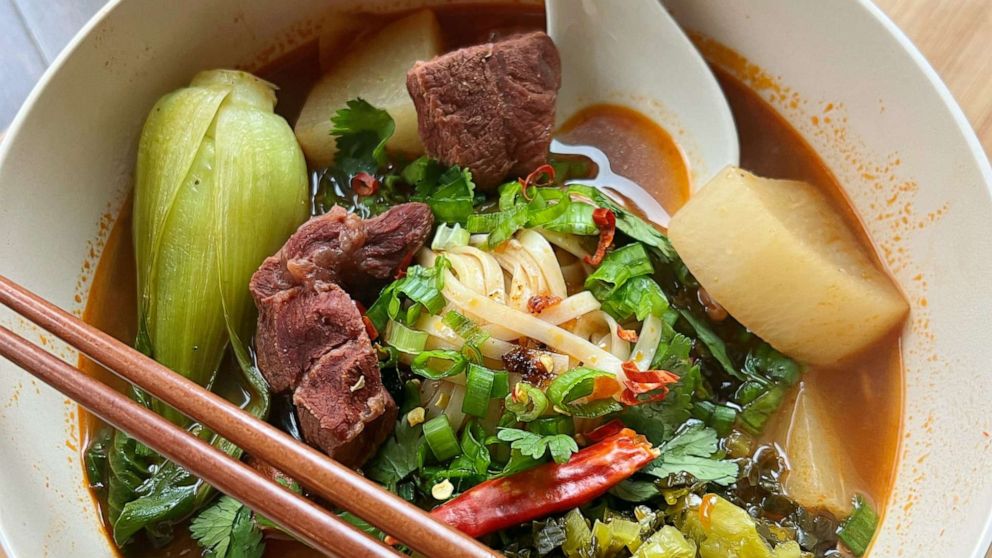 Ingredients
1 pound daikon ( cut into 2 inch chunks)
3 pounds beef shank ( into 2-inch chunks)
2 tablespoons vegetable oil
2-inch piece of ginger
5 cloves garlic
3 scallions ( cut into 2-inch segments, save some for garnish)
1 whole white onion (cut into wedges)
1 tomato cut into wedges
4 dried chilies (ripped in half)
1 tablespoon tomato paste
2 tablespoons spicy bean paste (aka doubanjiang)
2 teaspoons rock sugar (brown sugar also works)
1/2 cup soy sauce
1/2 cup Shaoxing wine
8 cups water
32 ounces wheat (white) noodles (fresh if possible)
A small handful of bok choy for each serving
Cilantro (finely chopped for garnish)
Scallions (finely chopped for garnish)
1 pack of Pickled mustard greens (buy ready made from store dice into small pieces for garnish)
1 Chinese aromatic herb packet includes:
4 star anise
1 Chinese cinnamon stick
3 bay leaves
1 tablespoon fennel seeds
1 tablespoon cumin seeds
1 teaspoon coriander seeds
2 tablespoons Sichuan peppercorns
1/4 teaspoon five spice powder
1/4 teaspoon black pepper
Instructions
In large soup pot, heat the oil over medium heat. Add the rock sugar, scallion, and the garlic. Cook for a few minutes until the scallions are lightly seared. Add the beef (get a soft sear for nice flavor), turn up the heat, and mix everything well.
Cook for about 5 minutes and stir. Then add the Shaoxing wine, soy sauce, and stir everything together well so that the beef is coated in the soy sauce mixture.
Now add the aromatics bag, plus the daikon, and the broth and ginger pieces that you boiled the beef in. Bring everything to a boil and immediately turn the heat down to medium. Simmer for 90 minutes. The broth should be steadily simmering where you can see water moving in the pot, but not at a rolling boil.
After an hour, turn off the heat and let it sit for another hour. Now your soup base is ready. Reheat, remove the aromatics, and add salt to taste before serving.
Cook the noodles according to the package instructions, strain, and transfer to a large serving bowl. Blanch a handful of your bok choy in the noodle water, and add it to the noodles. Then, ladle in the beef and the soup. Top with scallions, cilantro, mustard greens. I like to also drizzle some chili oil for a nice touch of color.
Slurp away and nourish your soul!
Beef Japchae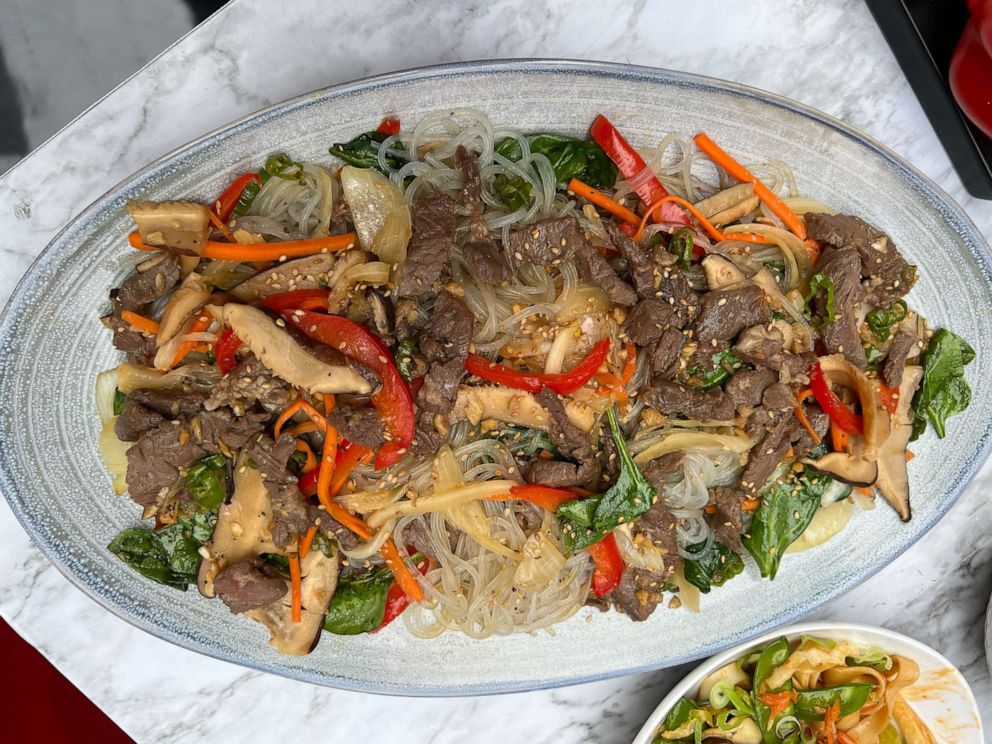 Serves: 6 to 8
"Japchae is the perfect Korean dish to serve at a big party. This stir-fry favorite uses glassy sweet potato noodles that absorb the flavors of the beef, soy and sesame while retaining their unique texture. The beef can be substituted with shrimp, pork or even just more veggies."
Ingredients
8 ounces beef sirloin, cut into long thin strips
3/4 cup sesame oil
1/2 cup plus 3 tablespoons soy sauce
1/4 cup plus 1 tablespoon brown sugar
7 cloves garlic, minced
15 dried shiitake mushrooms
5 shishito chile peppers (or any mild green chile), thinly sliced
2 carrots, thinly sliced into matchsticks
1 medium onion, thinly sliced
1 red bell pepper, thinly sliced into matchsticks
Kosher salt
1 bunch spinach
1 pound clear sweet potato noodles
1/4 cup mirin
2 tablespoons fish sauce
2 tablespoons rice vinegar
1 teaspoon freshly ground black pepper
Instructions
Put the beef in a medium bowl with 1 tablespoon sesame oil, 2 tablespoons soy sauce, 1 tablespoon brown sugar and 1 tablespoon minced garlic and mix until the meat is completely coated. Set aside.
Put the shiitake mushrooms in a small bowl and pour in enough hot water to cover. Set aside to soften for 25 minutes. Remove the softened mushrooms from the liquid, slice thinly and set aside.
Heat 2 tablespoons sesame oil in a large skillet. Add 2 tablespoons minced garlic, the shiitake mushrooms, shishito peppers, carrots, onions and red bell peppers and cook until slightly soft but still crunchy, for three minutes. Add 2 tablespoons soy sauce and continue to cook for an additional minute. Transfer to a bowl and set aside. Set the skillet aside for cooking the beef.
Prepare a medium bowl of ice water. Bring a medium saucepan of salted water to a boil, and then add the spinach and cook for 1 minute. Remove with a slotted spoon and immediately add to the ice water. Drain the spinach and squeeze with your hands to remove the excess liquid. Roughly chop and set aside.
In the same pan of boiling water, add the noodles and cook according to the package directions. Drain the noodles in a strainer and rinse thoroughly with cold water. Add 2 tablespoons sesame oil to the noodles and toss with your hands or tongs so they are wellcoated and do not stick together. Leave the noodles in the strainer and set aside.
Place the reserved skillet over medium-high heat and cook the beef with the marinade until brown, for 3 to 4 minutes.
Combine the noodles, vegetables and beef in a large bowl. Add the remaining 7 tablespoons sesame oil, 7 tablespoons soy sauce, 1/4 cup brown sugar, the remaining garlic, the mirin, fish sauce, rice vinegar and black pepper. Mix together, using your hands or tongs, until all the ingredients are incorporated.
Transfer to a large serving bowl and sprinkle with sesame seeds.
Oil-seared Ginger Scallion Vegetable Lo Mein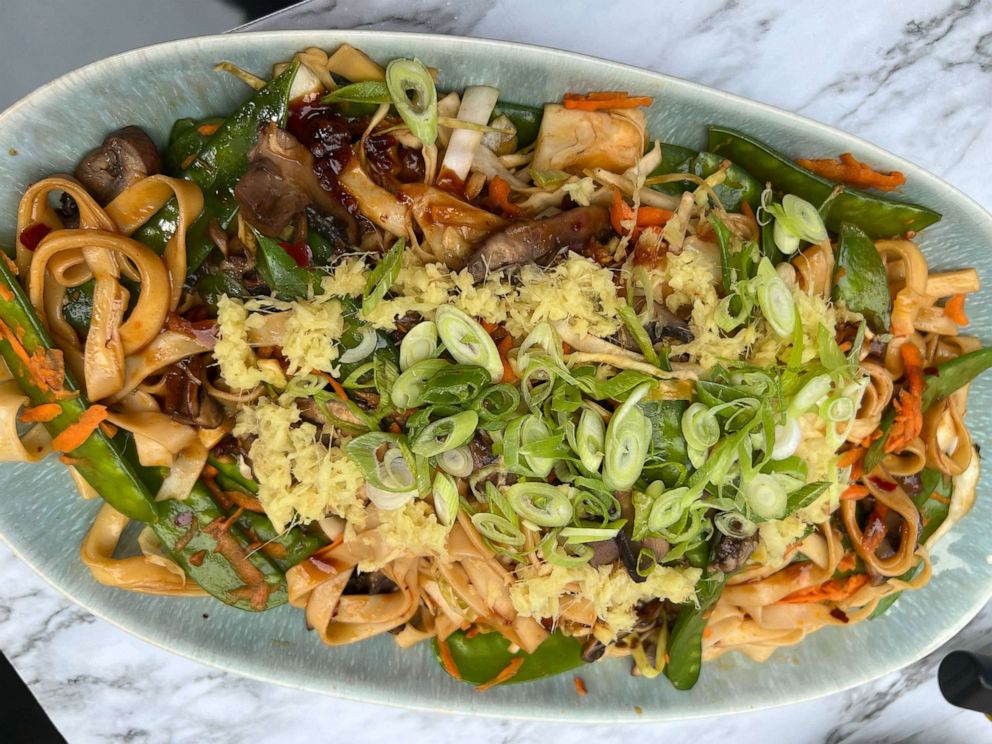 Ingredients
2 tablespoons oyster sauce
2 tablespoons light soy sauce
2 tablespoons dark soy sauce (use light soy sauce if not available)
1 tablespoon chili paste
1 tablespoon sesame oil
1/2 teaspoon sugar
1/2 teaspoon white pepper (can sub black pepper)
Vegetables/noodles
2 tablespoons cooking oil
10 oz crimini mushrooms, sliced
1/2 head of cabbage, thinly sliced
3 carrots, grated
2 garlic cloves, minced
1/2 lb. snow peas
16 oz cooked lo mein noodles (if you can only find uncooked, just cook your noodles per manufacturer's instructions)
Topping
4 scallions, thinly sliced
3 tablespoons finely minced ginger
2 tablespoons oil
Directions
Mix all sauce ingredients together and set aside.
Heat wok or large skillet on medium and add 1 tablespoon of oil. Add mushrooms to the wok and sauté until water is no longer being released and they are starting to brown, about five minutes. Add mushrooms to a large bowl and set aside.
Increase heat to high and add more oil to the wok, if necessary. When you see wisps of smoke, add cabbage and sauté until slightly charred in areas, about three minutes. Place cabbage in the same bowl as the mushrooms.
Add more oil if necessary, then add carrots to wok and sauté for 1 minute, until slightly softened. Add garlic and snow peas and cook for 1 minute more. Add lo mein noodles, mushrooms, and cabbage. Add the sauce and mix until it is coating everything and reduces, about 1 minute more.
Place on serving platter. Place scallions and ginger on top of the noodles in a single mound. Heat oil (in the same wok is fine) until shimmering. Pour directly onto the ginger and scallions, mix and serve!
Recipe reprinted courtesy of Jessica Tom.