Five years ago, in the kitchen of pastry chef Dominique Ansel's New York City bakeshop, the culinary lovechild of the croissant and doughnut was born.
Since its debut in May 2013, the Cronut® has developed a cult-like following. People have literally queued up around the block of the Soho bakery, waiting in line for hours to get a taste of the fluffy, flaky confection.
For those who didn't want to wait in line, a business even emerged where you could pay someone to stand in line for you and deliver the coveted pastry directly to you, for a $60 fee.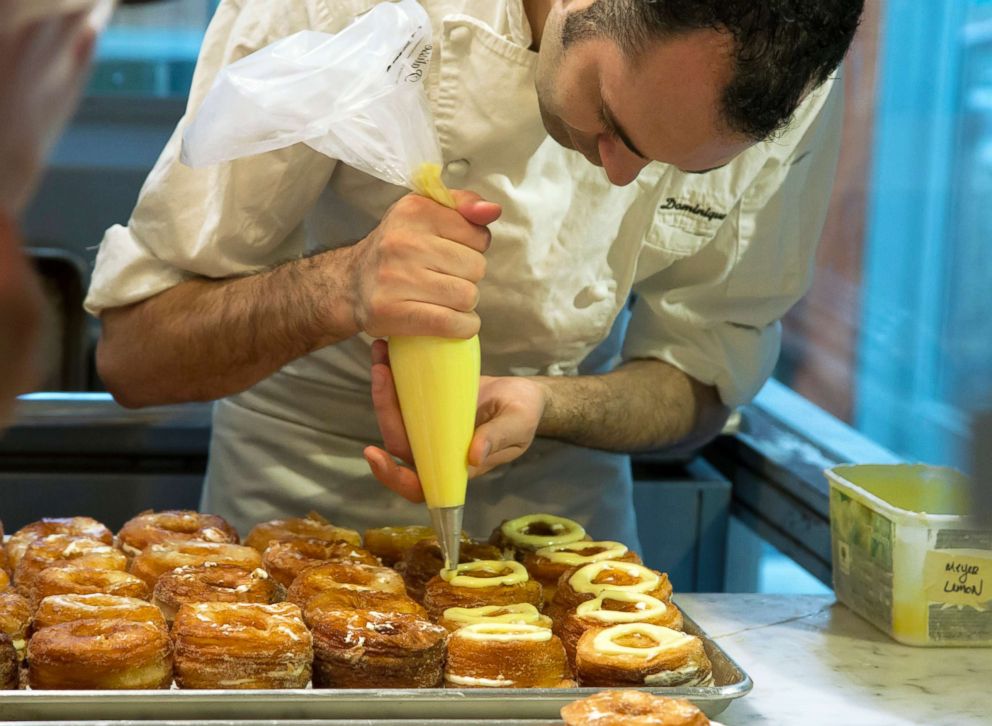 It's hard to believe it's been half a decade since the foodie world was changed forever. If the Cronut® were a human, it would be old enough to start kindergarten now.
In honor of the milestone, "Good Morning America" spoke to some Cronut® devotees.
Iris Chang, aka "CronutGirl" on Instagram, described to "GMA" the first time she ever tried a Cronut®, in September 2013.
"The combination of fried dough with sugar is always great, but the Cronut® has a very unique kind of fried flavor," she said of the first bite that changed her life. "And seeing the layers flake apart after each bite was mesmerizing. I wanted to peel each individual layer apart, but I also wanted a mouthful of them all together."
Chang has tried every Cronut® flavor released by the bakery since that fateful first bite -- so many different flavors that she said she has lost count. To date, her favorite flavor is the Valrhona Chocolate Champagne, a limited edition December 2013 pastry.
The key to spotting a knockoff Cronut® is the "consistency," according to Chang.
She added that she is never let down by each new Cronut® she eats.
"The experience of eating a Cronut® is always a satisfying moment for me," she said. "The initial crunch and the filling oozing out the side of the Cronut® onto your hand never gets old."
Over the past five years, Chang said the Cronut® has become like family to her.
"I feel like I've become the crazy aunt who has no kids of her own who dotes on her Cronut® nephew and feels the need to post photos of him on Instagram so the whole world can see how great and wonderful and special he is," she said. "And I only get more obsessive each passing year."
After getting married at the city clerk's office, Chang said that following the ceremony, "We celebrated with Cronuts® at the bakery."
Mike Montalto told "GMA" that he also had Cronuts® at his wedding.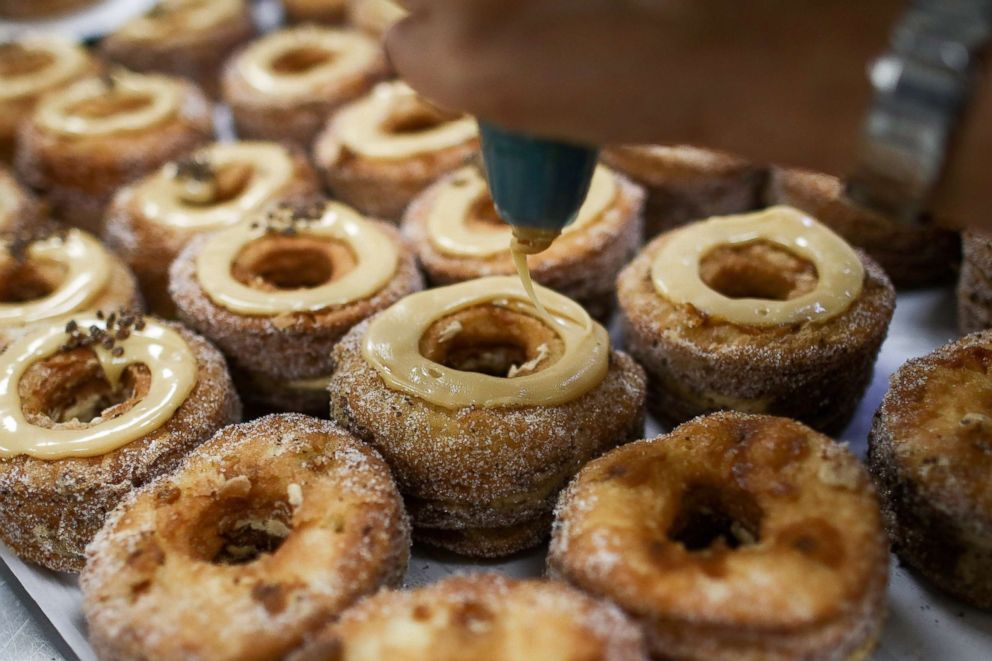 "All our guests had Cronuts®," he said. "We gave out Cronuts® as our wedding favor, we had like a mountain. People were ecstatic, I'd never been to a wedding where people were Instagramming the food as much."
Montalto was the first customer to ever visit the NYC bakery when it opened.
"I was the first on his opening day, and I would say I was the first customer every day after that," he said.
"I had to in the office at 8 [a.m.], but I would risk lateness to get my Dominque Ansel," he said, adding that some days he was the one who would "put out the board and sign," in order to expedite the process of getting his pastries.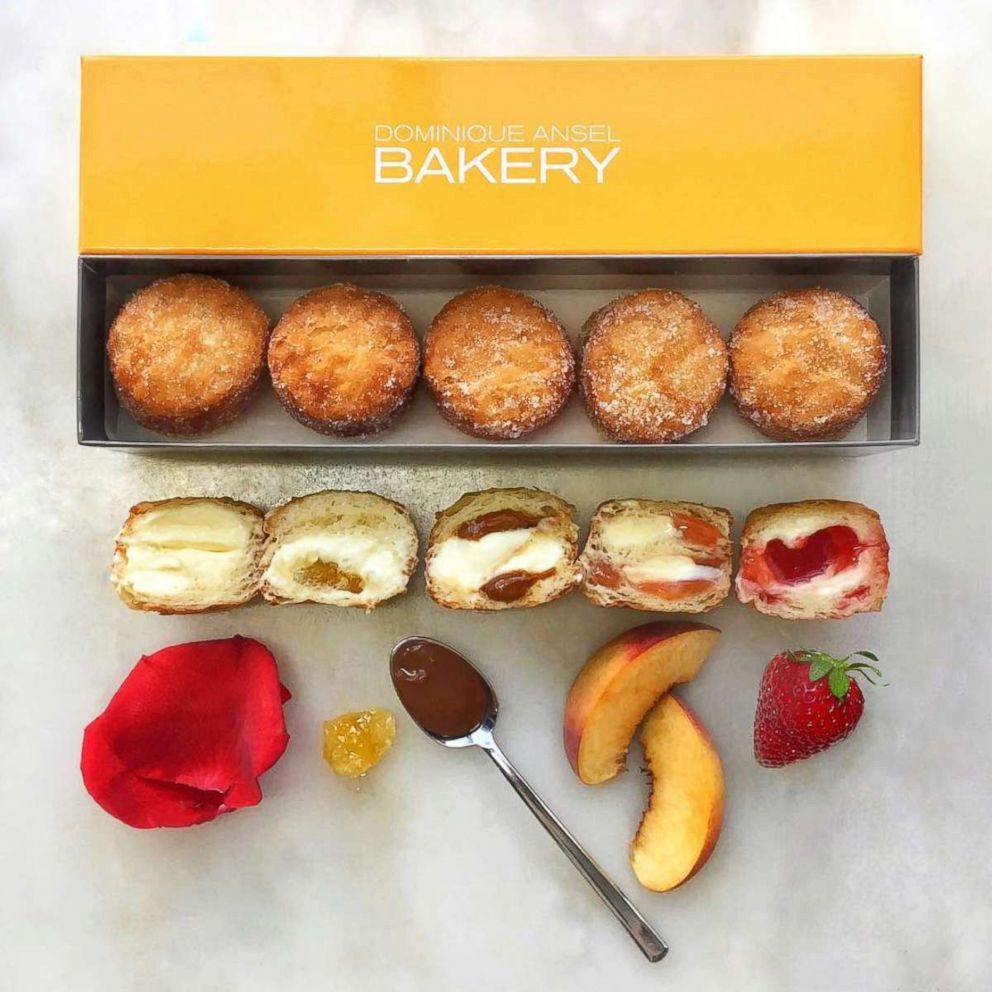 Montalto shared some of his expert Cronut® wisdom with "GMA," saying, "Even if you pre-order it, you still have to get there early because they're best when they're fresh."
In addition, he suggested not to limit yourself when you go to the bakery.
"If you're coming for the Cronut® and they're not there, don't leave," he added. "Because there is so much good stuff.
"I would get annoyed when people would come in at 4 p.m. and ask for a Cronut® and there's no Cronut® and they would just walk right out," he said. "The Cronuts® are fantastic, but try everything else."
If you can't make it to the bakery yourself -- fear not -- Ansel revealed original recipe for an "at-home" version of the Cronut® with "GMA" in 2014. You can find the recipe here.