Chefs reinvent 'GMA' anchors' favorite Thanksgiving recipes
Michael Chernow and Sohla El-Waylly share 5 dishes for Turkey day.
Thanksgiving food can get a bad rap, but for those who opine that turkey is dry or the sides are bland, two top culinary experts shared easy recipes to sway subjectivity towards tastier Turkey day trimmings.
Chefs Michael Chernow and Sohla El-Waylly joined "Good Morning America" on Monday ahead of Thanksgiving to help set some last minute menu items and bring a taste of nostalgia to the team of anchors, drawing on dishes beloved in their families.
Ginger Zee's pick: Kale Salad with apples, roasted sweet potatoes, walnuts, pomegranate, quinoa

Robbin Roberts' pick: Apples and Cranberry Sauce

Lara Spencher's pick: Spinach and Artichoke Dip

George Stephanopoulos' pick: Greek Stuffing Tahdig

Chefs Michael Chernow and Sohla El-Waylly help Robin Roberts, Lara Spencer and George Stephanopoulos re-create some of their favorite dishes.
Check out all the recipes for appetizers, salad, sides and dessert below.
By clicking on these shopping links, visitors will leave Goodmorningamerica.com. These e-commerce sites are operated under different terms and privacy policies than Goodmorningamerica.com. ABC will receive a commission for purchases made through these links. Prices may change from the date of publication.
Spinach and Artichoke Dip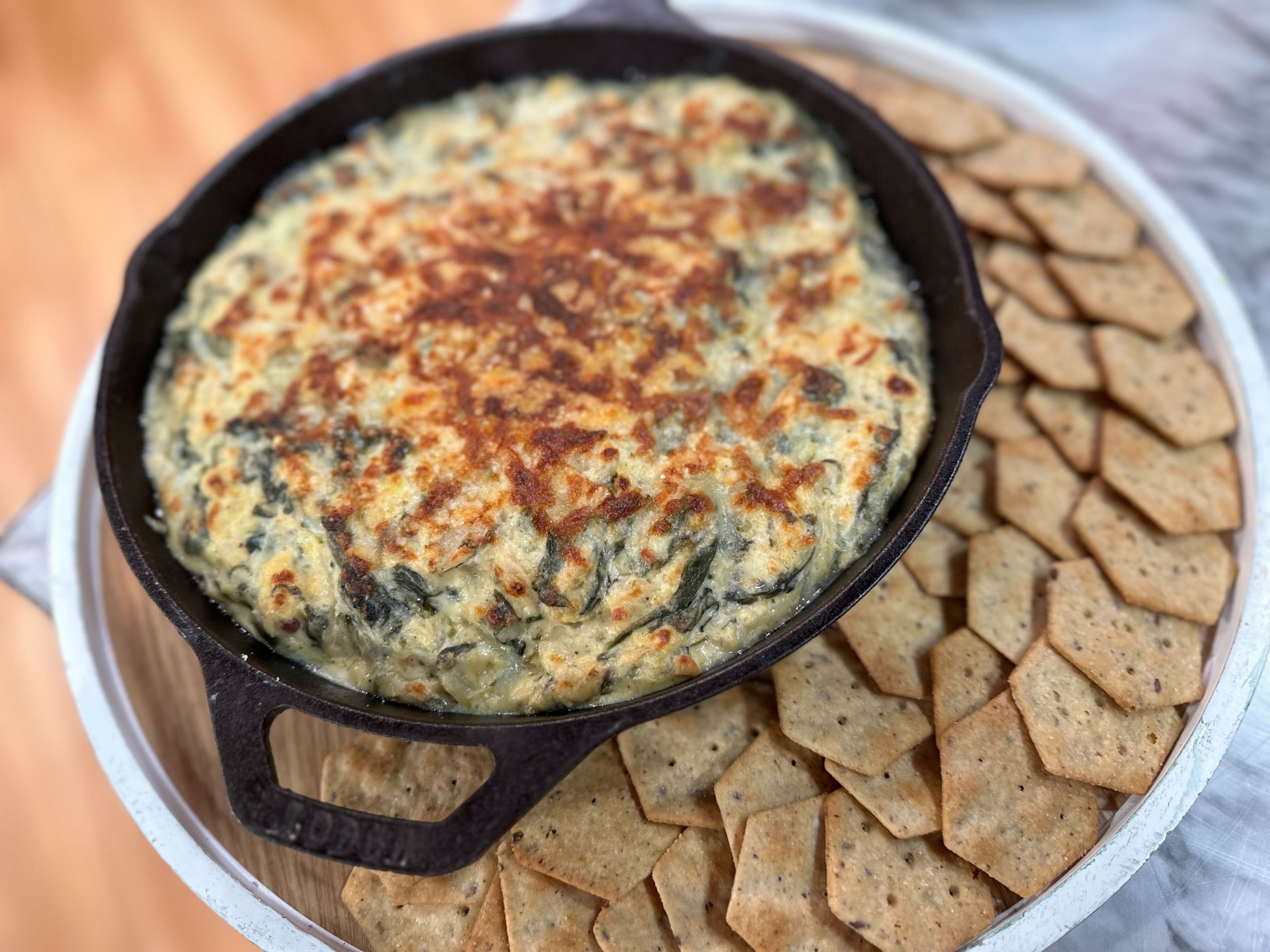 Shop the ingredients and order online here.
Ingredients
1lb of spinach
1 can of artichoke hearts - chopped into small pieces
1 large white or sweet onion - cut into 1/4" pieces
3 cloves garlic - minced
4-5 pieces of center cut bacon - cut into Lardons
1/4 cup sour cream
1lb cream cheese
1 cup grated Parmesan cheese
2 cups Mozzarella cheese
Few pinches Smoked paprika
Pinch of crushed red pepper flakes
1/4 cup chopped parsley
All-purpose seasoning about a tablespoon
Salt to taste

Directions
Preheat oven to 375 degrees.
Place a large cast iron skillet over medium heat, render bacon fat.
Once bacon is nice and crispy, remove from skillet and place on side for later.
Begin sweating the onions.
Once they are translucent add in the minced garlic, cook until you can really smell the garlic.
Next step is to add the artichokes, cook for a few minutes while stirring ingredients together.
Add in the Spinach and wilt down.
Once spinach is wilted add back in the bacon, the sour cream and cream cheese, parsley, paprika and all purpose, a few pinches of salt mix well to incorporate everything.
Once all of those ingredients are incorporated add your grated parmesan and half the mozz, mix well.
Last step before placing in the oven is spreading the mixture evenly in the skillet and then finish with the remaining mozz.
Place in the oven for about 15 minutes.
Finish with a little chopped parsley.

Recipe reprinted courtesy of Chef Michael Chernow.

Kale Salad with apples, roasted sweet potatoes, walnuts, pomegranate, quinoa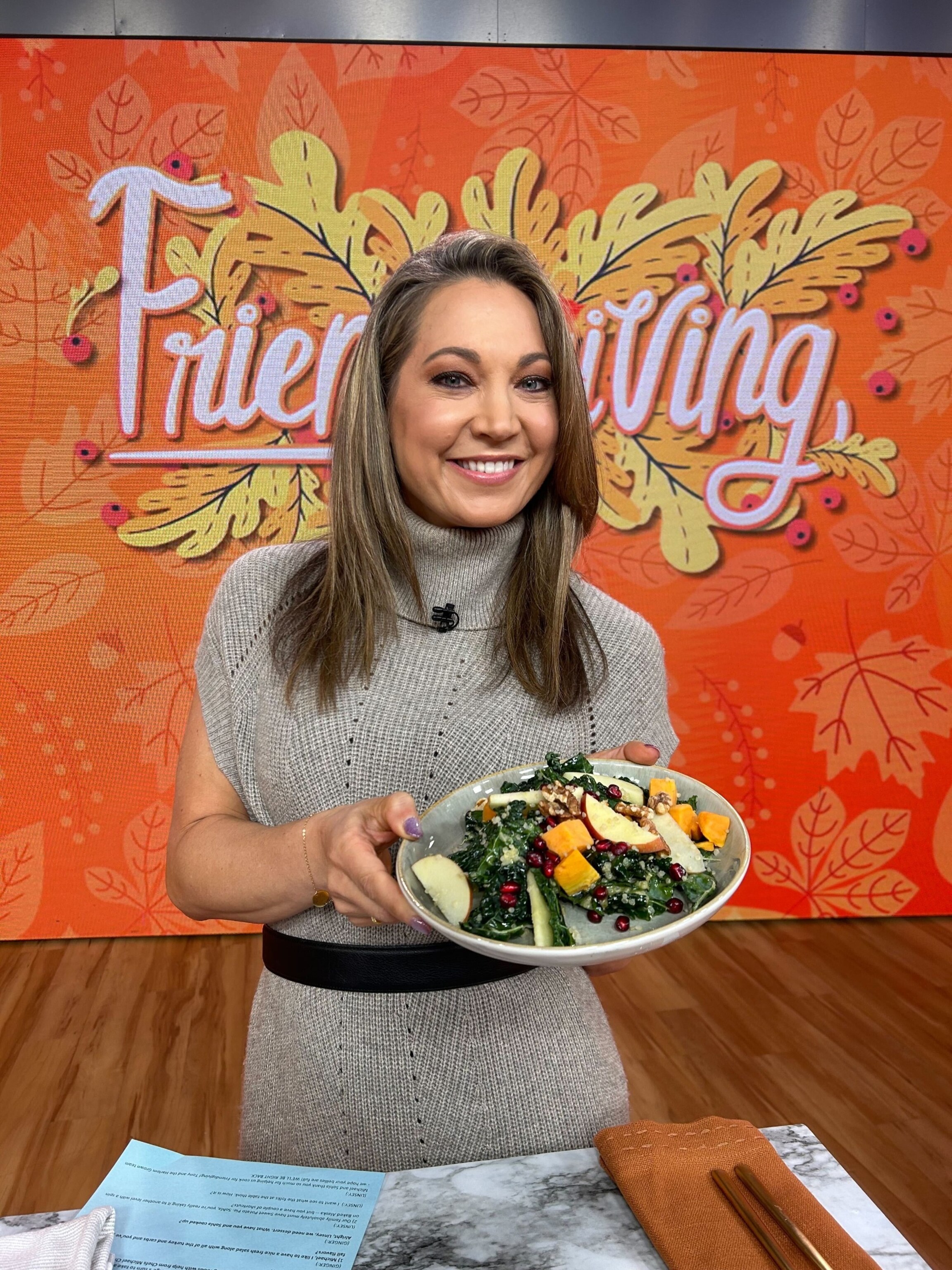 Shop for all the ingredients online here.
Serves: 2 to 4

Ingredients
Bunch of kale, washed and cut into 1" pieces without stems
Roasted Sweet potatoes (1 large) cut in 1" cubes
1 pomegranate worth of seeds
2 crisp apples, sliced thin
1 cup toasted walnuts
Half cup quinoa

Honey apple cider vinaigrette
2 tablespoons each honey, honey mustard, apple cider vinegar
1/4 cup olive oil
Salt to taste

For the dressing: place the ingredients in a mason jar and shake vigorously.
Put all cooked and raw ingredients in a large mixing bowl and dress.

Recipe reprinted courtesy of Chef Michael Chernow.

Apples and Cranberry Sauce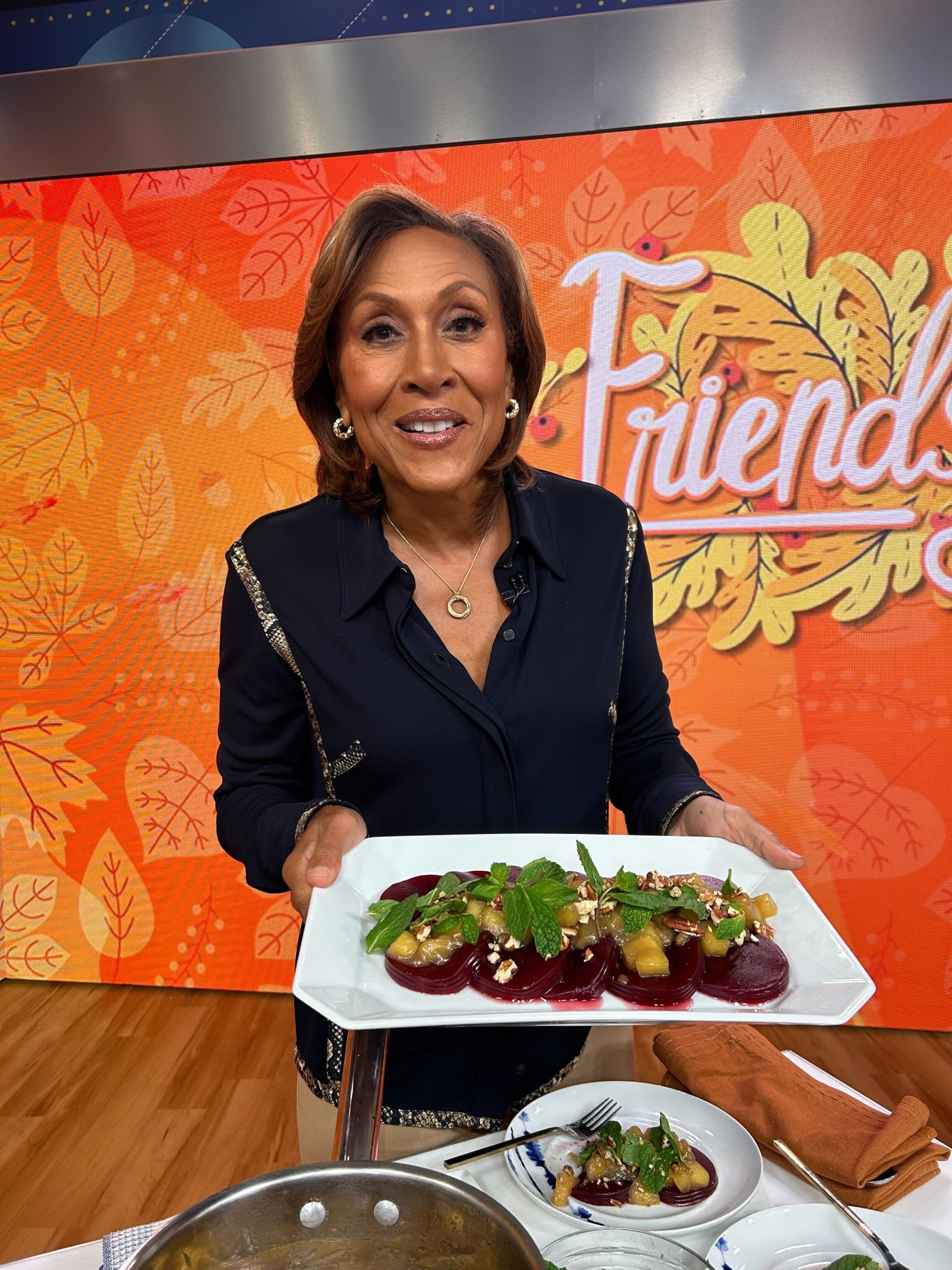 Shop for all the ingredients here.
Ingredients
2 cans cranberry sauce, sliced
2 large apples - ideally something harder and crisp, like a honey crisp - peeled and diced into 1/2 cubes.
Juice from 1/2 lemon
1/2 cup toasted pecan pieces
1 tablespoon Vanilla extract
1/2 cup apple cider + 2 tablespoons
3 tablespoons maple syrup
1 tablespoon brown sugar
1 tablespoon butter
1/8 teaspoon nutmeg, salt
3 teaspoon corn starch
Handful of Mint leaves

Directions
In a sauce pot put in, apples, cider, sugar, syrup, vanilla extract, nutmeg, cinnamon and salt, stir well to incorporate and bring to a simmer with a lid.
Let cook for 3 minutes and stir, test for texture, if soft enough for your taste, pull from the heat, if you want it a bit softer, cook for another minute or two. Should be able to get through easily with a fork.
Once the apples are cooked, whisk the additional 2 TBSP of Apple cider with the corn starch in a small bowl, we will use this as s slurry to thicken the apples.
Once well whisked, add to the pot and stir well, bring back up to a simmer for 30 seconds. Then pull off the heat, take off lid and let cool, stir every few minutes as it cools.
Stir in butter and nuts.
Taste for flavor and adjust with cinnamon, salt and maybe even a little maple syrup to get the flavor profile you want.
To serve, place the two cans of cranberry sauce, sliced into 1/4" disc's on a serving tray, fanned out.
Pour the stewed apples over the top of the cranberry sauce.
Finish with fresh mint leaves.

Recipe reprinted courtesy of Chef Michael Chernow.
Greek Stuffing Tahdig
"Two classic dishes come together to make this epic new holiday showstopper. Parboiled basmati rice is layered with everything you'd find in a traditional greek stuffing. Then, it's all steamed together in the style of Persian tahdig until the rice at the bottom of the pot forms a crackly saffron-stained cake," El-Waylly wrote alongside this recipe in her cookbook, "Start Here: Instructions for Becoming a Better Cook." "Flip it out and shout 'Opa!' A lightweight, large, nonstick pot with a tight-fitting lid is vital to properly steaming the basmati and creating a crispy crust that easily releases from the pot. When you cook the rice, wrap the lid with a clean kitchen towel to collect the steam and prevent it from condensing and rolling down the sides of the pan. Seek out high-quality aged basmati rice, preferably parboiled or sella, which is steamed and dried. Sella rice cooks up fluffier and is more forgiving, but regardless of the type of basmati you get, the cooking method remains the same.
Shop for all the ingredients online here.
Ingredients
For the Greek beef mixture
4 tablespoons olive oil
1/2 cup slivered almonds
1/2 cup raisins
Kosher salt
1 pound ground beef (80/20)
1 large yellow onion, chopped
3 garlic cloves, chopped
1 1/2 teaspoons ground cumin
3/4 teaspoon freshly ground black pepper
1/2 teaspoon ground cinnamon
1 pinch ground cloves
1 cup dry white wine

For the rice:
2 1/2 cups aged extra-long basmati rice (preferably sella rice)
3/4 cup plus 1/2 teaspoons kosher salt
1/3 cup melted ghee, divided
1 big pinch saffron threads
1 teaspoon granulated sugar
1 large egg yolk
2 tablespoons Greek whole milk yogurt

Directions

Make the Greek beef mixture: In a large skillet over medium heat, add the oil and almonds. Cook, stirring frequently, until golden brown, 3 to 4 minutes. Add the raisins and cook until puffed, about 1 minute. Remove from heat and use a slotted spoon to transfer the nuts and raisins to a plate, leaving the oil behind in the pan. Lightly season with salt.

Return the skillet to medium-high heat and add the ground beef, pressing into one even layer. Add the onions on top in one even layer and sprinkle generously with salt. Let cook undisturbed until the beef becomes deeply browned underneath while the onions steam on top, about 8 minutes. (If there is a lot of excess fat in the pan, tilt the skillet, scoop it up with a spoon, and discard.)

Add the garlic, cumin, pepper, cinnamon, and cloves and use a wooden spoon to break up the meat and evenly combine everything. Cook until the meat is cooked through and the spices are aromatic, about 2 minutes. Add the wine and use the spoon to scrape up any brown bits stuck to the bottom of the pan. Simmer until the wine has reduced, 2 to 4 minutes. Remove from heat, stir in the almonds and raisins, taste and add salt as needed, set aside. (The beef mixture can be prepared up to 3 days in advance and stored in the refrigerator.)

Make the rice: Place rice in a medium bowl. Cover with cool tap water, use your hand to gently agitate the grains, and drain. Repeat at least 2 more times until water runs clear enough to see your hand through it. Cover with cool tap water and soak for at least 15 minutes and up to 2 hours.

Bring 3/4 cup salt and 3 quarts water to a rapid boil in a large nonstick pot over high heat. Add drained rice all at once to boiling salted water. Initially, the water will stop boiling, and the rice will sink to the bottom. Stir a few times with a wooden spoon to prevent sticking, then stop stirring. After a couple of minutes, the water will return to a simmer and a few grains will appear near the surface. The rice is ready to drain when the grains have nearly doubled in size, the water returns to a boil, and most of the rice rapidly bubbles to the surface. When you bite into a grain, you want to see a small white core; just like pasta cooked al dente, the grains should remain firm. Depending on the quality of your rice, this can take anywhere from 3 to 7 minutes, so begin tasting the grains early and often. Drain the rice and rinse with water until completely cool. Set aside. (Rice can be parboiled in advance and stored in the refrigerator for up to two days, just be sure to take the chill off the rice by either letting it sit at room temperature or running it under warm water in a colander before proceeding.)

In a small mortar and pestle, grind the saffron threads and sugar into a fine powder. Add 2 tablespoons hot water and stir to dissolve; set aside.

In a medium bowl, stir together egg yolk, yogurt, half the saffron tea (1 tablespoon), 3 tablespoons ghee, and the remaining ½ teaspoon kosher salt. Add 1 ½ cups of the parboiled basmati rice and gently stir to combine. Spread the rice mixture with the back of a spoon in one even layer in the nonstick pot.

Using a large spoon, mound half the remaining rice on top. Then add all the beef mixture in one layer and top with the remaining rice. Using the back of a wooden spoon or a chopstick, make hole in the center of the mound all the way to just above the tahdig layer. (This helps the steam circulate throughout the rice.) Drizzle over remaining saffron tea and ghee along with 2 tablespoons water. Wrap the lid of the pot with a clean dish towel, securing the ends of the towel to the handle with a rubber band or twine, and cover pot.
Place the pot over medium-high heat. Do not open the lid at any point—you need to rely on sound, smell, and time cues from this point forward. Cook until the sides of the pot are very hot to the touch and you can hear it simmering inside the pot, about 5 minutes. Reduce heat to medium-low and cook, undisturbed, until the rice begins to smell toasty (not burnt) and the simmering sounds have subsided, about 40 to 45 minutes. (If it's your first time making this, start checking for audio and olfactory cues after 25 minutes. Timing can vary greatly depending on thickness of pot and strength of your burners.)

Now, remove the lid and check doneness; the rice should be fully cooked and fluffy. Using an offset spatula or fork, lift up the crust and take a peek to see if the crust has formed. If it has not, recover pot and continue cooking another 10 minutes. If it has, remove the pot from heat and rest covered for 10 minutes.

Loosen the rice crust with an offset spatula, then hold tight using oven mits and flip the pot onto a large serving platter. Serve hot.

Recipe reprinted courtesy of Sohla El-Waylly.
Pumpkin Pie Baked Alaska
"Put on a show for your guests with this spectacular take on the humble sweet potato pie. Sweet potato ice cream is layered with pieces of caramelized crust. The entire ice cream bombe is then covered with sticky meringue, which is charred and toasted by pouring over flaming whiskey. There are several steps to this recipe, but you can break it up and prep much of it in advance, so when you're ready to serve, all you have to do is set it on fire," El-Waylly wrote in her cookbook, "Start Here: Instructions for Becoming a Better Cook."
Ingredients
4 pints high-quality vanilla ice cream
2 cups pumpkin puree
1 tablespoon pumpkin pie spice
1/4 teaspoon kosher salt
16 ounces gingersnap cookies

For the meringue:
6 large egg whites
1 1/2 cups granulated sugar
Scraped seeds of 1 vanilla bean (optional)
1 1/2 teaspoons pure vanilla extract
1/4 teaspoon kosher salt
1/4 teaspoon cream of tartar
1/2 cup whiskey

Directions

Let the ice cream soften in the refrigerator for about 30 minutes (it should be the consistency of a thick cake batter). Meanwhile, lightly moisten the inside of a 3-quart mixing bowl, line it with plastic wrap (the water helps the plastic stick), and place it in the freezer to chill.

In a large mixing bowl, stir together the pumpkin puree, pumpkin spice, and salt until evenly combined. Add the softened ice cream and stir together to combine.

Add a third of the ice cream mixture to the plastic-lined bowl and spread evenly with the back of a spoon or an offset spatula. Arrange ⅓ of the gingersnaps over the ice cream layer, breaking some into pieces to fill in any gaps. Repeat layering the remaining ice cream and gingersnaps two more times, ending with gingersnaps. Wrap with plastic and freeze until totally firm, at least 8 hours and up to 1 week.

Make the meringue: Fill a medium saucepan with at least 1 1/2 inches of water and bring to a simmer. In the bowl of a stand mixer (or a large heatproof bowl if using a hand mixer), whisk together egg whites, sugar, and vanilla seeds (if using) until no streaks remain. Place bowl over a pot of simmering water. Stirring and scraping constantly with a flexible rubber spatula, heat the egg mixture until it registers between 155F and 165F on an instant-read thermometer, about 5 to 7 minutes. (Remove the bowl from the heat when you take the mixture's temperature so it doesn't curdle when you stop stirring.)

Add the vanilla, salt, and cream of tartar. Whip on medium-high speed until the meringue is glossy and holds stiff peaks, about 15 to 18 minutes. (To check, stop the mixer and remove the whip from the head. Swirl the whip in the meringue, lift it out, and flip it over. The meringue should hold straight with a tip that curls back onto itself.) If it's not there yet, continue to mix for 30 second intervals, stopping to check in between. (If you are using a hand mixer, double all the mixing times.) Transfer the meringue to a large piping bag fitted with a large star tip.

Unwrap the ice cream bowl and flip it onto a large heat-proof plate with a rim (the rim will catch the flaming whisky as it runs off the meringue). Rub the bowl with a hot towel to help release the ice cream from the bowl, then peel off the plastic.

Decoratively pipe the meringue all over the molded ice cream. (You can move to the flaming step right away or store in the freezer, uncovered, for up to 6 hours.)

Pour the whiskey into a small pot. Heat over medium until warm, about 1 minute. Use a long match or stick lighter to reach into the pot and ignite the whiskey. Carefully pour the flaming liquor over the meringue to torch it. (The flames will die out on their own; do not attempt to blow them out, which can cause the flames to spread.) Serve right away.

Recipe reprinted courtesy of Sohla El-Waylly.
More GMA kitchen picks
Start Here: Instructions for Becoming a Better Cook: A Cookbook by Sohla El-Waylly