— -- Take your Super Bowl party to the next level this year by creating a festive miniature football stadium loaded with game day grub.
Celebrity chef George Duran shared his top tips for creating this snack-serving hack for the big game, using materials you probably already have around the house.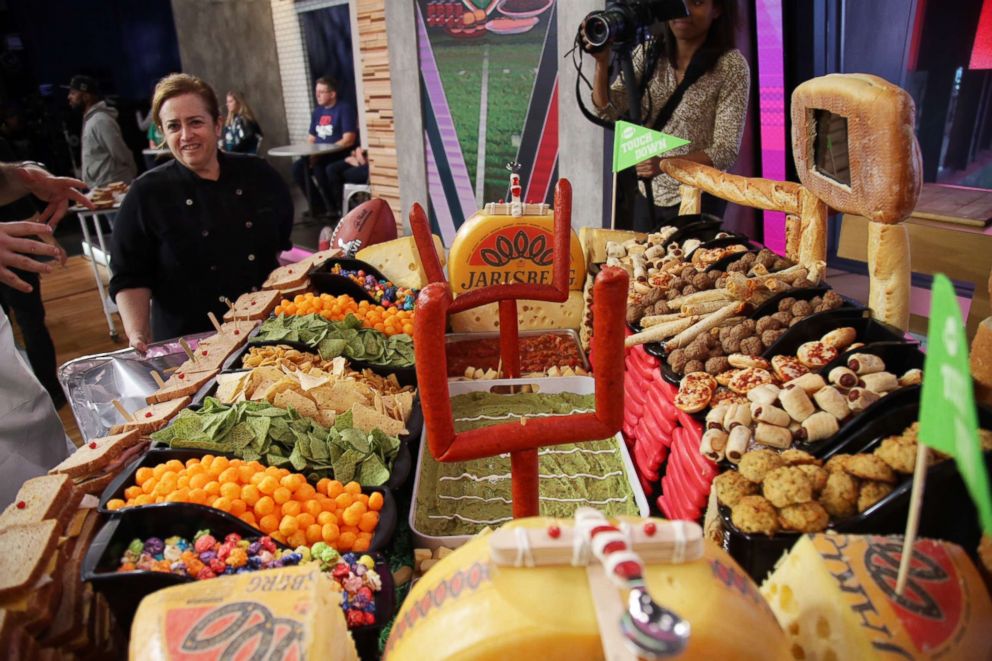 Here is his step-by-step guide for constructing a DIY snack stadium. Plus, Duran and celebrity chef Sunny Anderson shared a few crowd-pleasing recipes that are perfect to fill up your snack stadium.
1. Use magazine holders as the outer stadium.
If they are made of plastic, wash them with warm, soapy water before filling them up with snacks like chips, popcorn, pigs in a blanket, meatballs, etc. If your magazine holders are made of cardboard, you can wrap them in aluminum foil.
2. Make an oval shaped "stadium" with the magazine holders and use them to fill up with your favorite snack items.
Take baking pans and lay them out in the center of stadium as a "field." This is where you'll be filling in your dips like guacamole, salsa, refried beans, sour cream, ketchup, etc.
3. Make a wall of sandwiches on one side of the stadium and then take an electric knife to cut off the outer crust.
This will give an illusion of giant wall of sandwiches that your friends and family can grab.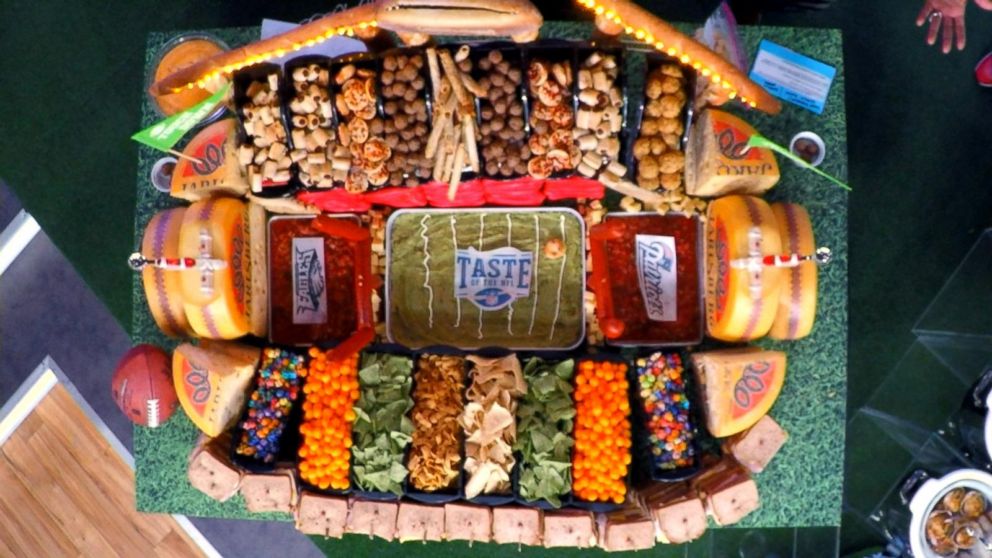 4. Make goal posts with pepperoni sticks.
Use toothpicks to build it, and make sure they're fastened properly.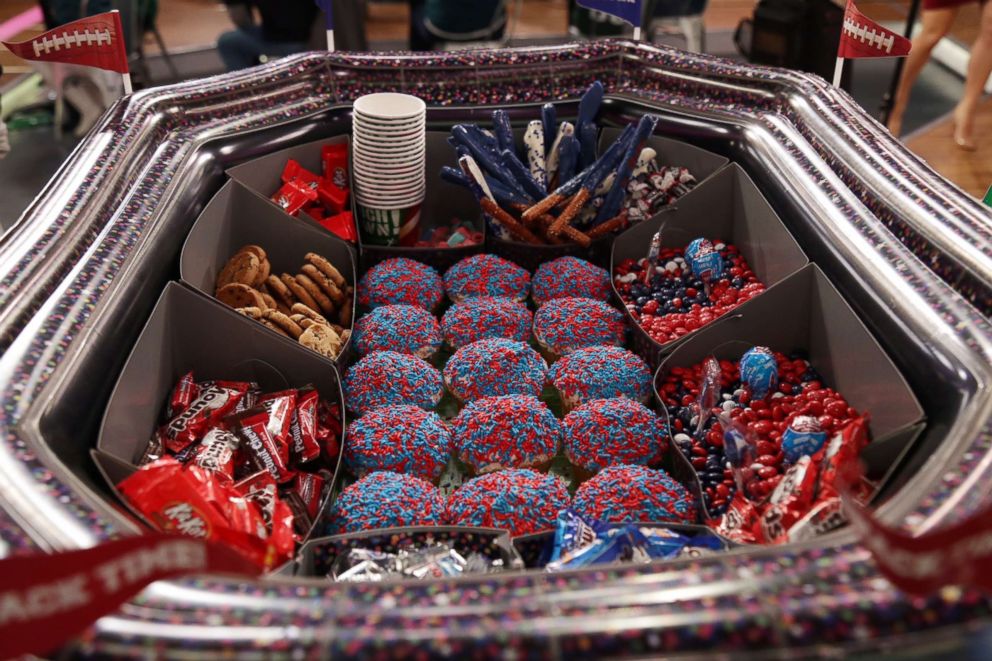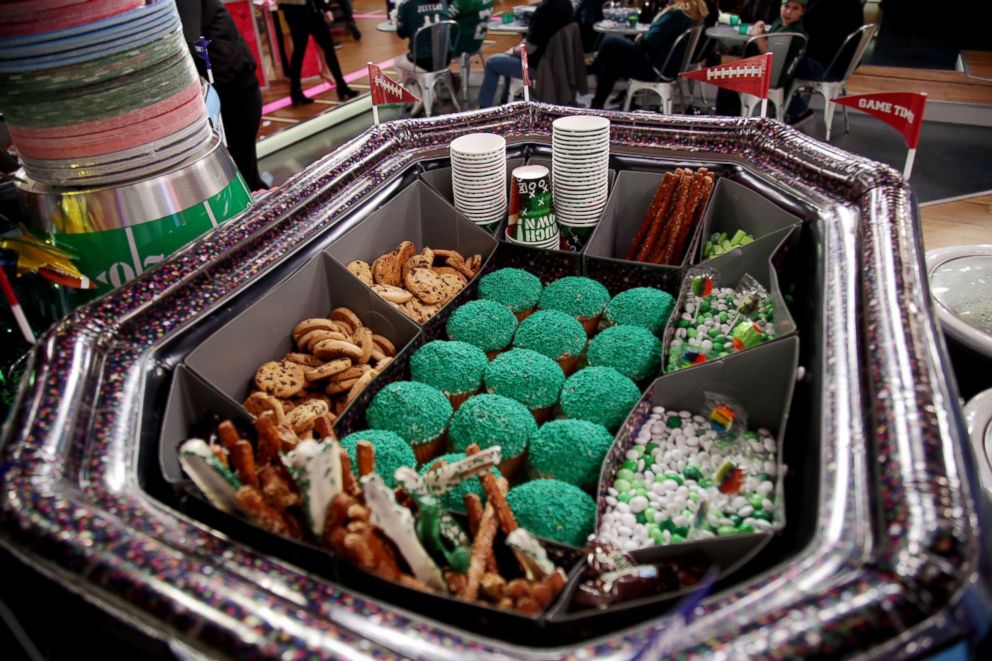 Pro tip: Party-supply stores sell Super Bowl decorations, but Duran also recommends doing a quick search online that will yield hundreds of do-it-yourself art projects, which can be printed and used to turn an ordinary snack stadium into a culinary touchdown!
George Duran's stuffed figs-in-a-blanket recipe
Ingredients:
1/4 cup dried cranberries, chopped
6 ounces fresh goat cheese (room temperature)
12 dried whole apricots
12 raisins
12 dried figs
6 slices prosciutto
Method:
Heat the oven to 350 degrees Fahrenheit. Chop the cranberries and mix them into the goat cheese. Cut the tops off the apricots and use your finger to open up a hole. Fill an apricot with some of the cheese mixture, then push a raisin into it. Fill a fig with some cheese, then push the apricot into it. Repeat until all the fruit has been used. Slice the prosciutto slices in half lengthwise and wrap a slice around each fig. Place on a baking sheet and bake until the prosciutto has browned, about 20 to 25 minutes. Let cool a bit before serving.
Sunny Anderson's 'Easy-Win' chili recipe
Ingredients:
1 pound Mexican chorizo or spicy sausage, casing removed
1 pound ground chuck (80 percent beef, 20 percent fat)
1 large white onion, chopped
4 cloves garlic, grated on a rasp or finely minced
1/4 cup chili powder
1 teaspoon red chili flakes
1 teaspoon dry, whole-leaf thyme
Pinch of cinnamon
1 teaspoon kosher salt
Black pepper
14 ounces (1 3/4 cups) crushed tomato
14 ounces (1 3/4 cups) beef stock
Method:
Start the chili. In a medium pot with a heavy base, or in a Dutch Oven, on medium high heat add the chorizo, beef, onions, salt and a pinch of pepper. Use a wooden spoon or potato masher to break the chorizo into bits like the ground beef. Once the chorizo is mostly cooked and the onions are tender, add the garlic, chili powder, chili flakes, thyme, cinnamon, salt and a few grinds of black pepper. Cook a few minutes while stirring to combine all the flavors.
Cover and finish. Add the crushed tomato and beef stock. Raise the heat until the pot boils, then lower to a low simmer and cover. Cook, stirring occasionally, for about 40 minutes. Serve with a toppings/pairings bar.
Here are just a few suggestions for chili toppings and pairings, but make your bar your own with regional or family favorites.
Toppings: Onions, lettuce, scallions, cheeses, sour cream, pickled or fresh jalapenos, tomatoes, radishes.
Pairings: Fries, tots, chips, corn chips, corn bread, baked potatoes, shredded rotisserie chicken, hot dogs.
Pro tip 1: Wait a day! This can be made the day before, and some say that chili is better on the second day.
Pro tip 2: Slow cook it! You can prepare step one of this recipe on the stove. Then, before step two, transfer everything to a slow cooker to finish on low for eight hours or high for four hours.
Sunny Anderson's classic 7-layer dip recipe
Ingredients and Method:
From the Bottom:
Refried beans and taco seasoning: One pack of taco seasoning per 16-ounce can of beans. Stir, then spread on the bottom for the base.
Shredded cheese: Mexican blend or cheddar or jack
Chopped tomatoes: Roma, plum or seeded beefsteak tomatoes
Chopped scallions: White and green parts
Sliced black olives: The can is the best buy
Sour cream – Stir it first
(Top) Avocados: Just mash them up, season with salt and fresh lime juice
Bonus layers: Try cooked ground beef or sausage, cilantro, shredded lettuce, shredded chicken, pickled jalapenos, corn, chopped steak, even cooked rice! Think "burrito" and you're on your way to fun layers!
Pro tip 1: Store-bought guacamole is a perfect substitute for avocados.
Pro tip 2: Keep guacamole and avocados green by covering with plastic wrap that touches the surface. This allows the least amount of air in, meaning less oxidation, meaning it won't turn brown.
Pro tip 3: Store-bought salsa is a perfect substitute for chopped tomatoes.
Pro tip 4: The Infladium "field" is large and can be divided and filled on one side with this dip and the other side with other dips or chips.
Sunny Anderson's easy cheesy spread recipe
Ingredients:
For the spread:
48 ounces shredded white cheddar
48 ounces shredded Monterey Jack
48 ounces scallion cream cheese
4 cups mayonnaise
2 tablespoons onion powder
2 tablespoons garlic powder
1 cup drained and chopped pimentos
1/4 cup drained and chopped pickled jalapenos
For the top:
32 ounces shredded white cheddar
bunches of fresh dill, chopped
bunches of fresh parsley, chopped
bunches of fresh cilantro, chopped
Method: Combine. Add all spread ingredients to a large bowl and mix. Spread into pan. Top and serve. Sprinkle cheddar over top, then, creating a 1-inch border, sprinkle over the dill, parsley and cilantro.
For more game day recipes to fill up your snack stadium, click here.