Should young women be allowed to participate in sports if they're pregnant? One 17-year-old's desire to continue playing volleyball during her pregnancy divided her Fort Worth, Texas, high school.
Mackenzie McCollum, a high school senior, was the starting setter on the volleyball team at Arlington Heights High School in Fort Worth.
"I was on the court all the time, I didn't come off," McCollum said. "I played all the way around."
While new policies are now in place protecting pregnant athletes in college from losing their financial aid, most high schools haven't tackled the issue. When McCollum's school found out she was pregnant, the athletic coordinator ordered her off the team until she could provide a written note from a doctor clearing her to play.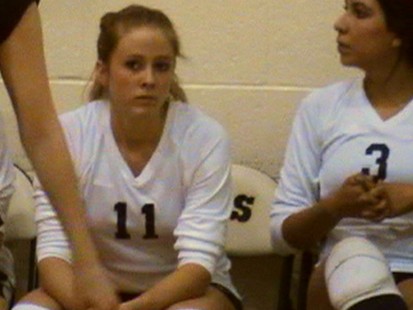 Officials from the Fort Worth Independent School District declined ESPN's request for an on camera interview, citing a district rule that prevents them from publicly discussing a specific student's medical issues. But on the phone, a spokesperson said it was standard policy at Arlington Heights High School and throughout the district to require students who get injured or develop a medical condition to get a written release from a doctor before they can return to the team.
Dr. Jay Herd, a Fort Worth ob-gyn, examined McCollum and gave her permission to play with some conditions. But school district officials sent McCollum's mother a letter saying they were "unable to accommodate the need to monitor her heart rate" and "physical contact is inherent in this sport."
Three days later, Herd had his nurse write a second note saying McCollum "can continue to play volleyball at this time" with no restrictions. That note cleared McCollum to play the next day.
McCollum was told that during her absence, head coach Jack Warren had informed the team that she was pregnant. She says her anguish was compounded when Warren reduced her playing time.
"He told me that he always does this before people move up and before the seniors leave, and then I looked on the court and everyone else was still there," she said, choking up. "I felt like this was the one thing that I could count on …that everything would be OK and everything would work out and then that, too, was taken away, so it made me feel like I was kind of left with nothing to really count on."
CLICK HERE for much more on McCollum's story and pregnant athletes from ESPN.com
Pregnant Teen's Mother Says Schools Should 'Change Their Policies'
McCollum believes her playing time was reduced because of her pregnancy, and her friend and teammate Whitney Davis says she also noticed a change.
"I thought he was treating her differently because we had pretty much never, like, seen him do anything like that to where, you know, he split a player's time," Davis said.
Warren declined repeated requests for an interview to explain his decisions.
McCollum's final season ended after the first round of the playoffs Nov. 3. But the controversy isn't over for McCollum or her mother, Barbara Horton.
"My goal is for them to change their policies to include pregnant athletes," Horton said, "to nurture pregnant athletes, and to make sure that these athletes are successful."
The U.S. Department of Education has opened an investigation into four complaints that Horton made that the school district discriminated against her daughter "on the basis of her sex and retaliated against her." That would constitute a violation of Title IX -- a federal law that prohibits sexual discrimination in athletics.
In a statement to ABC News, Clint Bond, the Fort Worth Independent School District external communications coordinator, said the district was concerned for McCollum's safety and did not violate her rights, district policy or any laws.
"The Fort Worth Independent School District is restricted by law from discussing specific cases involving students," the statement said. "However, we believe our foremost concern through the entirety of this episode has been for the safety and the rights of the student. We strongly contend neither the student's rights, district policy, state or federal law has been violated."
The controversy has divided the Texas town. McCollum has supporters, but so do the coach and the school district. A Facebook page called "I support coach warren and the FWISD" had 290 members as of Dec. 4.
Doctors: Pregnant Women Can Exercise Safely
As Horton waits for word on the investigation, she's helping her daughter -- who is now almost six months pregnant and is scheduled to graduate in December -- to pursue her goals, just with a little added responsibility.
"I knew that it would be hard for me," McCollum said. "It will be hard for me, but I know that it's something that I can get through."
If the Department of Education finds that the Fort Worth School District violated Title IX, it could demand that the school change its policies.
As for McCollum's performance on the court, she was named the best at her position in the district for the year.
Doctors say that it's possible for pregnant athletes to continue to train safely.
"I strongly believe pregnancy should not be a state of confinement," said Dr. Raul Artal, chairman of obstetrics, gynecology and women's health at Saint Louis University in St. Louis. "If there are no complications, and a woman is willing to continue to train, she can."
Artal has studied the impact of exercise on pregnancy for more than 30 years. In 1985, he and other doctors recommended that the American College of Obstetricians and Gynecologists set guidelines for pregnant women to keep their heart rate below 140 beats per minute during exercise to ensure that the fetus received enough oxygen.
But further testing, he says, showed that the initial recommendation was incorrect. Artal said he asked for the 140 beats notation to be stricken from the guidelines, but it had already become part of the conventional wisdom.
Doctors advise pregnant women to keep their internal core temperature below 103 degrees Fahrenheit. Artal acknowledges that is almost impossible for an average person to measure core temperature. He says pregnant women should stay hydrated, be aware of the change to their center of gravity and maintain a workout pace that allows them to breathe easily.
To this day, he said, there is no standard limit to how high a woman's heart rate should be in pregnancy. CLICK HERE for much more on McCollum's story and pregnant athletes from ESPN.com