Cheers filled the room the moment Marty Bruckner and Lauren Saia said "I do" on Saturday, Aug. 11, in Asheville, North Carolina, surrounded by family and friends.
But this wasn't a typical wedding. Bruckner, 29, and Saia, 33, who met almost seven years ago while living in St. John, put their wedding plans on hold after the devastation of Hurricane Irma turned their world upside down.
"It's an emotional roller coaster we've been through," Marty Bruckner told "Good Morning America" before the wedding.
Weeks after Hurricane Irma ravished St. John where they lived, the engaged couple took their engagement photos amid the devastation. Those photos, which went viral online, were meant to be a symbol of beauty among the ruins, and also serve as a reminder to remember the people in the U.S. Virgin Islands impacted by the storm.
"Their love story is because of this island," photographer Anne Bequette of STJ Creative, a wedding photography business, said.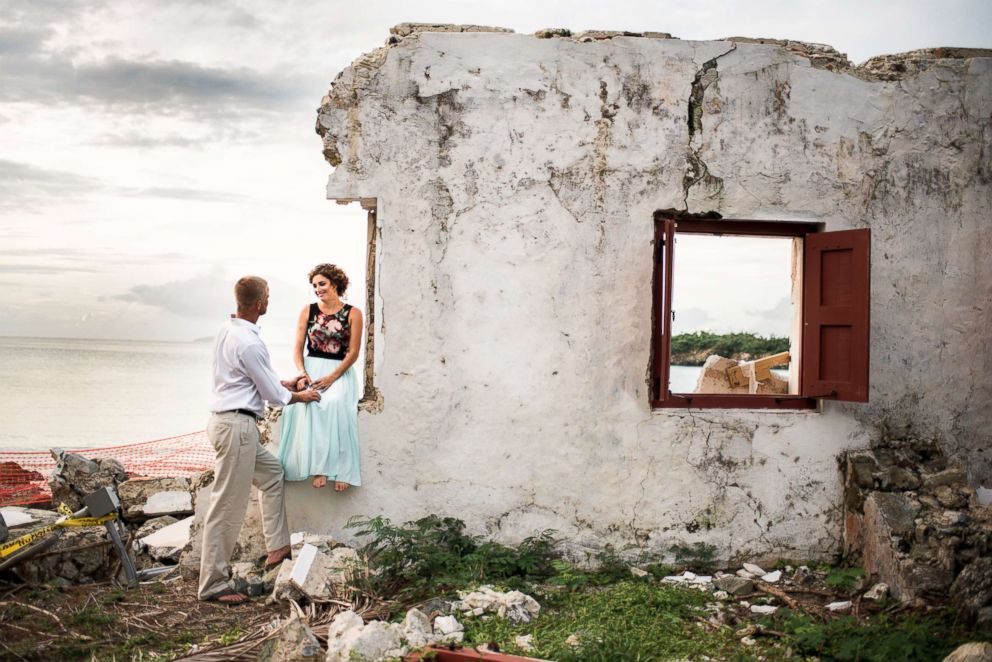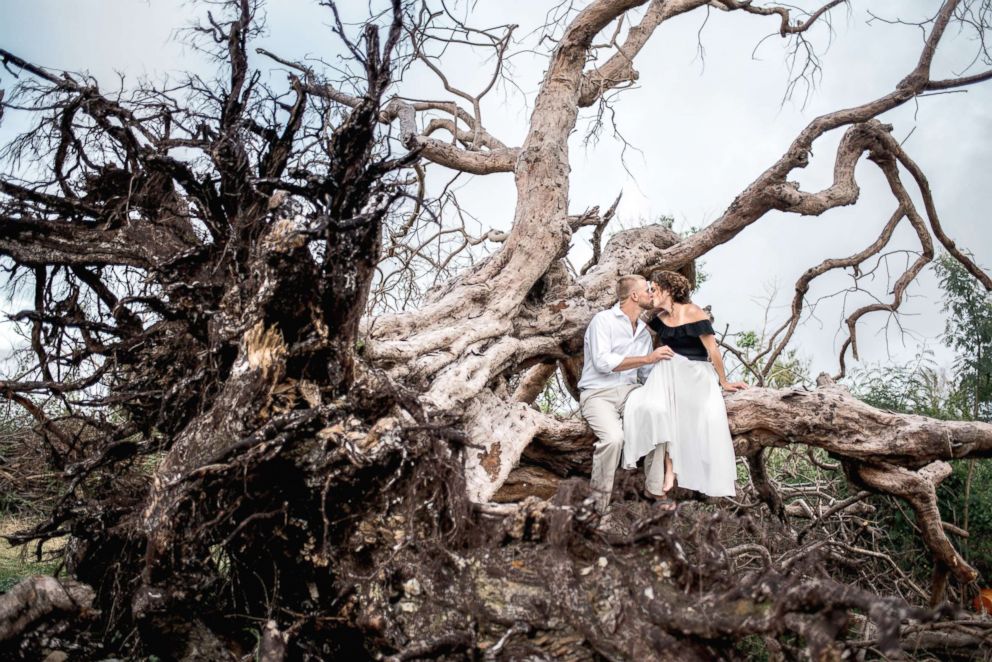 Seeking shelter from Hurricane Irma in Kenny Chesney's home
On Sept. 6, 2017, a strong Category 5 hurricane was barreling towards the U.S. Virgin Islands with wind speeds of 185 mph.
Saia was visiting her parents at their home in Massachusetts, but she stayed in communication with Bruckner and kept her eyes glued to the TV.
Bruckner, Bequette, and 15 others including five dogs and children, all sought shelter in the home of country music star Kenny Chesney in St. John. Chesney was in Nashville when the storm hit and offered his home, built to withstand high winds, to a group of friends and friends of friends to take refuge. The eclectic group became fast friends as they passed the time, even sending thank you videos to Chesney until the weather took a turn for the worst.
"At 11 a.m., the first window blew out," Bequette told ABC News.
The group rushed down to the laundry room closet, which was the most secure location in the home.
"There was a point we had to barricade all the doors, so we put a stackable washer and dryer over the single door," Bequette explained. But there also was a set of double doors that started to lose its screws and rattle. "It sounded like King Kong was outside the door."
With quick thinking, Bruckner and his friend Connor grabbed a mattress and held it up against the rattling door until the storm passed.
"I honestly believe that's what saved our lives," Bequette said. "I did not think we were going to get out of that room ...It was the most terrifying thing I've ever been through in my life."
Chesney's home was destroyed, but the group of 17 and their dogs' lives were spared, forging a friendship between Bruckner and Bequette.
Meanwhile, Saia was in a state of panic after losing contact with her fiancé.
"The last text message I got they said the windows had just blown out, and then you don't hear anything so your mind just goes to really dark places. I wasn't sure when or if I was going to hear from him again, it was scary," Saia said.
Newfound friends pick up the pieces together
Back in St. John, as chaos turned to an eerie silence, it was time to pick up the pieces.
"We're climbing over power lines, flipped cars and broken everything," Bequette said. "We get to town and the magnitude of damage was just mind-blowing."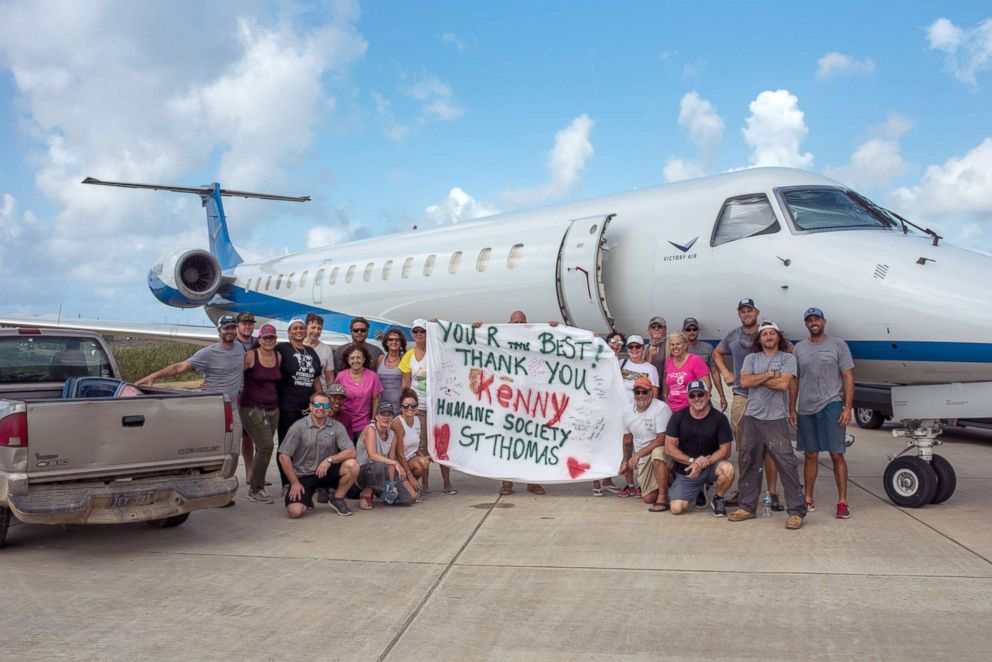 The group of newfound friends soon became a makeshift family, and in the next few days, Bruckner and others nicknamed themselves the "chainsaw crew" while helping clean up their neighborhood with whatever resources they had.
Within two weeks of the Category 5 Hurricane Irma hitting St. John, yet another Category 5 storm, Hurricane Maria, came right behind Irma and hit St. John again, further devastating the Virgin Islands.
Eventually, the group, including Saia who flew back home to St. John in the weeks following the storm and reunited with her fiancé, partnered up with Kenny Chesney's Love for Love City Foundation, which works with local charities to rebuild. Bequette has documented their efforts over the past year. The group has focused on recovery efforts on the island, doing everything from cleaning debris to helping neighbors rebuild to rescuing homeless animals, all the while the couple was grappling with losing their own jobs and livelihood.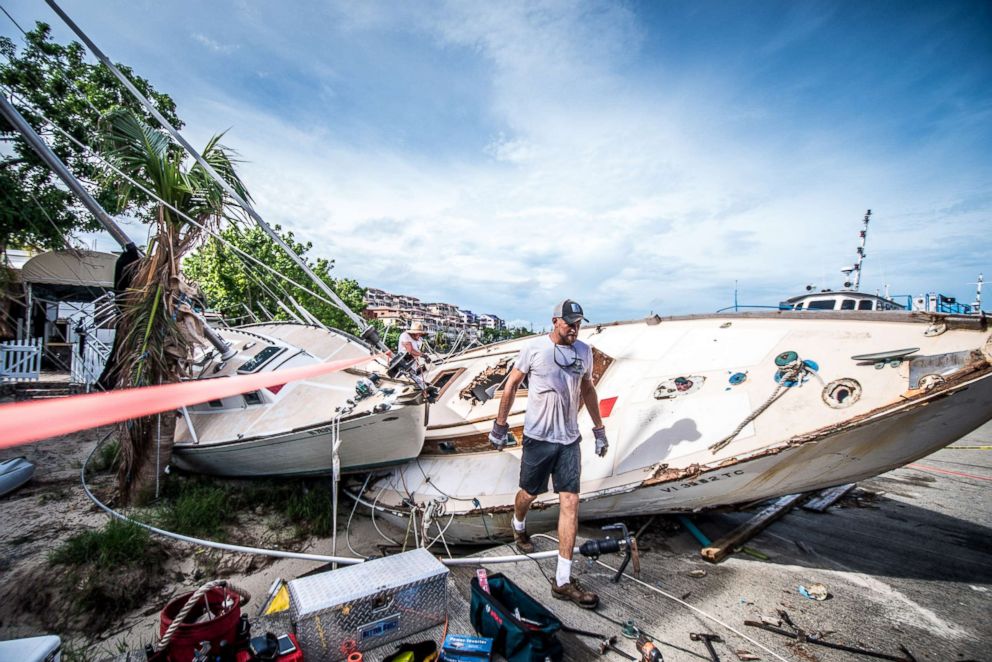 Bruckner, a boat captain, lost the tourism needed to sustain his boat charter company. Saia worked at Caneel Bay Resort, which was destroyed and remains shuttered.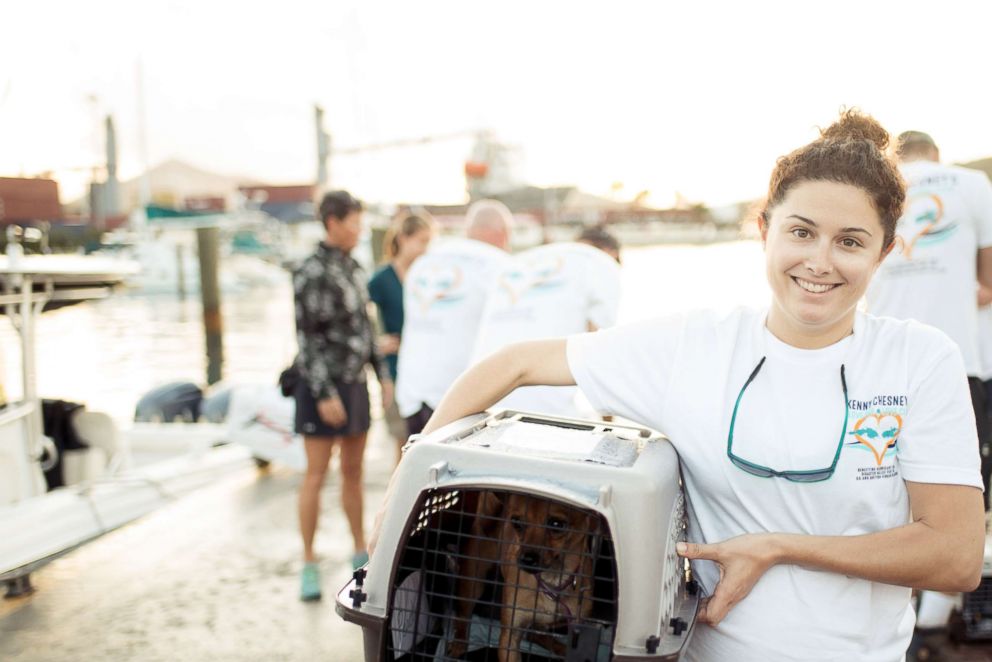 Reflecting on his own experience, Chesney recently released a new album entitled "Songs for the Saints," turning his emotions into lyrics with all proceeds going to his foundation's work in aiding the recovery efforts.
"I put on the album and I cried because he gets how we feel, he is one of us," Anne said.
Chesney told ABC News' Robin Roberts in a July appearance on "GMA" that he has "always felt like music was the biggest healer we have" and hopes that everyone who listens to his new music can find that element of healing.
MORE: Kenny Chesney performs his inspirational song 'Better Boat'
"A tragic event doesn't have to be so tragic"
Newfound friend organizes a free wedding for deserving couple
For Bruckner and Saia, a big part of their healing process came through their relief work and their wedding became an afterthought.
Bequette, who runs a wedding photography business, had another idea to give them the wedding they deserved.
"Marty helped save my life, and Lauren and him became family since the storm. I wanted to give them a dream wedding that they deserved, as they rebuilt their future together," she said.
Bequette enlisted New York-based wedding planning company LLG Events, who brought on vendors from across the country pro-bono, as well as local vendors from Asheville where Bruckner's family lives and where the wedding took place, to "give them the day of their dreams."
"Honestly this is one of the best projects we've ever done," Lauren Grech from LLG Events said. "It's about bringing people together from all walks of life, and we incorporated every vendor who wanted to help out."
Couple has a dream wedding thanks to the kindness of vendors
The couple welcomed 85 guests over the weekend and completely turned their trust over to their numerous wedding vendors -- allowing themselves to be surprised when they walked into their venue on their wedding day.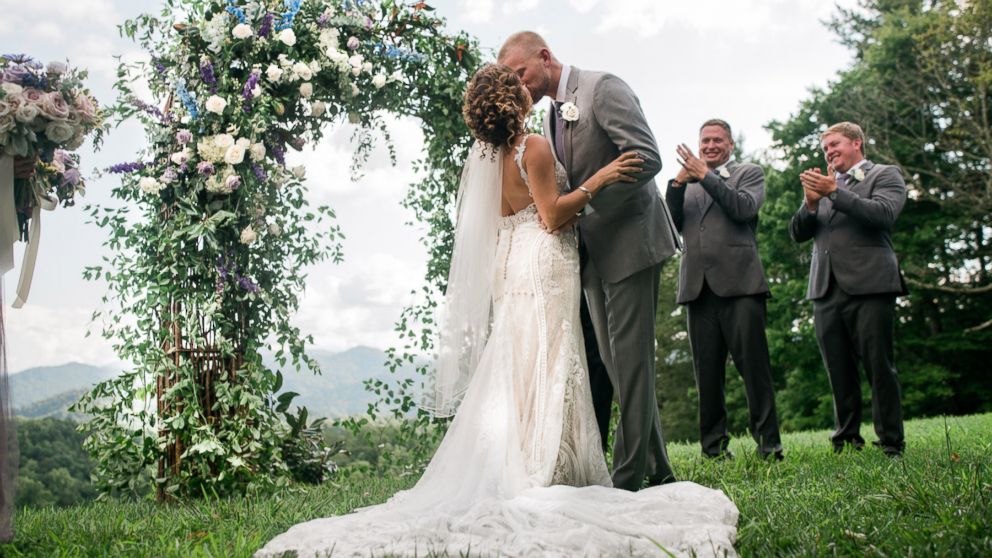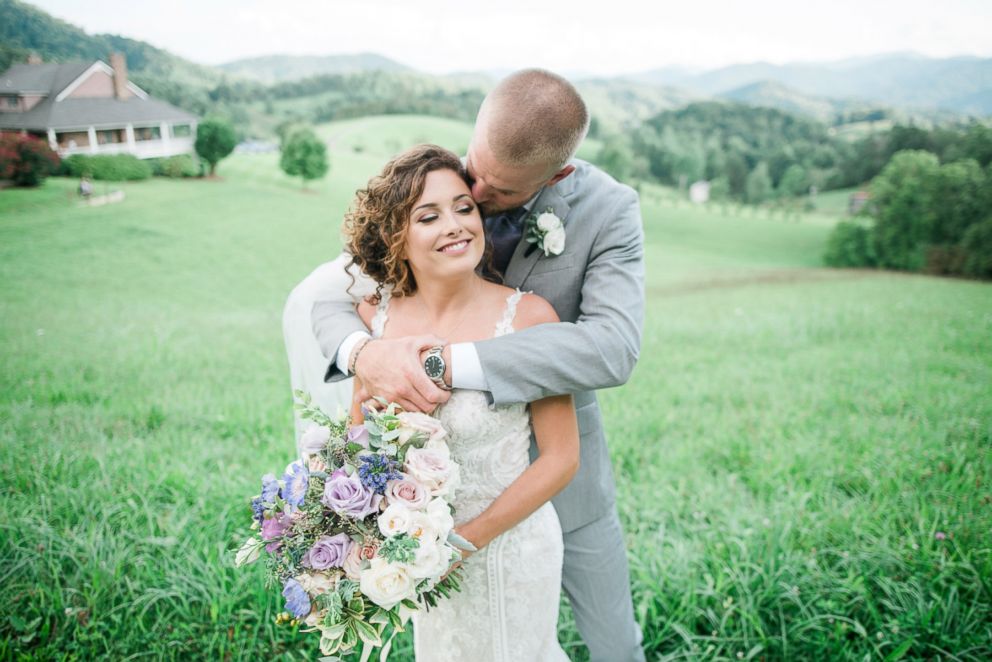 No detail went overlooked from a custom hanging floral installation by David Kimmel Designs to a watercolor-based wedding cake by Dogwood Designs Bakery which "mimics the way the sky looked during the hurricane," said Grech. "We were trying to emulate the storm, and try to make it beautiful to signify how they have overcome it."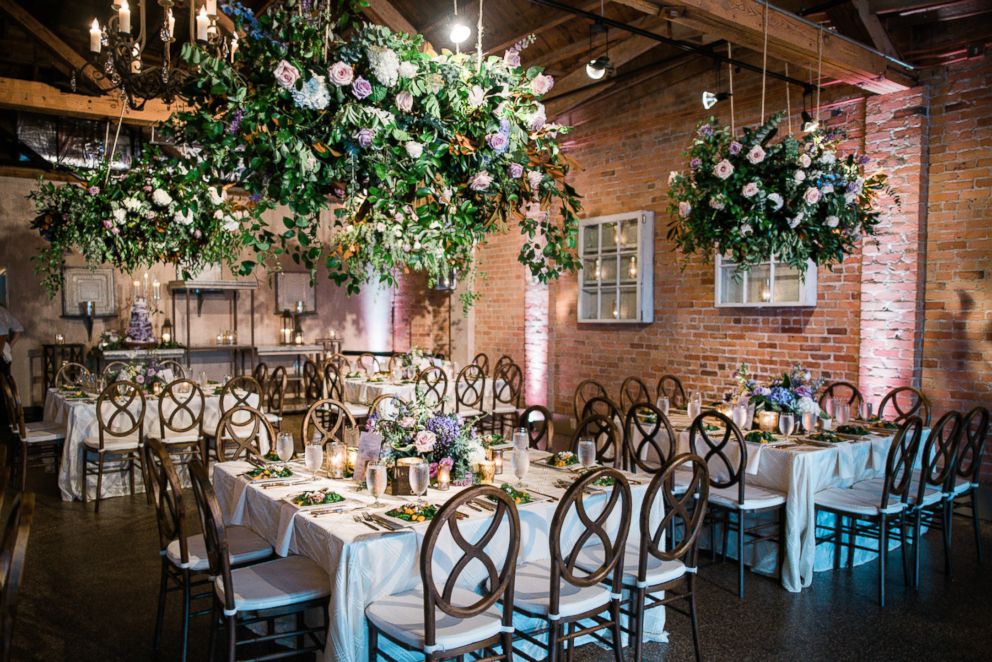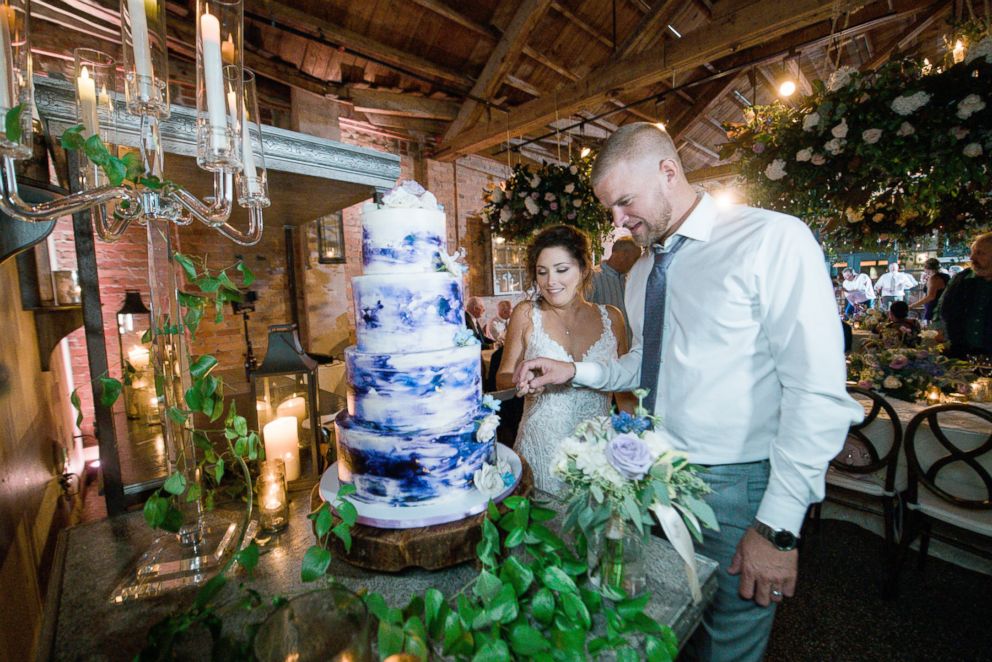 And the guests also went above and beyond for the couple. Two of the couple's friends handmade a wooden serving tray and wooden coasters out of the giant tree that was ripped out of the ground by Irma, which they posed on for their engagement photos.
Saia's dream dress, designed by Martina Liana Bridal, was also donated.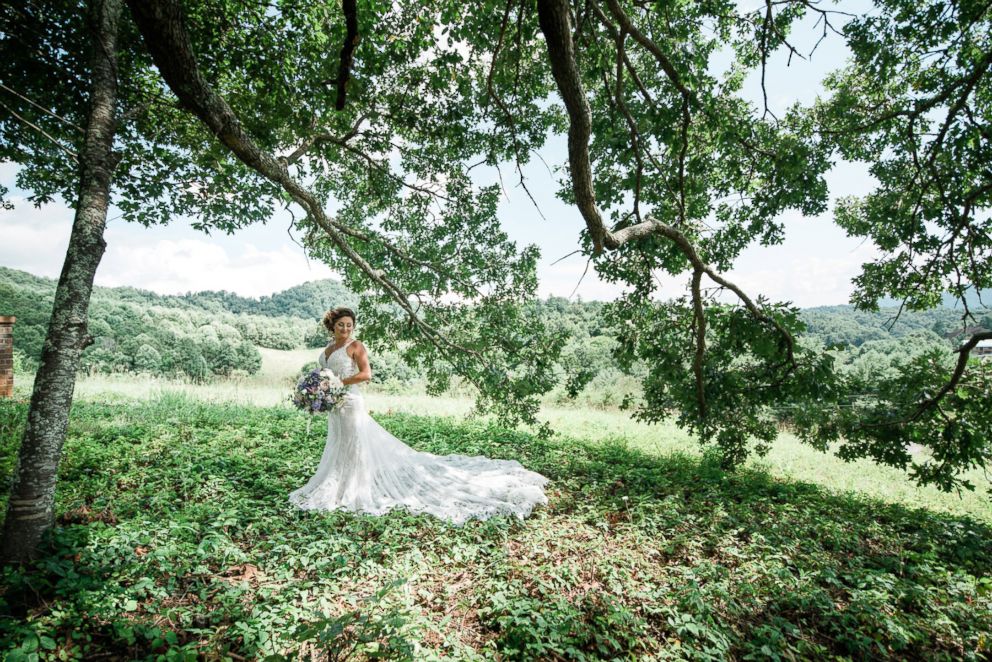 "[Martina Liana Bridal] was eager to help from the get-go, digging into their warehouse to find that they only had one left of Lauren's size for that dress," Carly Long of LLG Events said. "Considering it meant to be, they rush ordered the dress for Lauren and it fit so perfectly, she only need[s] alterations to the length."
Thanks to the kindness of strangers and a newfound friend's planning, the couple got a wedding, worth an estimated $135,000, and most importantly,their happily ever after.
"We really can't express how much this means," Saia said about the entire wedding day experience. "It's just incredible."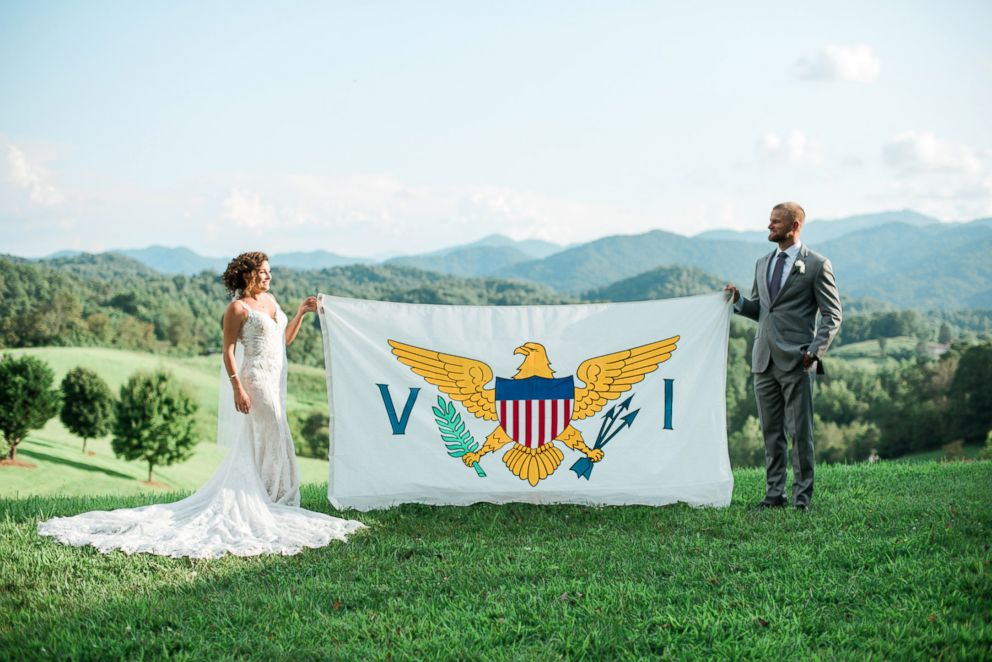 "A tragic event doesn't have to be so tragic," Anne explained. "You can learn to hold on to each other, lift each other up, and carry each other through the hard times to the good. This is one of those good times that we've carried each other through and I love how the community of Asheville has also been a parallel to that -- they have come together for this couple, without even meeting them. It's just good people coming together to do amazing things for an amazing couple because they deserve it."