A judge has found a Florida man guilty of stalking Olympic gold medalist and "Dancing with the Stars" champion Shawn Johnson.
The man, Robert O'Ryan, 36, was arrested on March 23, 2009, after driving from Florida and allegedly jumping over a fence at the television studio where Johnson was preparing for an episode of "Dancing With the Stars."
Today, Los Angeles Superior Court Judge Michael Pastor found O'Ryan guilty of felony stalking and burglary charges and two misdemeanor concealed weapons violations. The verdict came after four days of testimony and evidence.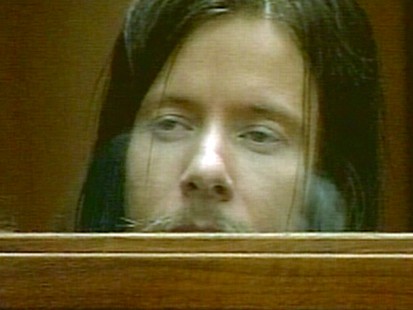 Police searched O'Ryan's car and found two loaded guns, duct tape, a wooden club and handwritten poetry by O'Ryan to Johnson. In one passage, O'Ryan wrote, "No matter what happens I will always love you."
O'Ryan had pleaded not guilty by reason of insanity. The judge ordered that he undergo a mental evaluation.
He could get close to six years in state prison if he is found to be sane or, potentially, the rest of his life in a mental hospital if he is found insane.
Johnson Faces Alleged Stalker in Court
Johnson came face-to-face with O'Ryan in the courtroom Thursday morning, describing how she was frightened by the ordeal.
Prosecutor Wendy Segal asked the 18-year-old Johnson if she knew O'Ryan and how she felt after reading some of the poetry.
"I didn't know him. He was a stranger to me. To see someone with that kind of obsession made me really scared," Johnson said.
Johnson -- who said she was "very nervous" on the stand -- testified that she considered quitting "Dancing With the Stars" early and going home to Iowa after the incident.
"I heard he'd said he was coming to L.A. to marry me, that I was the mother of his unborn children," Johnson said.
Johnson and her parents eventually decided to continue on "Dancing with the Stars" and instead altered her normal routine -- changing vehicles, hotels and cancelling all personal appearances.
Shawn Johnson's Stalker Stopped by Cop
In court Tuesday, public defender Judith Greenberg tried to demonstrate that O'Ryan cooperated with the police investigation by telling investigators where he had hidden weapons in his car and by providing them with the combination to a safe that contained gifts for Johnson -- a picture frame and a small wooden purse.
Greenberg said previously that her client, O'Ryan, had no personal contact with Johnson, although the district attorney claims O'Ryan was willing to do anything he could to get close to her, even if it meant breaking into the Los Angeles TV lot where "Dancing with the Stars" is filmed.
Five days before his arrest O'Ryan had been pulled over in Alabama, and the dash-cam video of the traffic stop recorded him telling the police officer that he intended to "try to get her [Johnson] to marry" him.
"I know if sounds a little bit crazy, but my intuition tells me that we're gonna have a beautiful relationship together," O'Ryan told the policeman.
During the 29-minute stop, O'Ryan mentioned Johnson at least three times.
When the policeman asked O'Ryan where he was headed, O'Ryan said "California" and identified Johnson as "an Olympic gymnast. ... She's on TV now."
"I'm meeting her there and I'm going to try to get her to marry me," he said.
The Alabama policeman issued O'Ryan two tickets, one for not having insurance and the other for an expired license plate.
Forensic psychiatrist Michael Welner said that while he had not examined O'Ryan, these actions indicate that he does suffer from mental illness, possibly schizophrenia.
"He was saying that he was communicating with her telepathically…and he may or may not have been hallucinating," Welner said. "That's the kind of quality that you would see in that condition in particular."
Shawn Johnson's Stalker's Olympic Dreams Foiled
O'Ryan was an Olympic hopeful before an injury caused severe depression, a friend told ABC News. He graduated from the University of Florida with a degree in engineering and tried out for the Olympic rowing team, but hurt his back, the friend said.
O'Ryan reportedly lived in the Florida RV park for less than a year and neighbors considered him a loner.
"He didn't seem to associate with too many people," neighbor Dennis Cronin told ABC News' Jacksonville affiliate WJXX.
"He was just weird," another neighbor, Lorynn Thomas, said.
Larry Robinson, who co-operates the RV park, said he was aware of O'Ryan's back injury and saw that he had trouble walking but turned down all offers to help.
"He was real independent," Robinson told The Florida Times-Union. "I was going to take his mail to him ... but he said, 'No. I don't want no help.'"
O'Ryan had no criminal record in Florida.
ABC News' Alex Stone contributed to this story. Additional information from The Associated Press.