It's no surprise that James Maki's favorite song is "Imagine." Just months after his miracle face transplant , Maki, America's second person to undergo the procedure, is settling down and beginning to feel his smile again.
In 2005, a fall onto the electrified third rail of a Boston subway left Maki badly burned and his face horribly disfigured.
He doesn't remember anything from the accident, but after living for years unable to eat solid foods and suffering unbearable cruelty from onlookers, he received a face transplant April 9. His donor was Joseph Helfgot, who had died undergoing a heart transplant.
Maki's New Face
Days after the surgery, Maki asked for a mirror and was elated with what he saw.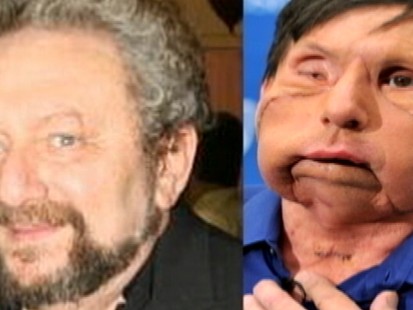 "It was that good," Maki said. "I saw my old self."
When Helfgot's wife, Susan Whitman, met with Maki, she saw a trace of her husband.
"My husband had a very nice, Jewish nose. It's ... his, as you can see from the picture," Whitman said.
Whitman said that she will be happy when Maki can smile again.
"I'd like to be able to smile again, too." Maki said.
Maki's face is still numb, but he has hope
"I can feel it coming back now," Maki said. "That's a long, long process. But I'm sure I'll get there."
Though the feeling has not completely returned to Maki's face, he has started to grow a beard. As for future plans, Maki said that besides eating Japanese food, he wants to settle down and live his life.
"I enjoy life," Maki said. "I'm just starting to live it now."
And as Maki continues to heal, the medical world prepares for an increase in the number of procedures and an expansion in the scope of transplantations.
Future Innovations in Transplantions
The world's first solid organ transplant was a kidney transplant performed at Boston's Brigham and Women's Hospital in 1954. A first in modern medical history, it paved the way for a variety of procedures.
Today, in addition to kidneys, doctors can remove and relocate a number of organs, including the heart, liver, lungs, eyes and face.
Doctors are close to having the ability to transplant reproductive organs. Within the next few years, transplantations of the uterus and the penis could be possible.
And innovation need not be limited to what a donor can give. Doctors across the world are searching for ways to grow organs from stem cells and tissue.
Last year, doctors in Spain used stem cells to grow part of a woman's windpipe. The cells, which came from 30-year-old Claudia Castillo's own bone marrow, were implanted in a larger donor windpipe and then successfully transplanted. Castillo recovered quickly from the procedure.
Wake Forest University -- a pioneering leader in regenerative medicine -- has used stem cells to grow and replace bladders. And the University of Minnesota created a beating rat heart using stem cells, which it hopes to implant soon. Wake Forest is planning to grow a human heart within the decade.
These medical breakthroughs are remarkable, but the transplant that continues to capture the imagination, and arguably the most personal part a donor can give, is the face.
Maki's Surgery Is Just the Beginning
Maki's surgery was led by Dr. Bohdan Pomahac, director of the burn center at Boston's Brigham and Women's hospital, where that first transplant took place 55 years ago.
Pomahac says that Maki's surgery is only the beginning.
"I think that you will see a rise in programs over the country. For the next decade or two, we'll see a lot more transplantation," Pomahac said.
According to Pomohac, a staggering amount of people could benefit from an increase in transplantations.
"Patients with major facial deformities could be in the thousands," Pomahac said.
Maki knows what the gift of donation could mean to all these future patients and has vowed to become a donor himself.
"I would like to die knowing that some part of me is going to be used in a donation, to give somebody else a second chance, like I got one," he said. "You just pass it on."