Karin McHugh almost lost her life and that of her unborn child to swine flu.
Her illness was a textbook case of how the H1N1 virus can be particularly harmful to expectant mothers.
McHugh, her husband Brian, daughter Emily and baby Liam appeared on "Good Morning America" today to share their shocking story just two weeks after McHugh returned home from the hospital.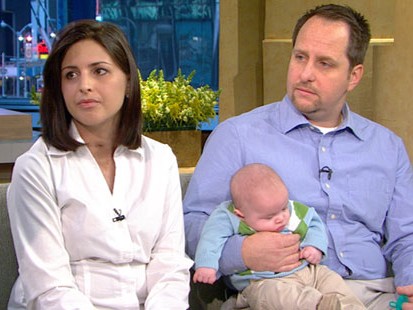 "I'm very fortunate," she told "GMA" co-anchor Robin Roberts. "My outcome is a miracle."
McHugh was 29 years old, and 38 weeks into her pregnancy when she developed a cough in July.
"It started on a Tuesday," she recalled. "It just started with a cough; I had been wheezing."
The possibility that she might have the H1N1 virus never occured to the Collingswood, N.J., woman.
I don't even think I've ever had the flu," she said. "I called my OBGYN to see what I could take. She said to see my family practitioner."
McHugh was initially diagnosed with bronchitis and given an inhaler, but five days later, she started running a fever. By Saturday she "couldn't even get out of bed."
"I told my husband, you have to take me to the hospital," she said. "Something's not right."
"She definitely knew that something was definitely wrong," her husband Brian McHugh said. "I felt naïve to the fact that anything this serious could happen."
Pregnant Woman in Induced Coma With Swine Flu
When X-rays showed McHugh had fluid in her lungs, doctors thought she had pneumonia and placed her on a respirator.
It didn't help, and she was tested for H1N1. McHugh had to undergo an emergency C-section, and remained in a medically induced coma for seven weeks after delivering a healthy baby boy.
"She was as sick as anyone could be," Scott Halpern, assistant professor of medicine and epidemiology at the University of Pennsylvania said.
McHugh was placed on a heart-lung bypass machine, but despite doctors' best efforts to keep her stable, she twice suffered cardiac arrest.
McHugh met her son, Liam, for the first time when he was nearly 2 months old.
"The child almost certainly would have died had the C-section not been performed because there was not nearly enough oxygen to support Karin, let alone support the child," Halpern added.
Brian McHugh was torn between relief over his healthy newborn son and fear for his wife.
"Once I knew Liam was ok then I just focused all my attention on Karin," he said.
Officials with the U.S. Centers for Disease Control and Prevention have reported that through late August, about 100 pregnant women in the United States required hospitalization in the intensive care unit for infection with the new strain of the H1N1 virus. Of these women, 28 so far had died due to complications directly associated with the virus.
The statistics support research, most notably a study published in the medical journal Lancet in August, suggesting that pregnant women are more likely than the rest of the population to experience severe complications associated with swine flu.
Pregnant Women and Swine Flu Vaccine
Dr. Richard Besser said today on "GMA" that Karin McHugh's story highlights why "preventing these kind of severe illnesses is so important."
"She did [everything right]," he said. "It's very important that obstetricians and gynecologists know the signs of flu and know the importance of early treatment with anti-virals."
Despite sobering warnings from the CDC that pregnant women are seven times as likely to be hospitalized with H1N1 and four times as likely to die from it, some women -- with the advice of their doctors -- are choosing not to get the vaccine because they fear its potential effects on their unborn babies.
"If I had heard a story like this when I was expecting I definitely would have gotten the vaccine if it was available," McHugh said.
McHugh knows how lucky she is, and how lucky the family is to have baby Liam.
"He's perfect," she said.
Click here to return to the "Good Morning America" Web site.
ABC News Medical Unit coordinating producer Dan Childs and ABC News' Katie Escherich contributed to this report.