Americans are bracing for flu season and while many are preoccupied with the spread of the H1N1 virus, medical experts are urging people to protect themselves also from the seasonal flu.
Dr. Holly Anderson of New York-Presbyterian/Weill Cornell Medical Center stopped by "Good Morning America" today to give Diane Sawyer, Chris Cuomo and Sam Champion their seasonal flu shots, and to answer questions about this unique flu season.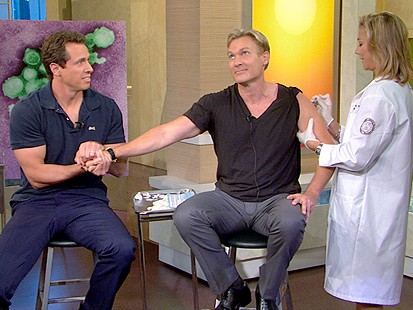 "This is the time to get vaccinated, and the seasonal flu can kill people as well," Anderson said. "It's not to be taken lightly."
Don't Forget the Seasonal Flu Shot
The flu is now widespread in most of the country -- 26 states have reported outbreaks and there have been more than 10,000 hospitalizations and more than 900 deaths.
Anderson says doctors believe that "99 percent of that is swine flu" so far because we haven't hit the peak season for seasonal flu. But, she cautioned, seasonal flu kills tens of thousands of people in the United States each year. And, while concerns about H1N1 are warranted, Americans should also be worried about the seasonal flu, she said.
"It is definitely recommended that you get the seasonal flu vaccine," Anderson said. There is no guarantee that you won't still get the flu but "we try to anticipate the strains that are going to be out there."
Who Shouldn't Get the Seasonal Flu Shot?
Anderson said some people, listed below, shouldn't receive the vaccine:

Children younger than 6 months


People who are allergic to eggs


Those who've experienced a severe reaction to the vaccine.
Robin Roberts falls into the third group, which is why she didn't receive a vaccine today.
Advice on Seasonal and Swine Flu Vaccinations
H1N1 Vaccine Advice
The swine flu vaccine is expected to arrive in the first week of October and states are already being asked to make their orders, Anderson said.
There is "a shipment to go out the first week of October … about 7 or 8 million doses," she said.
Those in high-risk groups should get the H1N1 virus vaccine first. That includes health-care workers and high-risk patients. Eventually, everyone will be able to get an H1N1 vaccine in addition to the seasonal flu vaccine.
Anderson is wary of an unpublished study in Canada that found the seasonal flu vaccine can make people more susceptible to swine flu.
"There is a report coming out of Canada … some observational work that people who had gotten the seasonal flu vaccine were more likely to get … the swine flu," she said. "That data that we're talking about has not been reported or scrutinized yet … the CDC hasn't seen it."
U.S. and British experts, she added, haven't observed the same correlation.
When to Get Shots?
Anderson says there's no need for a delay between seasonal and H1N1 vaccines.
"If we had the H1N1 vaccine ready, we'd give them both [at the same time] this year," she said.
Advice on Seasonal and Swine Flu Vaccinations
Advice for Pregnant Women
Pregnant patients need to keep two things in mind, Anderson said. First, they should get shots from pre-filled syringes. Second, pregnant patients should avoid the nasal spray version of the vaccine.
The "GMA" team received preservative-free vaccines in pre-filled syringes.
"You can ask for [a pre-filled, preservative free]" syringe, Anderson said.
Anderson also said that if you get the flu, it's important to know what symptoms to watch out for. Not everyone needs to go to the emergency room, but those experiencing dangerous symptoms of the flu, such as difficulty breathing and severe chest or abdominal pain, should seek medical attention.