It's that time of year again, when parents have to get their children ready to head back to school.
Students need new shoes, new backpacks, school supplies, text books, cell phones, computers and more, and parents are tasked with the job of getting stuff their kids like at a good price.
Here are some tips to find the best gear and the best deals.
Textbooks
College textbooks can cost a fortune -- the average cost for college students is $900 a year. But renting your books online could save students up to 70 percent.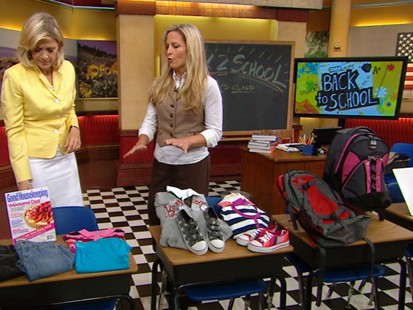 The Web site
Chegg.com
rents students books the same way Netflix rents movies. You create an account online and pick the textbooks you want to rent for the semester.
Chegg has an inventory of over 2.4 million titles and they'll send any one of them to you in the mail ($4 shipping with a pre-paid return envelope). They allow you to "lightly highlight" but ask that you don't write in the books.
The New York Times found an Arizona State University student whose book bill would have been $657, but his Chegg rental bill was just $334. They found an economics textbook for $122 in the book store, but rental fees at Chegg for that book was $65 for one semester.
Bookrenter.com also rents textbooks, and publisher Cengage along with chain store Barnes & Noble are testing programs to begin book rentals.
Clothes
Good Housekeeping magazine tested budget kids' clothes for durability and comfort.
Their picks for the best clothing for the price:

Polo shirts at JC Penney for $7


Boys Cherokee Jeans at Target for $13


Girls Basics Edition flare jeans at Kmart for $13


T-shirts at Wal-Mart (Faded Glory brand) for $3.50

Uniforms
Many school uniform items like khakis, polos and tights can now be purchased from major chain stores like the Gap or Children's Place. Try the sale alert service shopittome.com to send you e-mail updates when uniform items go on sale. I signed up at shopittome.com and they sent me an e-mail telling me about sales on the sizes and items I identified in my profile:

Uniform skirt, $4.99, 70 percent off at Gap


Uniform jumper, $7.99, 73 percent off at Gap


Girl's uniform polo, $6.05, 36 percent off at Children's Place


Boy's chinos, $9.24, 36 percent off at Children's Place

Old Navy is also currently running a promotion with 1,000 items under $10, through Aug. 31, 2009.
Deals and Sales for Back to School: School Supplies
Amazon.com:
Amazon.com has a promotion running from now until Sept. 6, 2009. Select school supplies are buy two, get the third free, including basics such as:

Elmer's Washable No Run School Glue (4 oz.)


Mead Spiral 3 Subject Notebook


Wilson Jones 3-Ring View Binder 1-Inch Rings


Uni-Ball Gel Retractable Roller Ball Black or Blue Gel Pen (4 Pack)


Scotch Glue Stick (Single Pack .28 oz.)


Dixon Ticonderoga Wood Cased Black Core #2 Pencils (12 Count; Yellow)


Smead File Folders (12 Pack; Assorted Colors)


Mead Index Cards 3 in. X 5 in. (100 count; White)


Vivo Liquid Ink Highlighters (5-Color Set)


Five Star Trulock Three Ring Binder (1-Inch; Black)

Classroomdirect.com:
Classroomdirect.com is an online school supply clearinghouse that has great deals on the basics. I found a dozen pencils there for 59 cents and that was the best price I could find anywhere.
Watch and Wait:
The real price slashing comes after the kids have gone back to school. Get the absolute basics now, then wait a few weeks as you discover what your kids truly need. By then, the big chains will have unadvertised bargain bins filled with school supplies.
Deals and Sales for Back to School: Computers
If you're in the market for a laptop, you have some big decisions and big deals to consider.
Mac: Apple is offering incentives for college students going back to school. Take $50 off a $999 Macbook if you can prove it's for a college student (student ID/ acceptance letter); you also get a free printer and a free iPod Touch (or iPod of lesser value). The same deal exists for Macbook Pro, but you get $100 off. The offer ends Sept. 8, 2009.
Full Laptop Systems (not Netbooks): PC laptops are selling in the $500 to $800 range for an average, middle-of the-road model. A full functioning laptop will have a big screen (15/17 inches), a full and roomy keyboard, a 2 GHZ processor (or better), 3 gigs of RAM (memory), a CD/DVD burner, and a built in Web cam. If it has a 9-cell battery it can run 3-4 hours, but the big battery will make for a heavier system. These 7-10 pound systems are meant to primarily live on a desk and travel in the backpack only when needed.
Full laptop systems have enough processing power to edit video or manage some gaming (Netbooks don't do well with these processor-intensive tasks). Laptops have decent-sized hard drives and lots of USB and peripheral ports. Wal-Mart, Circuit City and Best Buy are good places to look for deals; check their circulars and online advertisements often.
Software: If you are buying a computer for a student, get the operating system pre-installed (Windows), but don't buy any extra software with the system. You can get incredibly discounted versions of Microsoft Office, Adobe Photoshop or video editing software at your college bookstore or at educational software sites like journeyed.com if you have a valid student ID number.
Netbooks: Netbooks are meant for web surfing and portability. These small computers often weight less than 5 pounds, but they have cramped keyboards and small screens (11 inches or less). Their battery life is impressive -- a Netbook with a 6-cell battery can run for 6+ hours. Most Netbooks do not have a CD/DVD player or burner. Netbooks are also typically less expensive than full laptops; for example the Acer Aspire One is $299 at Amazon.com. If you plan to do a lot of photo or video editing, these computers are not a good fit. If you are an offensive lineman and your hands are like ham hocks, try the keyboard before you buy.
Printers
I advise getting an all-in-one printer (printer/scanner/copier). They can cost as little as $65 (HP F4480 is $64 after rebate) and the added scanning and copying is a real boon. If you can afford it, get a printer that will hook up to a wireless network so you don't have to plug in to print.
You can get a dirt-cheap printer in the $35 range that only prints, but this may be a case where you need to spend to save. The cost of printing per page on these incredibly cheap printers is often higher than the cost per page of more expensive models. The replacement ink-jet cartridges will cost more in the long run than if you'd bought a higher quality printer.
Kodak has a line of printers that use less expensive ink (the photo printing quality is average, the black and white/text printing is good, and the savings are considerable). Also consider that a good printer can last much longer than the four years of college and may be worth the investment.
Deals and Sales for Back to School: Gadget and Fashion Picks
Backpacks
Search "backpack deal" on Google and then click on the "blogs" tab to see what great prices the mommy-bloggers have found. This is the single best way to find current deals online. Using this method I found lots of $10 backpacks at Meijer and even Office Depot.
A backpack is a fashion statement for your kid -- let them pick it out. Teens may want an expensive bag, but a somewhat technical backpack like a Kelty pack for $55 looks cool and won't break the bank.
Also consider your child's back as they cart around all their books. A wheeled backpack is a lifesaver and a spinesaver. Wheeled backpacks at ebags.com start at about $30.
Lunchboxes
Remember to push the green angle to your kids as you encourage them to pack a lunch. I like the new Bento box lunch boxes that say no to Ziploc bags and compartmentalize foods in reusable, dishwasher-safe containers.
I also like the stylish and cute neoprene purse lunchboxes.
Other great lunch box options include Tortuga lunch pales and Gourmet Getaway lunch pales, both available at Amazon.com.
Organizers
The Trapper-Keeper and pencil case are so passe. Check out the Cocoon Grid-IT organizer.
This product fits in your backpack or purse and uses a grid of elastic straps to hold down iPods, cell phones, charger cables, earphones, pencils, and pens. It is a modern solution to the mess in the bottom of your bag.
Cell Phone Recharger
Parents used to send their kids to school with some coins so they could call home in an emergency. Now that kids are equipped with cell phones, the real lifesaver is a back-up phone charger. Energizer has an emergency cell phone charger that costs about $16 and works with disposable batteries. You can also pay $50 for the Powerstick, an emergency cell phone charger that you recharge off your computer in-between uses.
Computer Back-Up
"The dog ate my homework" has been replaced with "my hard drive crashed" as the top excuse for missing assignments. But for students who do all their work on a computer, a crashed hard drive is a nightmare. San-Disk has a USB stick that acts as a one-touch backup system. Just plug in the Ultra Backup USB stick and then hit the button on the stick to back up all your data files. The 8GB version costs $35 and holds 3,500 songs, over 5,000 photos, over 6,000 office files, and up to 16 hours of video.