With her parents in the midst of a bitter, public divorce and her younger brother behind bars, Brooke Hogan has had an extremely difficult year. The singer found her family's troubles strewn about nearly every tabloid and gossip site, yet still she has decided to allow cameras to once again follow her life during its most transitional phase.
"We kind of cover everything that's gone down. We definitely are honest with the audience about what's going on," Hogan said on "Good Morning America," discussing her new reality show "Brooke Knows Best." "It is hard at times but, you know, I saw the camera crew and I was like, 'I have to let you back in. You're so cute.'"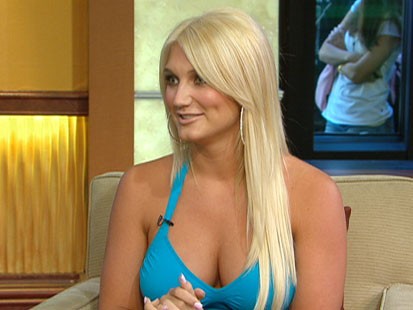 The strikingly candid show includes details about when Hogan had to ensure her parents didn't run into one another, watching her brother's struggle and moving into her own Miami apartment. Hogan said at times reality television is more than she bargained for and her struggles have aged her.
"I feel like I'm 40," said the 20 year old, who released her debut album in 2006. "There are days I will have my breakdowns and be in a little ball in the back of your closet, and they're like, 'Come on, Brooke, the crew is here. You need to get rolling.'"
Hogan, the daughter of wrestling legend Hulk Hogan, rose to fame with her family's reality show "Hogan Knows Best"; her new show is a spin-off of the popular four-season series, also on VH1. She said it has some of the same themes as her family's show.
"The thing that I like about 'Brooke Knows Best' — it kind of carries on the Hogan tradition of having a good moral at the end of the story. You know, whatever problem may come up, we try to handle it the best way we can," Hogan said.
Family Difficulties
The blond-haired beauty has spent much of her year dealing with personal difficulties.
"I've had my crying jags, definitely. I'm naturally a happy person so I'm always the one trying to lift everybody else up like, 'Come on, you guys, we can make it through.' But there's times I get tired of being the rock. It's difficult," Hogan said.
Tabloids have eagerly documented her mother's relationship with a 19-year-old former classmate of Hogan's. She has been vocal about her disapproval of her mother's relationship.
Hogan said she no longer speaks to her mother as often as she used to because the relationship with her much younger boyfriend.
Besides dealing with her parents' divorce, Hogan had to watch her 17-year-old brother, Nick, head to jail for eight months after a felony reckless driving conviction for an accident that left his friend John Graziano with permanent brain damage.
The incident strained relations between the Hogan and Graziano families. Hogan said she no longer visits with the Grazianos, whose family has sued Hulk Hogan and his son.
"We actually were spending most of our days — all of our days — at the hospital after the accident until some stuff with the family came up and they kind of told us not to come anymore. But that was heartbreaking for me because John is like my brother. I mean, he spent every single minute at our house," she said.
Hogan said her brother is faring better.
"He was in solitary confinement for about 28 days and even hardened criminals can't stay in there for four days, and he made it through," Hogan said. "He's got a strong little soul and he's a fighter, but right now they moved him back into general population with other kids, and he's doing a lot better."