"Gossip Girl," the teen soap opera about wealthy private-schoolers in New York City, has become something of a phenomenon, especially with girls and young women who closely follow the drama and the fashions.
So how can you get the main characters' looks for less money? Glamour editor-in-chief Cindi Leive joined "Good Morning America" with examples of "Gossip Girl"-inspired clothing for a fraction of the price. For more, go to www.glamour.com.
Blair Waldorf
played by Leighton Meester
Queen Bee Blair's style could be preppy or prissy, depending on your point of view. The pearls, the headband, the designer dresses — her look is classic and rich.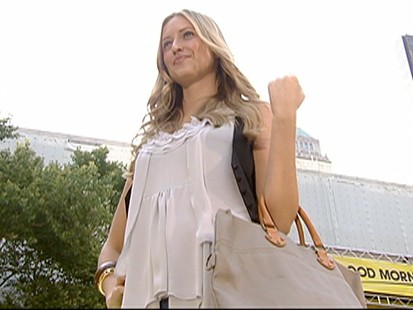 Headband: Claire's, $8

Dress: ABS by Allen Schwartz, $180

Necklace: Claire's, $9

Bag: Nine West, $69

Shoes: Nine West, $29
Serena van der Woodson
played by Blake Lively
Serena's style is bohemian chic. She's all about nonchalance -- she looks cool no matter what and doesn't even have to try.

Vest: H&M, $24


Top: Zara, $49


Bag: Gap, $50


Jeans: Urban Outfitters, $88


Boots: Urban Outfitters, $78
Jenny Humphreys
played by Taylor Momsen
Jenny rocks the hot schoolgirl look. She doesn't have the money that her friends do, but she adds hip details to her plaid uniform, like a funky bracelet, tube socks and slip-on sneakers.

Blouse: Gap, $44


Sweater: Urban Outfitters, $48


Skirt: Necessary Objects, $44


Coat: H&M, $59


Bag: Maxx NY, about $120


Shoes: Aldo, $90