The clash of political wills and muscle is stronger than ever as President Obama moves past health care to other big items on his agenda such as financial regulatory overhaul.
Republicans are recharging and gearing up for the upcoming mid-term elections, with former Alaska Gov. Sarah Palin leading the tea party crowd. But GOP analysts are divided on how the party needs to move forward.
David Frum, a former speechwriter for President George W. Bush, argued that Republicans need to accept that Democrats' health care overhaul bill is now the law, and that they should focus on fixing what they see as its biggest defects, not repealing it or arguing against it.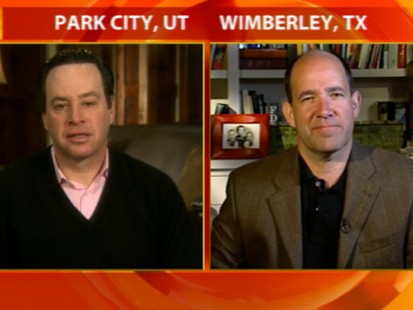 "I think a lot of Republicans have been a lot more focused on regaining the House and Senate than they were focused on saving the country from the worst consequences of this bill, and you see this now with this talk of repeal," Frum said on "
Good Morning America
" today. "Repeal is literally impossible."
ABC News contributor and former adviser to President Bush Matthew Dowd argued that the White House was never going to compromise with the GOP on health care and that the Republicans are right in arguing its merits.
"I think what the Republicans are trying to figure out is exactly what their messaging needs to be," Dowd said on "GMA." "I think for sure they need to talk about how bad this bill is because they're on the side of the American public on this."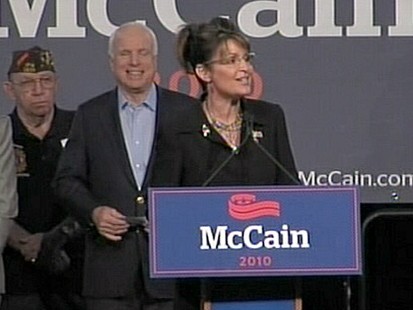 Meanwhile, Palin and the Tea Party crowd are gathering steam from defeat.
The former GOP vice presidential nominee appeared with Sen. John McCain, R-Ariz., at a fundraiser for him, and headlined a rally Sunday as part of the "Tea Party Express," a bus tour that will travel through two dozen states before ending in the nation's capital on Tax Day, April 15.
"Of course, we have to undo what 'Obamacare' is going to do to this country," Palin said to the crowd of about 10,000 in Searchlight, Nev., the first stop on the tour and also the hometown of Democratic Majority Leader Sen. Harry Reid, who faces a reelection battle.
While Palin may be popular with the Tea Party set, she has yet to cast herself as a leader among Americans.
In an ABC News/Washington Post poll, 55 percent of Americans said they view her unfavorably, while only 37 percent have a favorable opinion of her.
"It's not helpful" to have Palin as the face of the Republican party, Frum said.
"She's definitely polarizing," Dowd said. "But the thing about Sarah Palin is nearly 70 percent of Republicans like her, so when she goes to a place like Arizona to help John McCain in the Republican primary, it's a benefit for him. It may not help him in the general election, it's going to help him in the primary."
Sarah Palin Gaining Steam
Whatever the polls show, Palin is not backing down. She and other speakers insist that their passion is not destructive.
Palin was among those who were criticized for their strong rhetoric after several Democratic members of Congress who voted for the health care bill received death threats and suffered from acts of vandalism.
Palin was criticized specifically for telling her followers to "reload" after the passage of the health care bill.
But in Nevada, she defended her actions and did little to acknowledge the violence while blasting the media.
"We're not inciting violence," Palin said. "Don't get sucked in to the 'lame-stream' media's lies about conservative America standing up for freedom, as in citing violence. Violence isn't the answer. It's a bunch of bunk what the media is trying to feed you. Don't let them divert attention from the debate."
In a Sunday Facebook note titled "Warning: Subject to New Politically Correct Language Police Censorship," she again used the phrase -- "Never retreat, instead reload" -- but this time as a sports metaphor writing about March Madness.
"Focus on the goal and fight for it," she wrote, as advice to competing teams. "If the other side tries to push back, your attitude should be "go for it." Get in their faces and argue with them. (Sound familiar?!) Every possession is a battle; you'll only win the war if you've picked your battles wisely. No matter how tough it gets, never retreat, instead RELOAD!"
Palin will appear next at a Tea Party event in Boston. Her appearances alone have helped raise contributions by 200 percent, according to the group.
As the Tea Party Express rolls on, the newly invigorated Team Obama is working fast to prove it can achieve other big gains. For instance, a new START treaty negotiated with Russia; help for homeowners owing more on their mortgages than their homes are worth; and more favorable lending for students.
Also, the president will travel to Oregon this week to discuss health care and to North Carolina to talk about jobs, all while making a surprise trip to Afghanistan over the weekend.
"What the president is interested in doing is moving forward with our next challenge," White House senior adviser Valerie Jarrett said Sunday on ABC's "This Week."
Drawing energy from his recent victory on health care, Obama decided over the weekend to push through 15 held-up nominees for administration jobs while the Senate was in recess. The "recess appointment" is a tool every president uses, but one that always angers the other party.
Obama's advisers say the next big agenda item is financial regulatory overhaul, by Memorial Day.
But Republicans hope that anger will be every bit as potent come November.
"They're pushing forward here rather than trying to bring us together," Sen. Lindsey Graham, R-S.C., said Sunday on NBC's "Meet the Press." "It's going to make problems worse."
ABC News' Kristina Wong contributed to this report.