"Duck nails" are popping up all over social media, and many people are finding them to be both beautiful, but also bizarre.
The fanned-out trendy nail shape that resembles that shape of webbed duck feet has been seen everywhere from Instagram to TikTok and keeps growing in popularity.
Many took notice of the look on rapper Danielle Bregoli, better known as Bhad Bhabie's TikTok page, where she posted pink duck nails along with cherry nail art as well as a French manicure rendition of the look.
"I've always thought duck nails were soooo cute these remind me of the early 2000s," she captioned a video showing off her manicure.
Since positing, Bhad Bhabie's French manicure-style duck nails have been viewed more than 4 million times.
"I love the nails idk why ppl have a problem with them," Comibre commented on Bhad Bhabie's post.
Another TikTokker chimed in, saying, "It's a no from me... but do what makes you happy."
Los Angeles-based photographer and stylist Casie Wendel is always looking for the next big trend, and she recently tried a hot pink version of the look during a recent visit to Pampered Hands Nail Salon.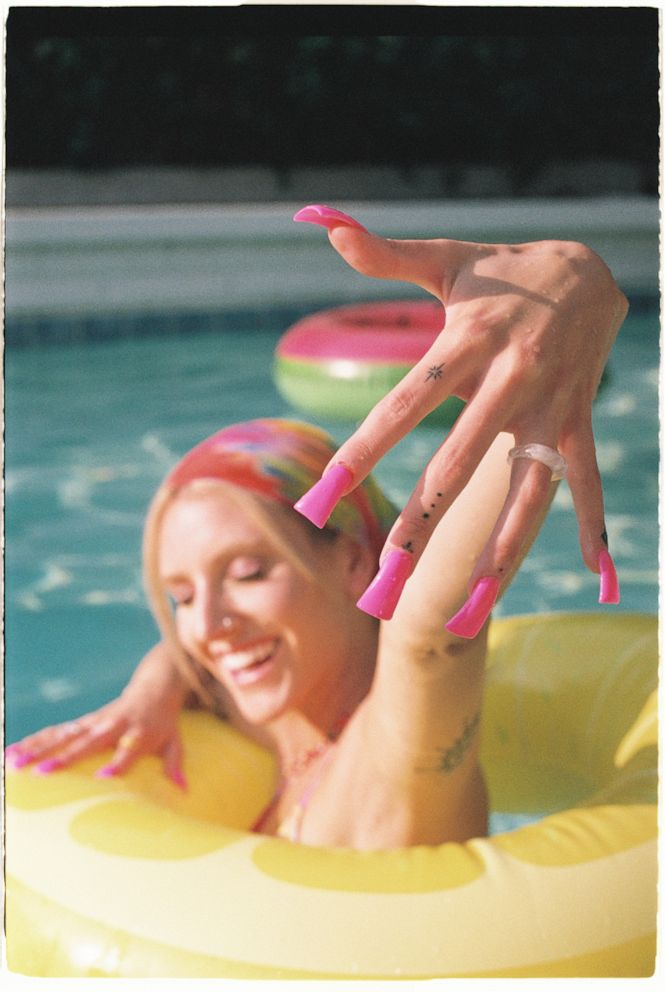 "I got my inspiration by wanting to be different," she told "Good Morning America." "A lot of people don't understand these nails, but I think the point is to shake the norm. They're supposed to be extra and hilarious, that's what makes them maximalistic and iconic"
Several eagle-eyed fans of MTV's "Jersey Shore" reality show have pointed out that the duck nail shape was often worn by cast member Nicole "Snooki" Polizzi.
Whether you are looking to get in on the trend or not, there's are loads of nail-spiration in all different colors, patterns and fun textures to try.
Scroll ahead for standout looks to add to your summer mood board.
Kittyclawz
Nail enthusiast Yazmin told "GMA" she recalls all of her aunts wearing duck or flared nails when she was in elementary school. "I was obsessed, so when I went into middle school my mom let me get them," she said.
"I also want to recognize the Black and Latina community for inspiring these 90's/Y2K, and I will keep wearing them regardless if people like them or not, because the shape and creativity is phenomenal."
Ourie Nailed It
"I love the duck nail shape, because it allows more room for nail designs," Instagrammer Ourie Nailed It told "GMA." "I've always used big charms in my sets, so I figured doing a flare shape would be a great way to change up my work."
Meowckenzie
TikTok user Meowckenzie shared a video featuring her French manicure-style duck-shaped nails and said she was inspired by Bhad Bhabie.
_Nailsbystef_
"Duck nails have been in the industry for many years," nail artist Stef Olivier told "GMA." She recalls one of her recent clients who wears duck-shaped nails wanting to incorporate turquoise into her manicure.
Olivier added, "My brain started working, and I thought about the ocean, since she was going to the beach."
Dannyblessedit
These "Hello Kitty" duck nails are extraordinary, vibrant and hard to miss.
lenoircanvasnails
"My inspiration for this set was the early 2000s era," Georgia-based nail artist lenoircanvasnails told "GMA." "I wanted to create a set that immediately caught the eye and pulled you back years in time."
She continued, "I can appreciate the duck nail trend for its boldness and unique look."
Nailedbymariee
Tennessee-based nail artist Tylia Marie also said she was inspired by Bhad Bhabie's pink and white French manicure duck nails.