Have you ever been confined to a wheelchair? Ever had a job that paid minimum wage? Ever been or had a child who needed health insurance or one who needed a better standard of education?
The late Sen. Ted Kennedy was a driving force in authoring or vigorously supporting legislation that attempted to drastically improve all of those situations.
It was Kennedy's pen that wrote the legislation banning discrimination against those with disabilities in the workplace.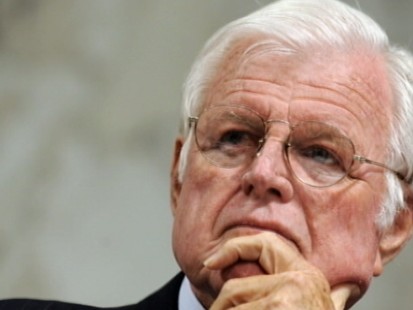 His hand helped
raise minimum wage
.
His words on the floor of the Senate pushed bills to expand health care to children and reached across party lines to help shape the No Child Left Behind Act of 2001 for education.
Whether big or small, the impact of Kennedy's long and storied Senate career reverberates for millions of Americans every day.
But for some, Kennedy's dedication to the people took on a much more personal note.
Many years ago Kennedy helped Robert Potvin of Brookfield, Mass., get a job as a ranger on Cape Cod.
"Teddy Kennedy gave me a break when I was a kid," Potvin said.
When Christie Coombs lost her husband in the terror attacks of Sept. 11, 2001, Kennedy was there to support her and wrote her every year on the anniversary.
"He had certainly lost enough family members in sudden, tragic ways and so I had no doubt that he was relating to what I was feeling," Coombs said.
Lauren Stanford was a kid when she met Kennedy as a representative of the Juvenile Research Diabetes foundation in the Kids Congress.
How Kennedy's Legislation Helped You
"He was a great guy," she said. "He just came bursting through the door with his two dogs and he was really nice and easy to connect with and easy to get along with."
Stanford met with Kennedy many times and said Kennedy helped her cope with her disease and fight for stem cell research. He read a letter she wrote on the floor of the Senate and brought her to Washington to testify for her cause.
Stanford's mother, Moira McCarthy Stanford, said she is still astounded at all Kennedy did for her daughter.
"That he took the time that he took over the years to listen to her, to vote for issues that were important to her and to let her know that he was out there fighting for her. It was remarkable," she said. "I don't know how he found the time in the day to do the things he did."
Kennedy stayed in touch with Stanford for years with letters and phone calls. She saved some of the voice mails he left her.
"Lauren, this is Ted Kennedy here in Massachusetts, and I just wanted to give you a call and thank you for your help with our movie for the Democratic National Convention," Kennedy said on one message. "I got so many favorable comments about your help and assistance and your appearance, so I'm enormously grateful to you. I'll get in touch with you soon, but I did want to let you know how much I appreciate it and I send my very best to your mom."
"If I could help someone as much as he's helped me, that would be a very good life accomplishment," Stanford said.