A former kindergarten teacher has been acquitted of charges she molested three young girls.
The Catoosa County, Ga., Superior Court jury came back with its verdict this afternoon after nearly two days of deliberation in the trial of 37-year-old Tonya Craft. The former Chickamauga Elementary School teacher faced 22 charges of child molestation, aggravated sexual battery and aggravated child molestation.
Since her arrest in May 2008, Craft has been fired from her job, lost custody of her daughter, lost her home and moved with her husband to Soddy-Daisy, Tenn., about 30 miles north of where she was on trial in Ringgold, Ga.
The verdict was met with cheers from supporters outside the courtroom.
Craft had maintained that when her daughter's friends spent the night at her house, it was nothing more than an innocent sleepover. But the parents of other children said it was something far more sinister: They claimed Craft molested their kids several times.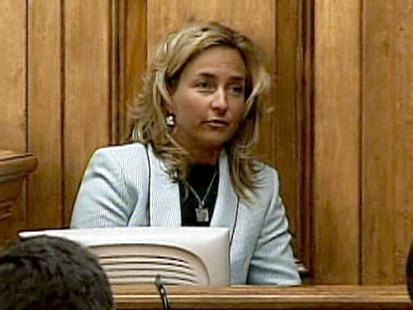 The allegations sparked a trial that shocked the small community of Ringgold and left everyone -- including the jury -- with an extraordinarily difficult decision to make.
"The problem here is that jurors have the responsibility -- that they're essentially going to have to decide who they're going to believe," forensic psychiatrist Dr. Michael Welner told "Good Morning America." "Behavioral sciences can't tell if a memory is true or false. ... It's really a matter of a jury and their gut."
Prosecutors alleged that for nearly two years Craft, a mother, fondled children at her home multiple times, starting in August 2005, all while they were in kindergarten and first grade.
But Craft, 37, said she was innocent and only invited them to her home for sleepovers with her daughter, who was the same age.
"I am here because I have been falsely accused," she said at court Monday.
Craft had faced 22 counts, including child molestation, aggravated child molestation and aggravated sexual abuse, Chattanoogan.com reported.
"I never ever imagined that someone that did absolutely nothing could be arrested, indicted and face the rest of your life in prison," Craft said.
Craft said she believes the children were playing on their own when she wasn't looking.
"I think that what has happened is more within a travesty. I think that the experts have explained how something this horrible can happen," Craft said. "But I think there's a lot of things that have been done wrong that I know I did not do ... anything to these children."
Craft's own daughter is one of the three young girls she has been accused of abusing. She lost custody of the girl in 2008.
Children on the Stand: Terrible Truth or False Memory?
All three girls, now 8 and 9 years old, took the witness stand and people in court said the awful testimony included graphic pictures and doctors arguing about whether the girls were violated.
"Whether it really happened to them or not, in their minds they believe it did. It was just, I can't tell you, it just tore my heart out to just sit there and have to watch these little girls testify," Dennis Norwood, from Chattanoogan.com, said. "And to see their private parts put up on a screen for the jury to look at. It was just, you know, it was just -- I hope I never have to see anything like that again."
Craft's lawyers argued that the girls were coached by parents who suddenly had it out for Craft. They argued that the family of one of the girls was upset that Craft wasn't giving the girl better grades in class.
According to Welner, children are especially susceptible to the power of suggestion when it comes to memories.
"There's been some attention given to the question of false memory," he said. "Children can take in the suggestion of parents or authority figures and want to please them. Because parents are convinced something happened, they want it to [have] happened.
"I'm not saying this is a false memory. What I'm saying is the jury has a powerful question on them going both ways," he said.
One of their fathers told jurors that he wasn't making this up and neither was his daughter.
"And I'll never forget the look on her face or in her eyes -- she stopped everything she did and looked me dead in the eye and said 'I know it did, Daddy,'" said the father of one alleged victim.
The Associated Press contributed to this story.
Click here to return to the "Good Morning America" Web site.