Food supplements for young children that may help prevent allergies
Breakthroughs in allergen research have sparked the emergence of new products.
— -- Many parents are looking for guidance to navigate the often nerve-wracking process of figuring out exaclty when, and how, to introduce allergenic foods to their babies and toddlers. Some companies are stepping in with precise plans and even ready-made powders that offer help.
Even the standard guidance from doctors has changed over the past few years, particularly with regards to one of the most common and sometimes extreme allergens -- peanuts.
New research, as well as an alarming 8 percent of American children documented as having food allergies in the U.S. –- 25.2 percent of which are peanut allergies -– contributed to the shift in guidelines, which now say early introduction could be helpful.
"We now have research proving that early introduction of allergenic foods, especially peanuts, can be beneficial in preventing food allergies in children, and is particularly important for those children who are at high risk," Dr. Alok Patel, a pediatrician at Columbia University, told ABC News, "so long as parents consult with their pediatrician."
Eating Peanuts Early in Life May Reduce Risk of Developing Peanut Allergy, Study ShowsScientists tout positive findings in peanut allergy pill study
Up until 2008, the American Academy of Pediatrics had recommended waiting until a child was 3 years old to introduce peanuts. Now, parents are often being guided to start introducing allergen-containing foods closer to when they begin feeding babies solid foods, generally around 6 months of age.
The National Insitutes of Health also revised their guidelines last year for introducing peanut-containing products, saying infants as young as 4 to 6 months of age can be introduced to the nuts, depending on their health and family history.
But, the question then becomes how to go about it.
"I knew that research now says its supposed to happen early but I didn't know when and how," new mom Heather VanKuiken told ABC News. She said she was particularly concerned about introducing peanut-containing products to her young daughter, Sophie, whose father has a peanut allergy.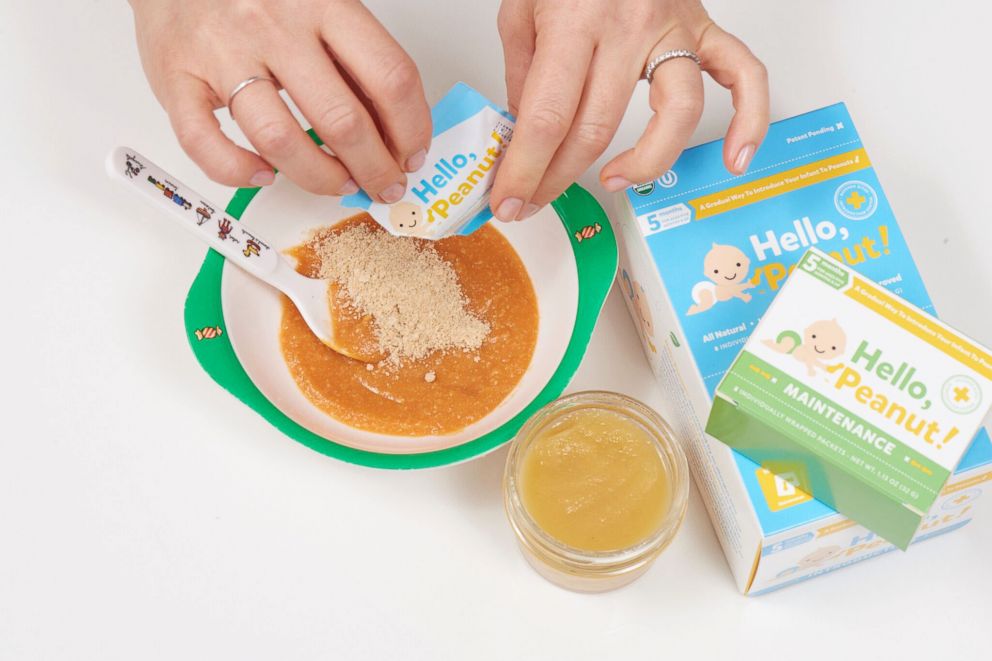 Some products helping to take the guess work out of introducing the foods, providing a precise roadmap for parents. One company, Hello, Peanut!, offers a blueprint of sorts for peanut introduction. Their product is the brainchild of board-certified allergist Dr. David Erstein and comes in a powdered form meant to be mixed in specific amounts each day into baby food.
The FDA recently permitted the company to include a mention on their label about the recommendation to introduce peanuts early, to avoid an allergy to them. Allowing such a claim for ground peanut products is the first time the FDA has allowed a food allergy claim on a label, acknowledging the potential this type of exposure may have for prevention."
"We want to make sure parents can make informed decisions based on the latest science about how they choose to approach these challenging issues, but we also recommend that they check with their infant's healthcare provider before introducing foods containing ground peanuts," an FDA spokesperson said.
Another product aims to introduce young children to an array of different allergens, at the same time. SpoonfulOne says its product contains parts of all of the 8 leading allergens, not just peanuts. Invented by a pediatrician and mother of five, Dr. Kari Nadeau, the product is also a powder to be mixed into a baby's food and allows a parent to expose their child to a small dose of each top allergen all at once on a frequent basis.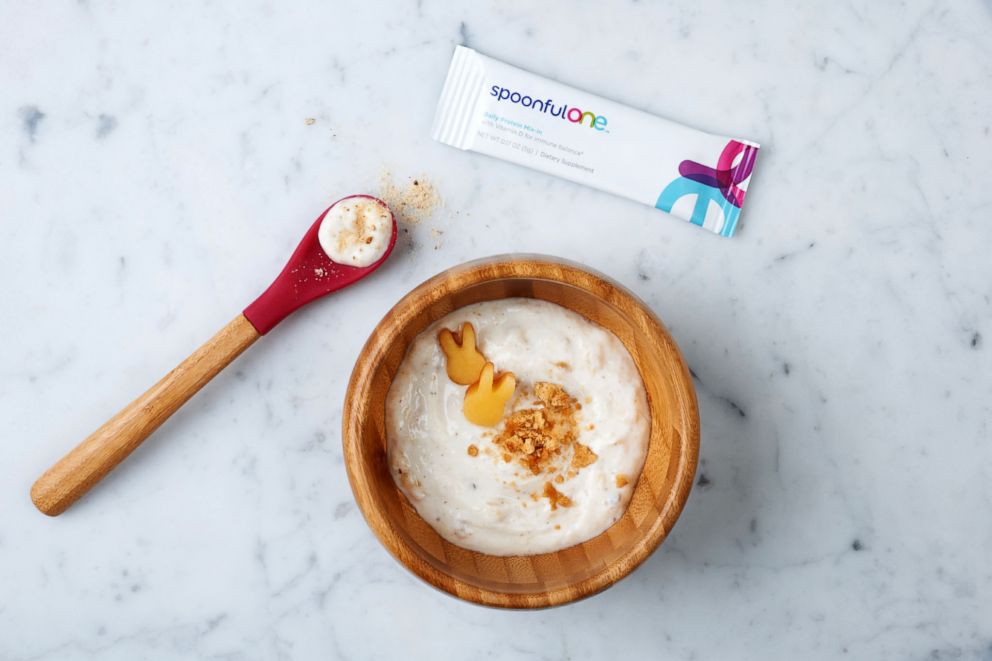 "We really worked to get a protein level that on the one hand is enough to be a meaningful exposure, but also low enough to be safe in the broadest population possible," said co-founder Dr. Ashley Dombkowski. "We know that for parents to do something like this it needs to be easy and thoughtfully formulated and it needs to be delicious so that parents can trust it and kids will love it."
Doctors say that parents can introduce peanut-containing products and other allergens to young babies in may ways, using the foods themselves. Peanuts, for example, can be introduced by diluting peanut butter with water or adding a crushed peanut to some fruit puree. But when to start introducing the foods in their natural state and in what quantities is likely an individual decision parents should discuss with their child's pediatrician.