Everyone has heard of a bucket list, but making a "reverse bucket list" may be the gift of gratitude you need to give yourself this holiday season.
While a traditional bucket list creates an attitude of ambition through goal-setting, a reverse bucket list takes stock of the things in life you've already accomplished.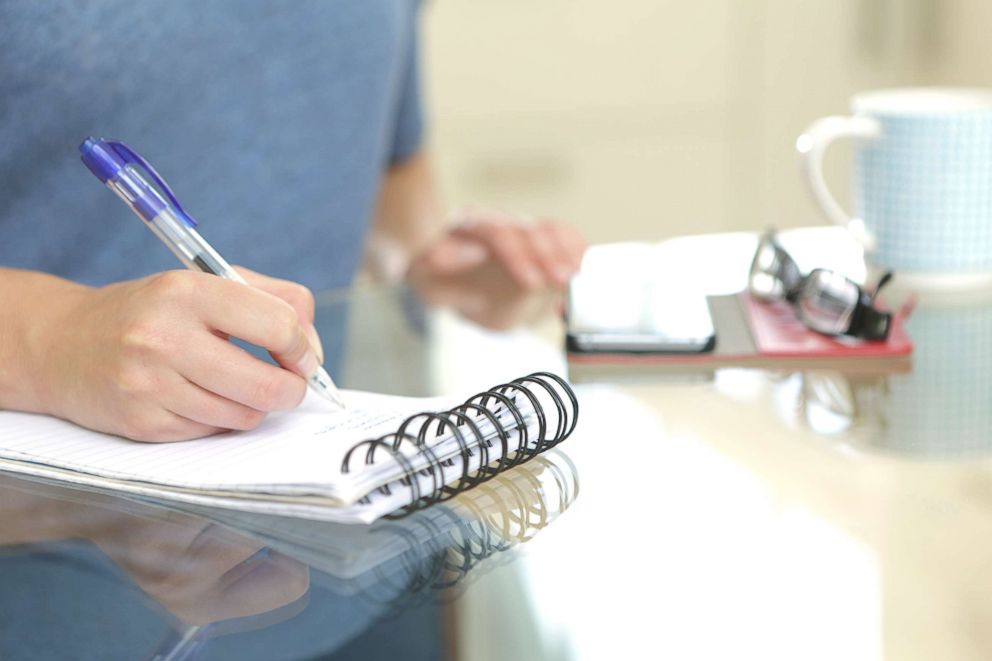 Life coach Trav Bell, nicknamed the "The Bucket List Guy," created his own coaching program to help others lead a fulfilling and purposeful life. A reverse bucket list should inspire you and those around you to do more based on how you've lived life already, he explained.
So how exactly do you make one? Bell shared his step-by-step guide with "GMA."
"We live in a world of chasing the next goal," Bell told "GMA." "Reflecting, being grateful, is a muscle that we don't flex often."
Step 1: Give yourself 30 minutes of quiet time
Center yourself and set aside time where you can be disconnected from the outside world.
"The biggest challenge for people is taking time out of their lives to work on their lives," Bell said. "Allowing space to think in our world where we are busy being busy, 'Me time' is limited for most."
"

"

'Treat the things you've done in your life as if they were on a Bucket List all along'
Step 2: Scroll through old photos
Jog your memory and remember how you felt in those moments when those photos were taken. Bell repeated that the Reverse Bucket List "is a done list." Take a moment to reflect on that "done list" and let photos lead you to remember other moments of victory in your life that are most personal for you.
Step 3: Write down as many things that you're grateful for as you can
"Treat the things you've done in your life as if they were on a Bucket List all along," Bell said.
It's not always about the places you visit. It's about the people you met, and maybe even the job you didn't get that makes you grateful. Take everything into account: people, places, things.
Step 4: Recognize that each of these items were an end-point
Don't add items to your Reverse Bucket List that you started and haven't finished.
"It's not just about living in the future," Bell said. "It's also about recognizing the past and to be grateful."
Final Step: Share your Reverse Bucket List
While you want to share your life's accomplishments, it's important to do so in a way that inspires and gives thanks rather than a "pat-on-the-back" list. Share it first with people who best understand you, your goals and your ambitions. The Reverse Bucket List is the perfect gift of gratitude to yourself and others in your own circle of influence.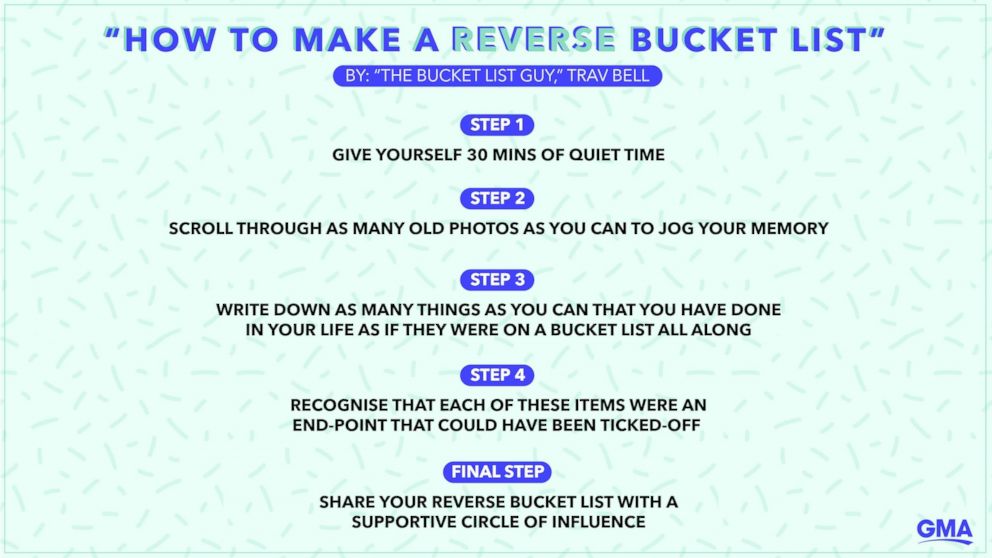 How often should you update this Reverse Bucket List of yours?
"All the time!" Bell told "GMA." "When you 'tick', 'cross' or 'check' something off your 'Forward' Bucket List, it goes straight to your Reverse Bucket List."