The mother of 7-year-old Somer Thompson wants her daughter's killer to know one thing: "We're coming for you.
"We'll get you," Diena Thompson said today on "Good Morning America." "And, hopefully, justice will be served."
Thompson, who struggled to maintain her composure as she talked about her little girl, said she has been told little about the police investigation, just that authorities are searching a vacant house 500 yards from where the Florida second-grader was last seen.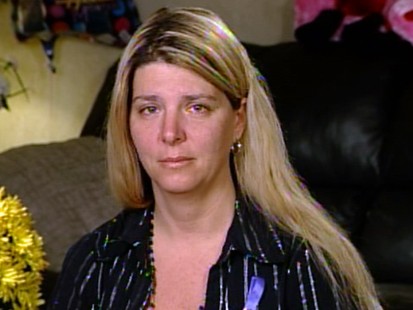 "My main thing is I want this guy caught," she said. "I want them to find him."
Somer disappeared Monday afternoon while walking home from school with her twin brother and older sister, 10. She ran ahead after a squabble with her siblings and vanished shortly after.
Somer's body was found Wednesday in a Georgia landfill after detectives followed garbage trucks from Somer's Orange Park, Fla., hometown in search of clues.
A preliminary autopsy has been completed, but Clay County Sheriff spokeswoman Mary Justino declined to provide details Thursday on the cause of death or the condition of the body.
Thompson said today that she has been wracked by feelings of guilt and responsibility for being at work when her youngest daughter disappeared.
"I feel responsible," she said. " If I could have just, I don't know, left work or something and been able to pick her up, this wouldn't have happened."
And her surviving children are also struggling. Thompson said she's afraid to let them out of her sight, lest it happen again. They will be getting counseling after Somer's funeral, she said.
"They go through spurts, you know, they're kids," she said. "One minute they're happy, and the next minute they're sad."
Sheriff: 'I Fear for Our Community'
Police have worked their way through many of the 651 leads called into the tip line, with another 231 leads still to be assigned to the more than 50 law enforcement officials working the case around the clock.
Of the more than 150 registered sex offenders in the 5-mile radius where Somer was last seen, all but five have been interviewed so far, Justino said.
Justino said investigators are still sifting through about 225 tons of garbage from the landfill where Somer's body was found in hopes of finding anything of "evidentiary value."
Clay County Sheriff Rick Beseler said Thursday he was concerned for the safety of area residents.
"There is a child killer on the loose. I fear for our community," he said.
"We feel very comfortable that we are going to solve this case," Beseler told "Good Morning America."
Beseler said he notified Somer's mother, Diena Thompson, Wednesday that they had found her little girl.
"I had to make one of the hardest calls I've ever had to make in my career last night," he said.
Thompson, both stunned and distraught, came to a vigil held in her daughter's memory Wednesday night and led mourners in a rendition of Somer's favorite song, "You Are My Sunshine."
Neighbor Anna Braddy told "Good Morning America" today that Thompson was in "total shock.
"She really didn't say much," Braddy said. "She just couldn't believe it was happening."
The community, she added, is now both fearful and angry that something like this could happen.
"You know we've lived in this neighborhood five years. We felt pretty safe," she said. "Personally, I'm just mad about the whole situation."
A group called Justice Coalition has put up a $30,000 reward for information leading to the arrest and conviction of Somer's killer. Some of that reward money came from Crimestoppers, which urged anyone with information to call 866-845-TIPS. Callers can remain anonymous.
Clay County police asked tipsters to call 877-227-6911.