A California man accused of participating in a stunningly brazen string of celebrity burglaries said his motivation for continuing the multi-million dollar heists was simple -- peer pressure.
"There was a definite thrill to it," Nick Prugo told "Good Morning America" in an exclusive interview today, saying that he was "just trying to keep my friends."
Prugo was one of five teens accused of robbing several celebrities in more than a dozen thefts that netted them millions in cash, clothes, jewelry and art in 2008 and 2009. Prugo said it was the reassurance from his friends that kept him not only involved but enthusiastic.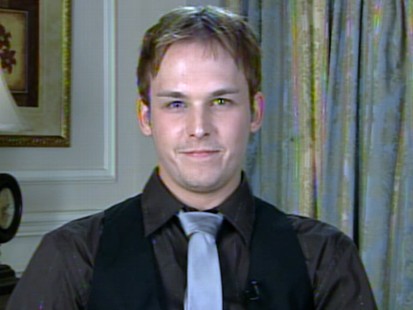 "I don't think any of us realized how severe it was until we actually got caught." he said. "It didn't seem as bad as it was."
"Now that I look back I realize how serious it was," he said. "Looking back, it scares me to death."
Dubbed the Bling Ring, the teens, all female apart from Prugo, came from from affluent neighborhoods near Hollywood, Calif. Their alleged victims included several of young Hollywood's elite, including Paris Hilton, Lindsay Lohan and Orlando Bloom.
"It was a shared responsibility. It wasn't just one person," Prugo said. "I'm trying to take responsibility for my part and just let the world know and the victims know I'm sorry."
He said he now wants to make amends to his victims by cooperating. Despite Prugo's admissions to police and the public, he has pleaded not guilty.
Appearing sincere and smartly dressed in a tie and vest, Prugo told "Good Morning America" that the thefts started out small, with the group hitting cars at first.
"It didn't just come together overnight. This was built up over years, well, a year and a half," he said. "It escalated into homes and then celebrities' homes and it became very big, very fast."
The group allegedly used the Internet to research when the celebrities would be out of town and then track down their addresses. According to Prugo, they would simply check the doors and windows of the home until they found one that was unlocked. Their hits were sometimes called "shopping."
Paris Hilton was deemed their first target because she was "dumb," Prugo said, according to a report by Vanity Fair which hits newsstands today. The key to her front door, according to Prugo, was under the door mat.
Accused Bling Ring Bandit Now Called Out as Rat by Friends
The group got away with the robberies until a break in the case came when security cameras at one of the alleged robbery targets, the home of reality television star Audrina Patridge, caught them on tape searching the home. But they didn't stop, even after Prugo said he saw the tape on the local news.
It was a second security camera tape, this time from Lindsay Lohan's home, that gave police a flurry of tips as to the burglars' identities.
Prugo was arrested in September. Police said he confessed, without making a deal, the next month.
"He confessed to crimes we didn't even know he committed," lead investigator LAPD officer Brent Goodkin told Vanity Fair.
Prugo has now come under fire with the very same group of friends he worked so hard to impress.
"They're going to say what they're going to say and if me taking responsibility for my crimes and trying to help out the police makes me a rat then so be it," he said.
After Prugo's arrest, the alleged ringleader of the group, Rachel Lee, 18, was arrested in Las Vegas, while Courtney Ames and Alexis Neiers, both 18, Diana Tamayo, 19, and Roy Lopez Jr., 27, were arrested in the Los Angeles area in October, police said. Lopez, a bouncer that Ames apparently knew, was accused of stealing $2 million worth of jewelry from Paris Hilton in one of the alleged Bunch-planned thefts.
Investigators carrying out search warrants in the case recovered numerous items of property "stolen during a series of burglaries committed at the residences of well-known celebrities," according to an LAPD statement.
All the women have pleaded not guilty excerpt for Lee, who has yet to enter a plea. Neiers has since started shooting her own reality TV show.
Star Struck Burglars
Prugo told "Good Morning America" that he used to be out on the town, partying every night. Now he's spending more time at home, repairing his once-strained relationship with his family.
"I'm not going to try and cash in on what I did. It's not about that," he said. "When I confessed it was for my own conscience."
The whole affair began, he told Vanity Fair, when his best friend, Rachel Lee, suggested they burglarize the home of a boy she knew was out of town.
Following that successful theft, Prugo told Vanity Fair the robberies spiraled into stealing from vehicles -- called "checking cars" -- to celebrity homes. Lee called it "going shopping," Prugo said. Soon, more teen girls joined in.
During each attempt, Prugo said he felt uncomfortable and often called on Lee to leave.
He went through with them though, he said, because he was "just following Rachel" and loved Lee like a sister, according to the Vanity Fair report.
"Rachel's a klepto freak," Neiers said before her arrest, according to Vanity Fair. "Rachel was in charge. She started it all. Nick, he was a dude -- why would he be knocking off chicks' houses?"
Lee did it, Prugo said, because she was obsessed with the fashion of the celebrities and wanted to wear what they wore.
To Goodkin, the crimes were almost "stalkerish" in nature, Vanity Fair reported.
When she saw the surveillance tape of her home's robbery, Audrina Patridge had a similar thought.
"Rachel Lee was a big fan of me," she told Vanity Fair. "She's a little obsessed girl, I gotta tell you. She's going to get what she deserves."
But as of now it's unclear what kind of trial, if any, there will be. If there is one, Prugo is likely to be a major player for the prosecution.
"Even though I was charged with more, you know, things, I still think it was the right thing to do," Prugo said of his confession to police. "I'm just trying to help the police in any way I can."
If he does take the stand, it's likely his story will be called into question.
According to Jeffery Rubenstein, attorney for Alexis Neiers, Prugo's credibility is "questionable at best."