Director Roman Polanski moved today in a police convoy from a Swiss prison to house arrest at his Alpine chalet in the posh ski resort of Gstaad.
Here at the rather quaintly named Milky Way chalet is where the Academy award-winning director will serve out the terms of his house arrest while awaiting possible extradition to the U.S., bringing to an end a 31-year stint as a fugitive, on the run from American authorities for having unlawful sex with a 13 year-old girl in 1977.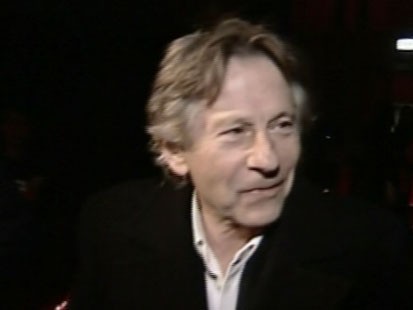 Devices have been installed at the home to ensure Polanski does not bolt. He's required to wear a tagging device so he can be monitored and will sound an alarm to the authorities if he does
try to flee
.
The transfer from prison occurred after the director posted a $4.5 million bail. The 76-year-old filmmaker will be allowed to conduct his personal affairs as he pleases – provided he does not leave the confines of his home.
In addition to the bail money, Polanski paid $2,000 for the installation of security devices as well as a monthly charge of $200 for the upkeep of his detention.
His simple cell in a prison just outside of Zurich could not be more different from the well-appointed three-story home he has made here in the Swiss Alps. Gstaad has long been famed as a place where the international jet-set congregate every year for skiing, schmoozing and lavish parties, taking place behind the closed doors of the magnificent chalets that grace the picturesque mountains.
The 19,000-square-foot property, which includes a garden, is nestled along a private road with a view of the surrounding countryside and snow-capped mountains. He has access to e-mail, can make private phone calls, work on film projects and even host parties. He will also be able to enjoy the company of his family and friends.
Polanski Draws Support From Locals and Others
"Only if Mr. Polanski feels that he is under threat will there be the extra protection offered," Swiss Federal Justice office spokesman Folco Galli told ABC News. "Otherwise it is up to him to arrange extra security."
But it's not likely that he will be the focus of locals' attentions. Here in Gstaad, Polanski is very much an admired and respected figure and the announcement of his arrest drew shock and outrage. The president of the Saanen-Gstaad community, Aldo Kropf, told the local press that he would not rule out adding extra measures to keep out members of the press and would get the local government to close the road leading to Polanski's house if there were any complaints.
The director of Saanenland Tourism, Roger Seifritz, also pledged discretion and staunch support for the filmmaker and his family, in a local magazine, urging people to show "thought and responsibility" when dealing with outsiders or the press.
And it's not just glitzy Gstaad that Polanski draws support from. In a recent interview with a French publication, his sister-in-law, Mathilde Seigner, credited French President Nicolas Sarkozy with helping to obtain the release of the filmmaker from the Swiss prison.
"The president has been very effective," Seigner told Le Parisien newspaper, without going into any details. Polanski took refuge in France after fleeing the U.S. but President Sarkozy was widely criticized for condemning the arrest in September this year since many felt that it was about time that the director faced-up to his criminal past.
Polanski has long accused the judge and prosecutors back in 1978 of acting improperly in the case. His lawyers will argue for the case to be dismissed before a California appeals court on Dec. 10.
Polanski's family had been waiting eagerly at the chalet, peeking out the windows to look for him as Swiss authorities worked out the last-minute details of his transfer. He has two children — Elvis, 9, and Moorage, 16 — with his wife, French actress Emmanuelle Signer.
Two police cars went straight into the garage which has direct access to the inside of the house. Polanski was unseen behind the vehicles' tinted windows, but police told The Associated Press that he was inside.
The director of "Rosemary's Baby," "Chinatown" and "The Pianist" has been in Swiss custody since being arrested Sept. 26 on a U.S. warrant as he arrived in Zurich to receive a lifetime achievement award at a film festival. Authorities in Los Angeles want him returned to be sentenced after 31 years as a fugitive.