Since the shocking revelation about Sandra Bullock's new baby boy, many people are wondering how, in a town full of paparazzi, bloggers and tipsters, the Oscar-winning actress managed to keep such a big secret.
"I think she is smart enough to realize the intensity of the scrutiny that is out there from the paparazzi and the media," public relations executive Howard Bragman said on "Good Morning America" today. "And, as she said, it was a CIA operation. I think they had dummy cars, I think they had tinted windows, they had a lot of people on her team who were very discreet."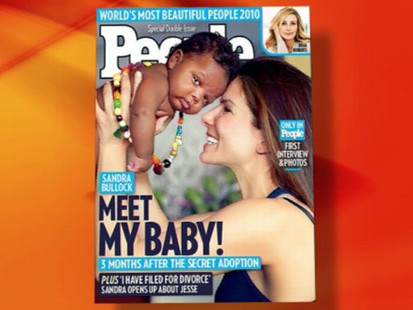 People magazine reported this week that Bullock, 45, had filed to end her five-year marriage to
Jesse James, 41, after his reported infidelities
. But the biggest revelation was that she had
adopted a 3½-month-old son, Louis, from New Orleans.
"She has said she had a very close-knit group of friends and family who basically ferried her to different places, she really was able to stay under the radar and it is astonishing," Caroline Schaefer, the executive editor of US magazine, said.
She and James began the adoption process four years ago but decided to keep the details under wraps until after the Oscars. Now, she plans to raise him as a single mom.
Bullock timed the announcement of her new baby perfectly, Bragman said, and successfully changed the conversation from her reportedly cheating husband to her son.
"She waited just the right beat to let the divorce dialogue go away … then she holds this beautiful baby up on the cover of People magazine and not only does she put the divorce behind her, she changed the dialogue and she did it on her terms, her way," Bragman said. "And everybody in Hollywood is kind of tickled that they kept a secret this long."
Bullock revamped her image, Schaefer said, and she has gotten out of addressing the scandal because the focus is now on the baby.
"All of a sudden, she's in control," Schaefer said. "I think for a while she was the victim, people felt so sorry for her. Here she was at the top of her career, she just won an Oscar, and then all of a sudden to have it all come crashing down, she was getting pity. Now, she looks like a hero."
Bullock's Decision to Adopt
In her interview with the magazine, Bullock went into depth about her reasons for adopting. She said spending time in New Orleans after 2005's Hurricane Katrina made her want to adopt a child from there.
"One day, it was just a feeling that came that instead of bringing another life into this world, we wanted to reach out and find our child in New Orleans," she said. "There were so many children alone after Katrina, and for some reason we knew that someone would want to come into our lives.
"Whether it was a girl or boy, what background, it didn't matter," she added. "We somehow knew the right little person would come."
Bullock said she didn't receive any special treatment in the adoption process.
"We began the conversations and then all the paperwork, the background checks, the home visitations about four years ago," she told People. "We didn't want to go at it any other way than the way everyone else would have to do it. There are hoops, but the hoops are there to protect the child. And worth every jump."
Beyond that, however, Bullock won't divulge details about how Louie became her son.
"She won't speak to how she physically got the baby or when or the identity of the birth mother," People magazine senior editor David Caplan said.
Jesse James Regrets Losing Sandra Bullock, Louis
Meanwhile, it seems everyone wants to say they're sorry to the actress.
James, who has publicly apologized to Bullock and his three kids, recently returned home after a 30-day stay in a treatment facility where he sought help for "personal issues." He told People magazine that he regrets losing Bullock and Louis.
"The love I have for Louis cannot be put to words," James said. "Not having him around to love and to hold has left a huge hole in my heart.
"Sandy is the love of my life, but considering the pain and devastation I have caused her, it would be selfish to not let her go," he added. "Right now, it is time for me to beat this addiction that has taken two of the things I love the most in life."
More Apologies for Bullock
Melissa Smith, one of the women who reportedly had an affair with James, faxed a letter of apology to Bullock Sunday, according to TMZ.com. Her apology followed that of Michelle "Bombshell" McGee, the first woman to claim she slept with James.
"I felt I needed to reach out to you and tell you how deeply sorry I am for everything that you've been through," Smith wrote. "I am sorry for any hurt or pain that I have caused you. My actions of engaging with a married man are unforgivable. I never meant you any harm."
Smith added, "I compromised my beliefs on several occasions and as a result will never forgive myself," before concluding, "Please contact me if you wish to discuss on the phone or in person."
Prior to Wednesday's divorce announcement, Bullock had only addressed the reports about James' reported cheating once. At the beginning of April, she broke her silence -- not to discuss her marriage but to deny rumors of the existence of a sex tape.