Jennifer Lopez is known to the world as many things — a singer, actress, designer and entrepreneur — but six months after adding "mother" to that list, the 39-year-old is taking on yet another daunting challenge.
Months after giving birth to twins Max and Emme with husband Marc Anthony, Lopez plans to run, swim and bike her way around Malibu at the 22nd Annual Malibu Triathlon next month.
Putting such passion and drive into every aspect of her life, from her family to her career and now athletics, is one reason Self magazine recently named Lopez its most inspiring woman of the year.
"It came up when I was eight months pregnant, when I was beached like a whale," Lopez told "Good Morning America." "I was watching TV, and I saw a triathlon and I said, 'I think I could do that.' ... Maybe we could raise some money and do something really great."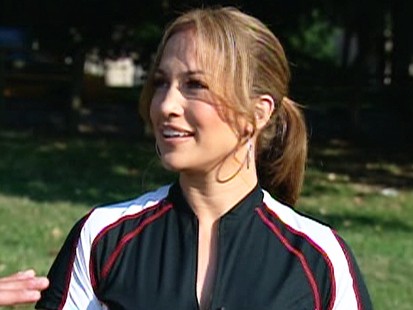 Lopez will be racing for charity, donating any money that is raised to the Children's Hospital of Los Angeles. Click here to read Jennifer Lopez's blog.
According to Self, Lopez gained 50 pounds when carrying around her now 6-month-old twins, Max and Emme. Now she says she's still a few pounds over her pre-pregnancy weight, but the pop superstar has been working hard to get back into shape.
And all the work is not just for her.
"I thought, 'What can I do to make my babies proud?' I think about what they'll think about the year they were born — who I was and what I did," she told Self. "It's important to me to set examples for them. I want to lead with my life."
And though the race will be difficult, Lopez is determined to finish any way she can.
"If I have to crawl across that finish line, then I will crawl across that finish line," she joked. "It's for the kids."
On "Good Morning America," Lopez joined Lucy Danzinger, Self's editor in chief and a longtime triathlete, to offer some tips, whether you're training for a triathlon or just trying to stay in shape.
Tips on Getting Started:
"You got to start slow, give yourself time," said Lopez, who admitted the swimming portion of the triathlon is the most difficult for her. "This is not something natural to me. You have to start little by little and work up."
Tips on Running:
"More traction on the road means more forward momentum," Danziger said about running. "And use your arms to pump back and forth so you keep your [foot] turnover quick. Light feet. No heel pounding. Strike midfoot and roll forward and you'll not only go faster, but you'll save your knees and joints from injury over time."
Tips on Biking:
According to Danziger, before even beginning bike training, getting outfitted with the right size bike is very important.
"Let the bike store person fit you personally to avoid aches and pains in shoulders and back, and also to get the most out of your pedal stroke," she said. "Also, use your gears to make it easier to spin at a high cadence and save your leg muscles from fatigue."
Tips on Motivation:
Danziger said on her blog that when she does not want to train, she concentrates on the goal rather than the actual exercising.
"My favorite self-motivator is telling myself, 'Give it five more minutes,'" she told "Good Morning America." "Relax into it, breathe and you'll likely want to continue. This works in anything ... running too!"