Fresh from her appearance as a formidable judge on the hit show "Project Runway," Nina Garcia has published a new book called "The One Hundred."
Inside, Garcia gives tips on how to wear not 20, not 50, but 100 different essential items of clothing in hopes that readers can look their best, no matter what the situation. Check out a few excerpts of the book below.
For more book excerpts, click here for the GMA Library.
Aviators
Think Kate Hudson in "Almost Famous," Tom Cruise in "Top Gun," Brad Pitt in "Fight Club," Leonardo DiCaprio in "The Aviator." The beauty of Aviator sunglasses is that they look perfect on the groupie from the '70s (Penny Lane), the fighter pilot from the '80s (Maverick), the lunatic from the '90s (Tyler Durden), and of course an aviator from the '30s (Howard Hughes). They are an eternally and universally fashionable shade that instantly brings out that cool factor. Wear them with your oldest jeans or with your newest tailored YSL jacket and look equally up-to-the-minute.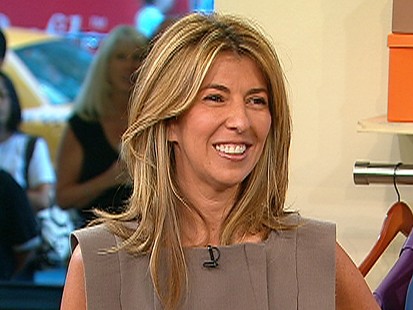 Flight School
The classic Aviator is the Ray-Ban, but almost every designer at almost every price point makes a good version. Keep it as close to the original design as possible. Michael Kors and Ralph Lauren do it very well.
Stay away from too much shine. Nothing takes away the cool factor quite like reflective lenses or shiny rims. The rims should be in a matte tone of silver or gold.
Look for vintage versions. The more history they have, the better, the classier, the more you smolder when wearing them.
In 1936, the U.S. government commissioned Ray-Ban to design sunglasses for Air Force pilots. The pilots wanted something that would provide the protection of their aviation goggles without the bulk. Ray-Ban came up with the Aviator design, which was an immediate hit. After more than seventy years, the sunglasses have maintained their popularity, and the model that aviators wore in 1936 is the same model that fashionistas and celebrities still wear today.
Belts
An often overlooked and underappreciated accessory (shoes and bags get all the attention). Yet, a great belt can make you look slimmer, pulled together, accentuate curves, and add bling to an otherwise bland outfit.
A thick black belt on a black dress instantly narrows the waist and highlights your curves. A hip belt on top of a tunic will draw the eye down. A skinny belt on a low-slung trouser makes you look polished.
But the belt is not just about the silhouette.
Think of your belts as pieces of jewelry. Look for unique designs, styles, fabrics, and big buckles. Try out corset belts, hip belts, ethnic styles, red crocodile, green python, zebra print, etc., etc. These are the kinds of belts that you can add to a white dress, a black dress, or jeans and a T-shirt—and in seconds the look is transformed.
The Inside Track: My Favorites
LAI (Luxury Accessories International): If you want a really skinny belt, LAI is the place.
Lana Marks: The best crocodile belts.
Streets Ahead: The source for studded rocker belts.
Linea Pelle: Italian craftsmanship at its finest.
Some seasons it is not a "belt year," and designers are not making many. But you are almost certain to find a good belt at these top-end designers, who always carry really good belts: Dolce & Gabbana, Gucci, Lanvin, Ralph Lauren, Azzedine Alaia.
A wide belt around the slimmest part of your waist creates an instant hourglass. Cinch it!
If the belt is big and/or bold, keep the jewelry simple. Let the belt be the focal point.
A skinny belt works best with a low-slung or high-waisted trouser.
A belt is a great way to get a piece of a designer collection without spending a fortune. Most designers will have a signature belt each season, and if you can get your hands on it, you'll be able to achieve the look without splurging for the entire outfit.
Jeans
I am always asked,"What is the best jean?"
I panic every time.
It changes every damn day and I always think,"Why don't I know this?" I don't know because there is a denim snobbism that has taken over our simple blue jeans. "Who are you wearing? Oh, you can't wear those anymore! You have to buy [insert jean of the week here]."
The irony of it is laughable. One of the most simple, most casual items in the world has turned into such a headache for women. We need a Zagat's to navigate it all. Don't let any of this get to you. Pick a jean that fits you perfectly and stick with it, no matter the brand. Fit is everything, and the very nature of denim is that it's so democratic. Be you and the jean will, too.
Man's White Shirt
Like the Boyfriend Cardigan (#12), best when stolen out of a husband's closet, though scouring the men's department works well, too. On a man, it is crisp, clean, and conservative. But throw it on a woman's body, and the thing sizzles.
It quietly whispers suggestions of morning-after dressing, which may or may not be the case, but it does raise the question. And perhaps that is why seeing a woman in a man's white shirt makes women a tad jealous and men more than a tad intrigued. Make sure it's a real men's shirt, though (or close to it). The tapered, tailored, semifitted women's versions take away the cachet and are not quite as chic.
brooks brothers: The best noniron version out there.
gap: As classic as they come.
target: Stock up when they have them in stock.
Your significant other's closet.
Red Lipstick
Nothing says Hollywood glamour like a red lip. Every actress, model, and style icon lays claim to a tube or two. And all these women will tell you they know the best red lipstick. They've spent hours at the cosmetics counter and have it figured out. It's Chanel Red No. 5. Or MAC Ruby Woo. Or Clinique Angel Red. Cover Girl Really Red. Lancôme Red Desire. Anna Sui Rouge Chine. Mary Kay Red Salsa. Elizabeth Arden Slink. NARS Fire Down Below. Trucco Blood Red. Etc., etc.
Yes, clearly everyone has it figured out.
The fact of the matter is you have to spend an afternoon hitting the cosmetics counter yourself. Red lipstick is much like the little black dress or your favorite pair of jeans. One size does not fit all. Skin tones and lip size and face shape all play a role. So, you just have to try them all on and then take a good, long look at yourself in the mirror. Much like the perfect dress or the perfect pair of jeans, you will know when you've found "the one." And then you, too, can tell everyone that you have this red lipstick thing all figured out. You know the very best one. In my case, it's Chanel Red No. 5.
How To Wear Red Lipstick
Choose the right shade of red. For fair skin, go for a red that has blue undertones. For ruddy skin, choose a pinkish red. Olive skin looks best with warm reds that have an orange, gold, or brown base. Dark brown skin is stunning in a bright fuchsia-red. But of course, confer with the women at the cosmetics counter.
Keep the rest of the makeup simple. Red lipstick is statement enough. Don't overdo the eye makeup or the blush or you run the risk of looking like a clown. Let the lips be the focus.
Make sure you know how to apply it. It is a bit of an art form. This is not the lipstick you can throw on in the back of a taxi. Again, confer with the women at the cosmetics counter and also see below.
How To Apply Red Lipstick
Apply a lip moisturizer first and then a thin layer of foundation.
After the foundation dries, add a layer of face powder, which will help set the lipstick so that it will last longer.
Next, line the lips with a pencil that matches your lipstick. Keep within the natural line of your lip.
Apply a thin, even coat of lipstick.
Blot. Always remember to blot!
Apply a second coat and you're ready to go.