New videos and e-mails released Monday in the case of a Florida woman accused of killing her 2-year-old daughter suggest the woman's family was nervous about her story before she was indicted for the girl's death.
In an undercover video taken by investigators, Casey Anthony's brother Lee Anthony can be heard describing a mysterious smell in her car after her daughter Caylee went missing.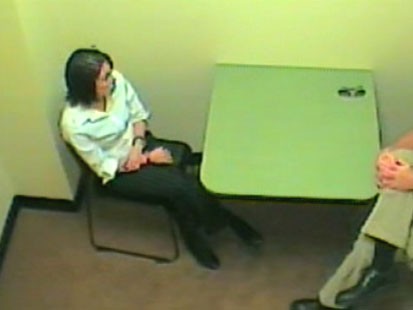 "I just went, holy s---, I couldn't even describe it smelled like garbage, but I couldn't describe. It's something you don't want to, but you actually have to smell. It was atrocious," Lee Anthony said.
In an e-mail also released Monday by prosecutors, Casey Anthony's uncle wrote to her mother, Cindy Anthony, telling her she was in denial.
"Casey knows she has to lie to cover everything up. … I know you want to believe otherwise Cindy but it just don't add up," he wrote.
New Evidence Released in Casey Anthony Case
The videos and e-mails were among hundreds of pieces of evidence in the case released by prosecutors, including videos of police interviews of Casey Anthony.
Casey Anthony is scheduled to stand trial in October on first degree murder charges. Prosecutors say she killed Caylee, whose remains were found in December not far from the home she shared with her mother and grandparents.
Casey Anthony has pleaded not guilty. Her lawyer declined to comment on the new evidence, but other lawyers said it will be a challenging case to defend.
"I'm sure almost everyone in the court of public opinion has formed the opinion of guilt against her," said Joe Tacopina, a New York defense attorney. "What they're doing is going to make it much more difficult to get a jury in this case."
Recently released evidence in the case also showed that a laundry bag, duct tape and plastic bag found with the remains matched similar items in the Anthony home.
According to a report by Orange County sheriff's detective Yuri Mellich, investigators found plastic bags and duct tape in the Anthony home that were "similar" to those found with Caylee's remains.
Various kinds of heart-shaped stickers, like one police believe was stuck to duct tape found with the body, were also taken from Casey Anthony's room.
Report: Casey Anthony Visibly Upset When Caylee's Remains Found
On the day Caylee's remains were found, Casey Anthony asked for sedatives, a shift supervisor at the jail where she is being held, told investigators, according to a recording of her interview.
Orange County Corrections Lt. Tammy Unser told detectives that Casey Anthony hyperventilated and developed red splotches on her skin after watching a news report about the remains.
Unser said she was surprised by the reaction because Casey Anthony normally showed very little emotion.
"She was weird to talk to," Unser said. "I don't exactly know how to explain it. Nonemotional would probably be the best way to say it."
Shortly after learning her daughter's remains had been found, after asking for a sedative, Casey Anthony started talking about football, Unser said.
Weeks earlier, during an interview with police on the day she was indicted for her daughter's death, Casey Anthony told investigators that she believed Caylee was alive, according to another recording released by prosecutors.
"You know certain things about your child. You can feel that connection," Casey Anthony said.
"I know that she's alive whether you have a bucket load of evidence downstairs that contradicts that and says otherwise or all you have is speculation or nothing at all."
FBI agent Nick Savage then told her, "We have a lot or else we wouldn't have made it to this point. A lot."
Frustrating, Curious Investigation Into Caylee Anthony's Disappearance
Casey Anthony was charged in October with first-degree murder in the death of her daughter, who was reported missing a month after she disappeared in June.
The child's remains were found Dec. 11, less than a quarter-mile from the home she shared with her mother and grandparents.
It all started with a frantic emergency call from Casey Anthony's mother, Cindy Anthony, in mid-July.
On the tape, she is heard frantically telling emergency operators, "I can't find my granddaughter. … There's something wrong. … I found my daughter's car today and it smelled like there's been a dead body in the damn car." Casey Anthony then got on the phone and reported she may have a missing child.
Cindy Anthony later retracted that statement, saying that the smell in the car could have been from garbage.
As investigators would quickly learn, this would only be the first of many twists and story changes in the curious case.
CLICK HERE for a timeline of the case.
Lies, Half Truths and Incomplete Information
In the original version of events, Casey Anthony reported her missing to police, saying she had dropped the child off at a baby sitter's house June 9. When she went to pick the child up, both the child and the baby sitter had disappeared.
Casey Anthony's parents both corroborated the story until a bond hearing July 25 when Cindy Anthony said that the last time she saw the child was not June 9, but June 15, and that she had just been confused.
When police questioned Casey Anthony about her daughter before her arrest, they say she misled them multiple times.
The Phantom Baby Sitter in Casey Anthony Case
When she took police to the apartment where she said baby sitter Zenaida Fernandez-Gonzalez lived, they found that no one had lived in the apartment for five months.
At that time, Mellich said, "I am not disregarding that this person may or may not exist, but Casey Anthony's friends and family have never met this person."
After an extensive search for Gonzalez, a woman with the same name came forward in September to tell authorities she had never met Casey Anthony or Caylee. Police cleared her of any involvement.
In a report released Wednesday, Mellich said that "after several months of investigation, detectives could find no one who has ever met, spoken with or seen any Zenaida Gonzalez who had cared for Caylee Anthony."
Casey Anthony also claimed to have worked for Universal Studios, but admitted later that that was not true.
The Forensics Reports
Scientists found evidence of body decomposition and traces of chloroform in Casey Anthony's car trunk, according to forensics reports released in October.
Lab reports from the FBI found that a hair strand in the trunk showed "characteristics of apparent decomposition." The hair is "microscopically similar" to hair strands found on Caylee's brush, but the report said it could not conclusively say the hair in the trunk had come from the missing girl.
Casey Anthony had been considered a "person of interest" in her daughter's disappearance since mid-July after police reported in a bond hearing that they believed they'd found evidence of decomposition in the car.
Casey's Curious Attitude
But what unsettled investigator Carlos Padilla more than Casey Anthony's imprecise information was her overall attitude.
"She has shown no emotion," Padilla told ABCNews in July. "That's unusual. At the time of the interviews … she didn't seem concerned and that made this case much stranger."
"She spoke to deputies like she was talking about baseball. How do you get through to someone like that?" he said.
But Casey Anthony revealed an entire range of emotion in videos of jailhouse conversations between her and her parents, which were released Dec. 5.
In the more than 300 minutes of video released by the Orange County Sheriff's Department, Casey Anthony is shown laughing, crying and growing frustrated with the investigation and her family's questions.
When Cindy Anthony confronted her with Mellich's suspicions that she had had something to do with Caylee's disappearance, her daughter dodged the issue.
"Yuri [Mellich] has it set in his mind. He thinks you've done something to Caylee," Cindy Anthony said to her. At that point, her daughter got up and, when she returned, steered the conversation in a different direction.
Casey Anthony also said that she knows the conversations are being recorded and "there are things [she] directly needs to say" to each of her parents.
When gruesome details about the discovery of Caylee's remains were released in January, Casey's father, George Anthony, nearly committed suicide.