It's possible that "The Real Housewives of New Jersey" star Danielle Staub could have put her intriguing past behind her if she had never become a reality show cast member.
But now the Bravo television diva is learning, like so many others before her, just how real reality television can become for its stars.
"The "Housewife," who is part of the latest spinoff cast of the popular cable series, is getting media attention not for her lavish lifestyle as portrayed on television but for her alleged criminal ties.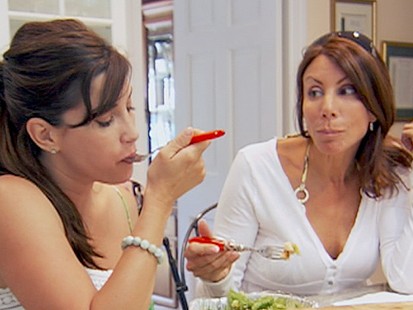 N.J. 'Housewife's' Past Revealed
According to a book published 14 years ago, "Cop Without a Badge: The Extraordinary Undercover Life of Kevin Maher," Staub used to be known as Beverly Merrill, and in 1986 was a stripper who was arrested on charges of extortion, kidnapping and drug possession.
The revelation of the 1995 title served as one of the central story lines in last Tuesday's "Housewives" episode. While Staub has said she can't address the specifics of the case at this time, she said in a "Nightline" interview that she has struggled in her past.
"I'm just going to say I am a work in progress," she said. "If people have issues with me, I am not going to apologize for [it]. That's their problem. But I am, have been, a loner my whole life. And I'm OK. I'm still around."
Staub changed her name and started a new life in New Jersey, and was perhaps trying to put her past behind her
Even with the negative publicity, the revelation has brought her, Staub said she isn't apologetic about being a part of "The Real Housewives."
"I don't regret doing it," Staub said. "Any journey there's a beginning, a middle and end, and my journey and my life are not over. I'm on a journey."
The former model turned single mother, who proclaims in the show's intro, "You either love me or you love to hate me, there is no in between," isn't the first reality TV personality whose past deeds have haunted them.
Reality Stars Histories Unveiled
When then amateur singer Frenchie Davis competed on the second season of"American Idol", she was favored to take the crown until she was dismissed from the juggernaut competition after topless photos of her surfaced online.
At the time, Davis contended she was over 18 when she posed for the racy photos, and she did so to help pay her way through college.
However, Davis didn't mention the images when she tried out for the competition, and when producers learned of the nude pictures, they banished her from the show.
And Davis wasn't the only "Idol" contestant whose past indiscretions led to truncated time on the singing competition.
Season two finalist Corey Clark had to leave the show when a producer learned of his arrest following a fight at his home.
Then there's the case of "Survivor: Thailand" contestant Brian Heidik, though his alleged soft-porn past didn't prevent him from capturing the $1 million prize.